Interior Trends For 2022
Perhaps 2022 comes with some healthy resolutions this year, such as transforming, or refreshing your home. With so much more time spent in our humble abodes over the last couple of years, this has given many people time to reflect on choices, location and furnishings.
Another new year, brings a whole set of predictions and trends for the year ahead, we explore some of the most coveted and talked about interior trends for 2022.
Maximalism
Maximalism is set to make a comeback this year. Minimalism is still a hugely popular trend, but there's only so long until the cycle reboots and Maximalism is back in.
Texas-based designer Sarah Stacey take on maximalism is; "Maximalism is all about embracing 'extra'—be it a floral velvet, bullion fringe, or a 19th century French Commode. Or all three at once! I think richly hued palettes with layers of color and texture will take over in the new year. Texture like mohair, it is a luxurious fabric with a soft hand and makes for a gorgeous texture".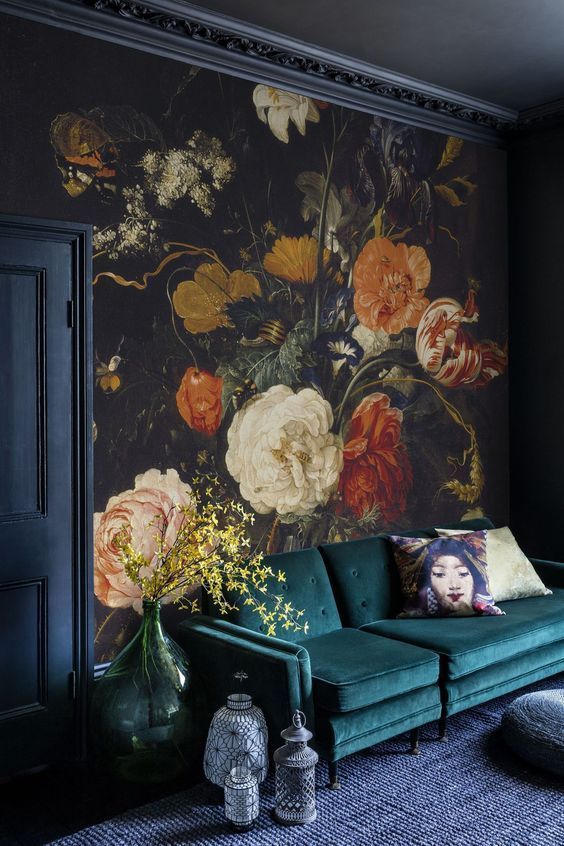 Dark Kitchens
Those neutral, bright white hues are slowly being pushed out by dark, opulent colours, and dark kitchens are set to be the biggest kitchen trend in 2022. Darker and moodier colours are in, and not just for the kitchen. These colours contrast so well with cabinetry detailing and metal sockets and switches for a luxe finishing touch. Darker surfaces are much more forgiving in a kitchen too!
Be Bold
It's not just kitchens that are going to be bolder and darker this year, all interiors can benefit from a bold makeover. Darker, and more saturated colours are expected to hit the interior world in 2022. Think patterned wallpapers, bold accent colours and fabrics in bright colours for texture, and visual character.
Something Old & Something New
Mid-century modern is at the heart of interiors in 2022. With a perfect balance between the old and new. This interior trend is about incorporating reworked, vintage pieces of furniture and custom pieces into a home. Many home owners long for a home with exclusivity and mixing the old with new is one way to create that timeless, unique character.
50 Shades of Brown
Don't knock it before you've tried it! Shades of brown are in, and it feels like a mature transition from more paired down neutrals such as beige and white. Mark D. Sikes says "Chocolate browns, camels and caramels—there has been so much color and pattern, especially pastels, the last few years and I think people will be ready for a palette cleanser". After seeing a lot of beige and white in interiors over the last few years, we are opening our arms in anticipation for this!
Nature Inspired Surfaces
Reflection over the last couple of years has led more people wanting that intrinsic connection to nature. This has inspired a resurgence in natural surfaces for use in the home, terracotta, marble and stoneware to name just a few. These organic materials add rustic, natural charm to a home whilst helping to create a calming and rejuvenating space.
It seems that 2022 is a year of being bold! Plenty of moodier, darker colours and a gentle step away from neutrals that have dominated interiors over the last few years. We're excited to see what is to come in the interior world in the year ahead.