Biophilic Home Office Design Ideas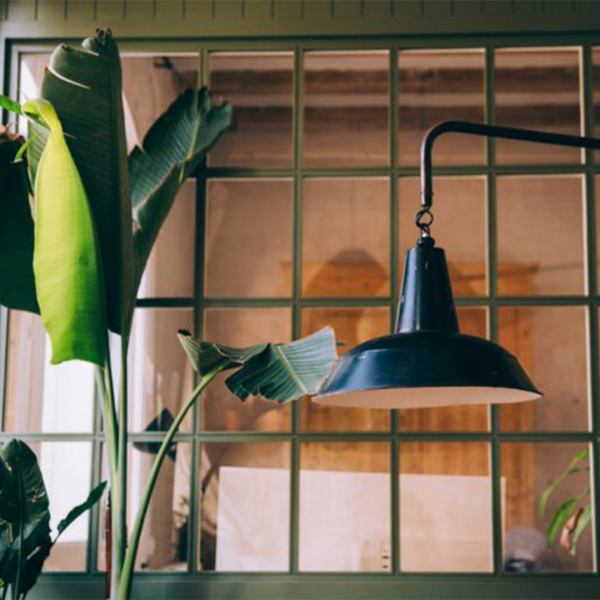 Post pandemic, our homes have become so much more than just a place to rest, enjoy and spend time with family. For most of us, we have had to adapt, create or zone our spaces to create a liveable home office that 'will do'. But, as many of us continue to work from home for the foreseeable future, attention has been diverted back to our home office space, to make it practical, productive and an extension to our existing interiors.
Traditional office spaces conjure up images of clinical white walls, grey desks and lifeless walls. The best thing about a home office is creating a sanctuary, and a space that works for you. Whilst ensuring your home looks great too.
There's also an increasing nod towards nature and biophilic influences in home offices as they help to promote wellbeing and productivity. These biophilic home office ideas will create a relaxing, and motivating space in no time.
Biophilic Home Office Design Ideas
Create a Biophilic Living Wall
One of the easiest ways to breathe biophilic influences into your home office is by creating a biophilic living wall.
Whilst these can be installed by professionals, if you're feeling creative you can create your own! You'll need to create a structure that lends itself to draping and hanging plants from it. A pegboard style backdrop is quite popular, or you could create a wooden structure for a more robust and durable finish.
A living wall like this can be filled with foliage, plants and your favourite greenery. Once fitted, you can sit back and enjoy the benefits of having one which can include emotional and physical benefits, as well as helping with natural air filtration. They'll also position themselves as a great feature wall, and for snapping selfies against it for Instagram (in between your breaks, of course!).
Position Your Desk To Natural Light
Natural lighting is a a natural extension from the biophilic design trend. It's not just about adding a touch of greenery to your home office, it's the whole package.
We know that natural light, and daylight has the ability to boost our mood and wellbeing. Simply by positioning your desk closer to natural light, it can help to lift those productivity levels, whilst helping to boost your mood too.
Natural light might not even be an option in your room. If the home office has no windows or a lack of light, use high CRI light bulbs in your lighting to help achieve that daylight light which can boost your mood and aid with tasks.
Our high CRI downlights are the closest to daylight light as possible, whilst they are great for any room of the house, if you do have a lack of natural daylight in an office this type of lighting can stave off those headaches, tiredness and lack of motivation too!
Natural Furniture
Furniture that is crafted from natural materials can provide a direct access to nature. Think rattan rugs, wooden desks and wicker lamp shades. These physical experiences of nature lend themselves perfectly to a biophilic home office, whilst wooden furniture creates a well grounded space.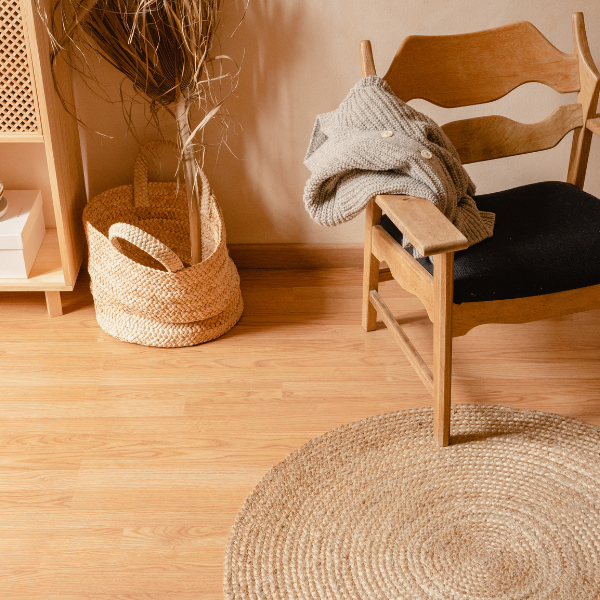 Biophilic Wallpaper
If a living wall is too much of a stretch, why not add some biophilic wallpaper to the space. Jungle or tropical themed wallpaper will bring the natural world to you. Any image of plants, greenery, water or animals is a form of contact between us and nature.
Whilst it will keep that link between nature strong, it's a fantastic opportunity to add some serious interior flair to your home office. Creating warmth and colour in the space too.
Add Art Prints
Wallpaper can be a daunting step if your interiors are much more muted and neutral throughout. If you're looking to create a more minimal, biophilic design, focus on adding some art prints with real sentiment behind them.
A zen biophilic home office is not one without art prints capturing stunning landscapes, animal and scenery. Frame them, and display them to create a series throughout your office, or create a gallery wall for strong, visual impact.
Creating a biophilic office helps to promote wellbeing and productivity, whilst you can centre it around your interiors to create an energetic flow throughout your home.