Beautiful Home Office Ideas
Image: Pinterest
Whilst a lot could be said for 2020, our interiors have never been so happy. As many of us have spent a lot more time at home, it has allowed those long standing creative projects to finally be finished (we hope!).
Along with finishing off those dastardly DIY jobs that we could no longer avoid by using the excuse of 'I'm too busy'. You may have had to think about a home office somewhere in between too.
The suggestion of remote working is one that would have come to a surprise for many of us. With little time to consider where, and how you could work from home without already having a dedicated office space.
The early days of working from home was often a result of working from the sofa or using an ironing board for a desk (thank you Twitter!). Whilst the initial novelty of working from home wore off, working from your sofa or dining table just didn't cut it anymore. It definitely wasn't conducive to productivity either!
With remote working now becoming a new normal post COVID, we've discovered some beautiful office ideas that will help to aid productivity and creativity next time you open your screen.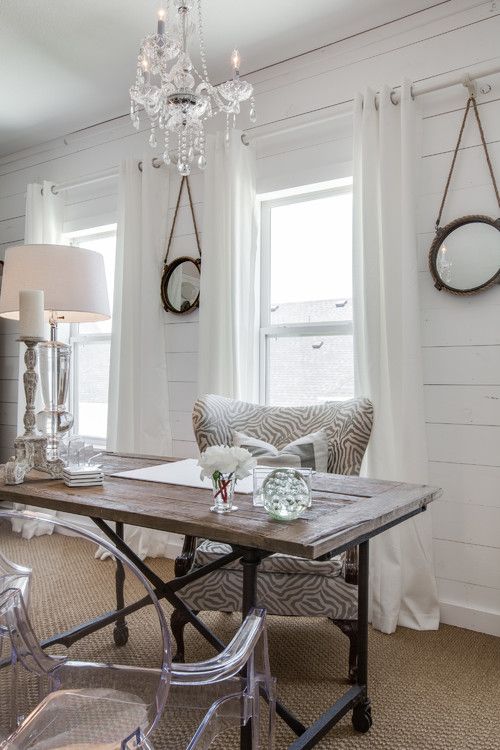 Image: Pinterest
Shabby Chic Style
This wonderfully shabby chic office idea is a perfect choice for those on limited space. You could double up a bedroom or living room space, adding to the overall effect of the room.
Indeed, we love how shabby chic meets modern with the addition of the see through glass throne chair. There are many elements to this setup without being overbearing. A chandelier style light which creates upward lighting is a great way to add air and light into a space like this.
Positioning a desk next to a window where possible will also help to maximise productivity, and boost those vitamin D levels!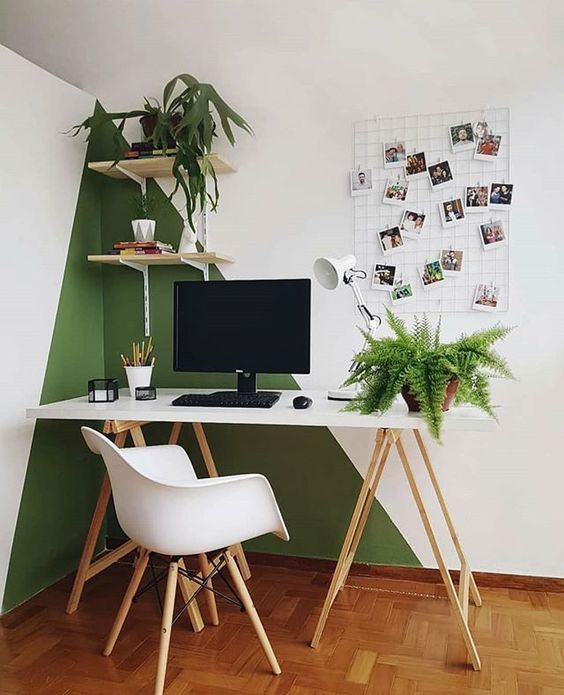 Image: Pinterest
Zoning
Zoning with colour is a fantastic option for open plan rooms and those that cannot dedicate a single room to an office.
This is a great way to add interest to your space. For a tidier approach you could even match it to your desk colour. To zone a space, simply pick a corner, tape it up and start painting with your chosen colour.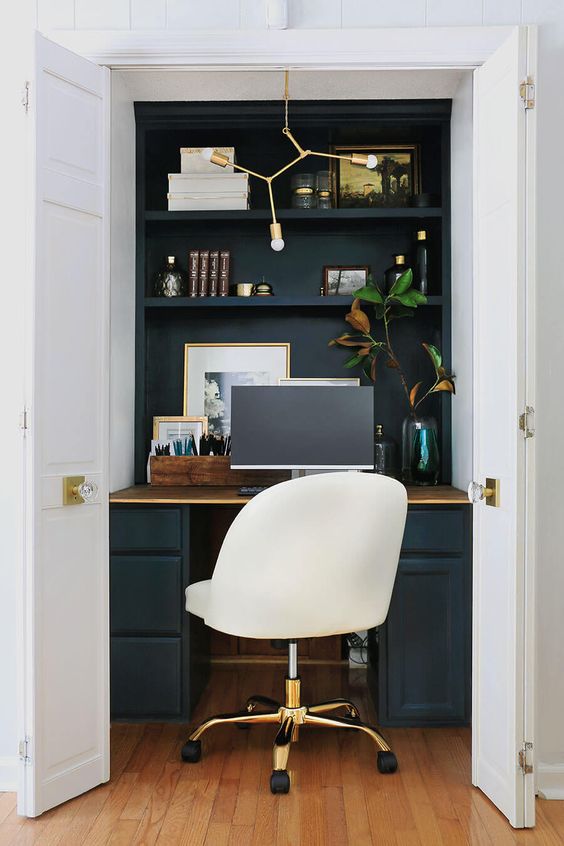 Image: Pinterest
Alcove Space
Alcoves can both be a hindrance and a fantastic design asset to any home, if tackled in the right way. Whilst alcoves can create dead space, they are the perfect spot for being really creative. Shelving and storage space built into alcoves is a really popular option to maximise on space. But how about turning that alcove into an office?
We absolutely love the ingenuity of this. It's quirky, fun and can really be styled to suit the tone of the rest of the room. We especially love the addition of the pendant light here which adds an industrial edge set against the dark hues.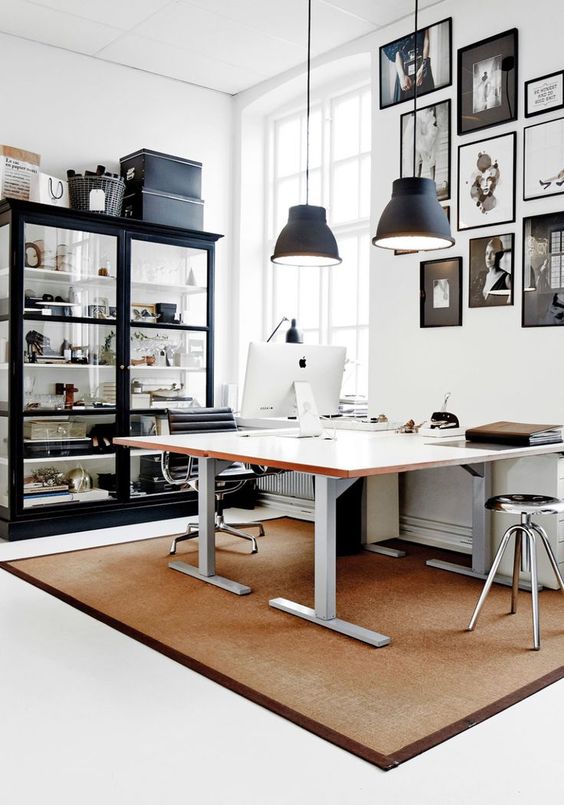 Pendant Lighting
We love the expanse of this open plan office/studio with the monochromatic touches in the lighting, prints and cabinet. They work seamlessly with the contrasting white desk and mixed desk chairs.
Pendant lighting is a fantastic choice for office space like this when used as task lighting over a desk. Our Wardour Industrial Bay Pendant Light would look perfect situated in an open plan, high ceiling office space. Creating a social, light and airy space to work in. This light is part of our hand painted range which come in a collection of 10 desirable colours.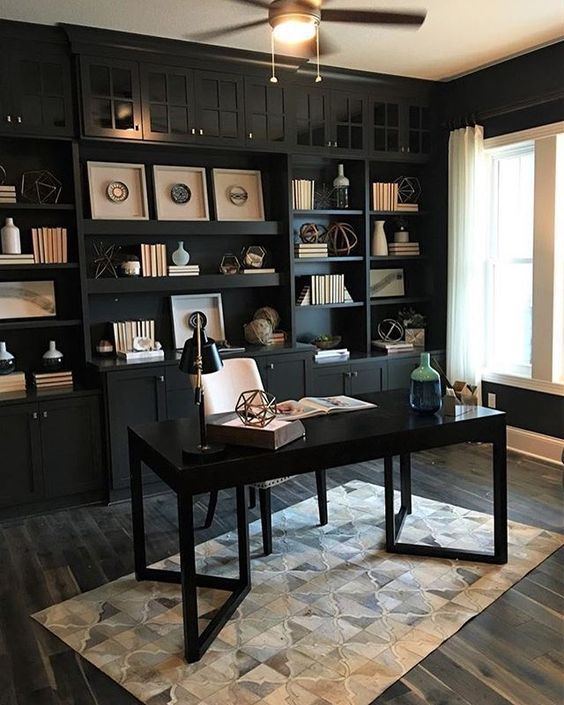 Monochrome
Dare to be dramatic with a monochrome office space. This has been executed beautifully, with wonderful metal touches on the desk for contrast.
You could go one step further by focusing on the interior hardware features. From a functional point of your view, your sockets and switches are one of the most commonly used items in a room. Why should they be anything less than aesthetically beautiful too? Our range of sockets and switches come in an extensive range of metal finishes, brushed brass and polished chrome would look especially dramatic against the monochrome details of this office space.
Interior hardware finishes are something easily overlooked in a room but they can come into their own in a room like this. They should be seen for their decorative edge as well as the functionality they provide.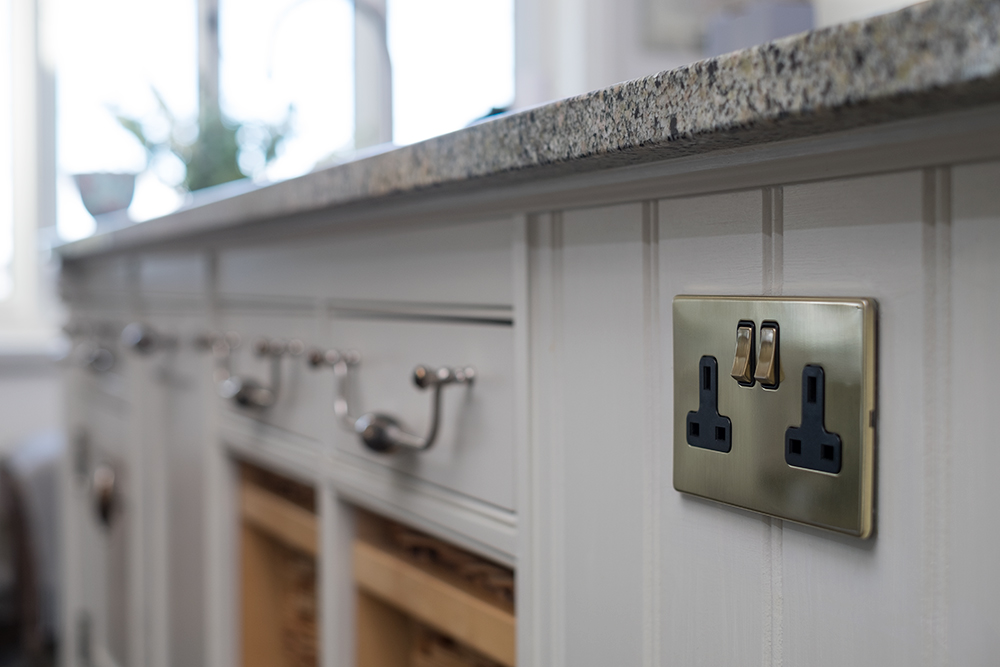 Image: Pinterest
Gallery Walls
Mix up your office space and add some real creativity and pops of colour with a gallery wall. Gallery walls have grown in popularity year on year. A dedicated space for a curated set of prints to make a personal statement in your home.
We love this eclectic style, where more, really is more! There is no print or pattern that hasn't been explored in this office which makes it all the more quirky and fun.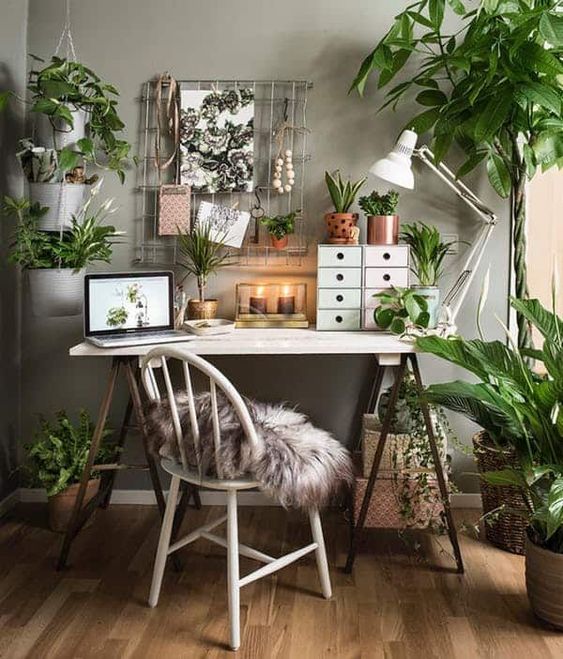 Image: Pinterest
Greenery
There are many benefits of adding greenery to a home office space, besides looking beautiful! They can bring so much colour and interest to a space. Mixing it up with both hanging and potted plants will add further depth to the space.
A huge benefit of greenery is that they can help to purify the air in your home as they release oxygen and absorb carbon dioxide. Further health benefits have shown the important link between reducing stress.
When strategically placed in homes or offices, they can even help to muffle noise.
We hope we have inspired you with this beautiful mix of home office ideas.
[related_products]