Bathroom Wall Lights That Make A Statement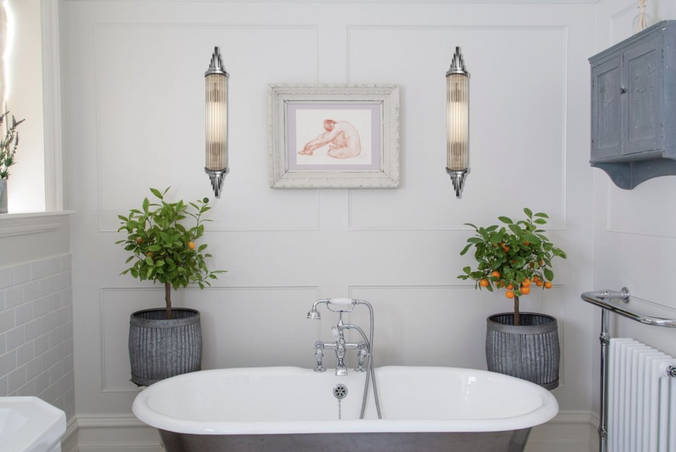 Creating a gorgeous bathroom that is well lit and highly functional will serve your home for many years to come. Function and safety should always come first when lighting a bathroom, but aesthetics really do matter!
A bathroom is one of the most versatile and used rooms in a home, having to constantly adapt its purpose from tasks such as applying makeup, to relaxing evenings in the bath. This requires control, flexibility and exquisite lighting.
Where functionality and aesthetics collide, you can still make a grand statement in your bathroom with wall lights. The perfect lighting choice for small, and large bathroom spaces.
Can You Put Wall Lights In A Bathroom?
A bathroom is considered a special location for electrical installation, but wall lights can be used in a bathroom. You just need to ensure they meet the IP regulations required, wall lights should carry a minimum rating of IP44, but generally it's better to go higher to IP65.
7 Bathroom Wall Lights That Make A Statement
1.Flaxman Polished Brass IP66 Rated Bulkhead Wall Light
We adore how Holly has used a pair of our Flaxman bathroom wall lights to illuminate her small, downstairs bathroom. Whilst it can be difficult to light a small space with no natural light, her choice of paint and placement of wall lights helps to illuminate the room adequately for everyday use, and tasks such as applying makeup.
Positioning a pair of lights either side of a mirror is the best location for lighting around a mirror as it evenly distributes light across your face, unlike downlights which can cast downward light on your face, making your skin look tired.
2. Sheraton Nickel IP44 Rated Wall Light
Make a statement and add an Art Deco flair to your bathroom with the stunning Sheraton wall light. As pictured, a pair of these to enhance your walls and light up an art print creates a well illuminated and stylish backdrop for a soak.
They work best when combined with an additional light source such as downlights or a pendant light so you have more control over your lighting throughout the day.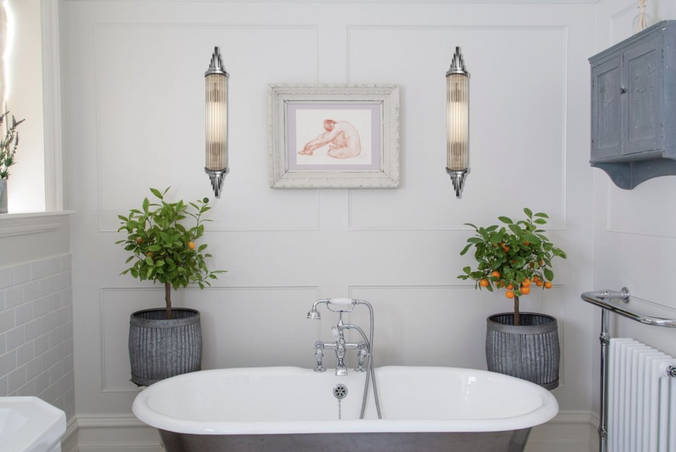 3. Kemp Nickel IP66 Nautical Wall Light
The classic and versatile shape of the Kemp wall light lends itself perfectly to bathroom use. The nautical style is perfect for many different decor schemes including farmhouse, nautical and vintage style. The Kemp is also available in a polished, and lacquered brass finish.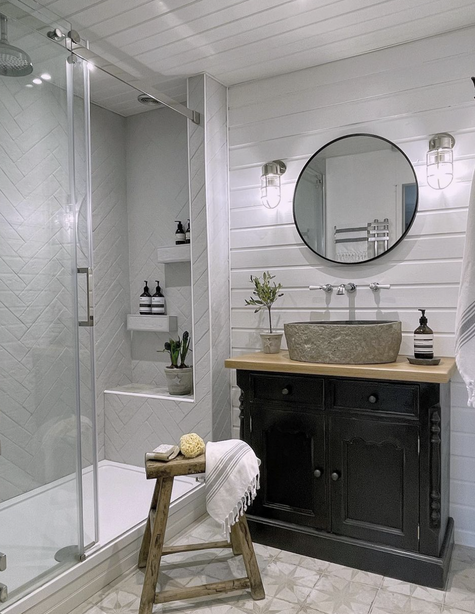 4. Carlisle Grid Prismatic Glass Lacquered Brass Wall Light
For a nautical bathroom, the Carlisle wall light adds a subtle vintage edge with the grid detailing. This round, nautical style bathroom IP66 rated bulkhead wall light is incredibly robust and strong, as well as beautifully designed.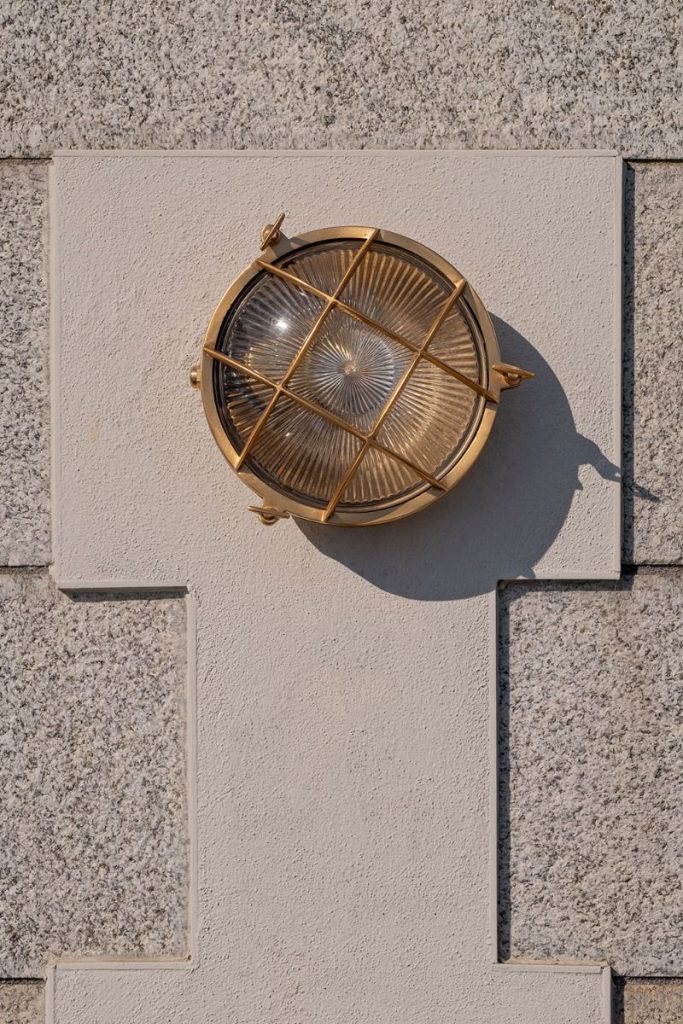 5. Hopkin Polished Brass IP66 Prismatic Glass Light
The Hopkin will bring luxury and sophistication to any bathroom. Just imagine these on either side of a mirror, illuminated whilst relaxing in the bathroom during the evening.
These solid, high quality wall lights are made from real brass so the light will not corrode in a bathroom where moisture and humidity levels are high.
6. Marlborough Eyelid Bulkhead Nickel IP66 Art Deco IP66 Prismatic Glass Wall Light
A pair of the Marlborough wall lights positioned vertically on either side of a bathroom mirror would look sensational. Hand crafted in solid brass, the Marlborough eyelid bulkhead delivers the presence of a traditional nautical bulkhead, and yet when completed in a refined nickel finish its allure appeals to both the Art Deco and Contemporary eras.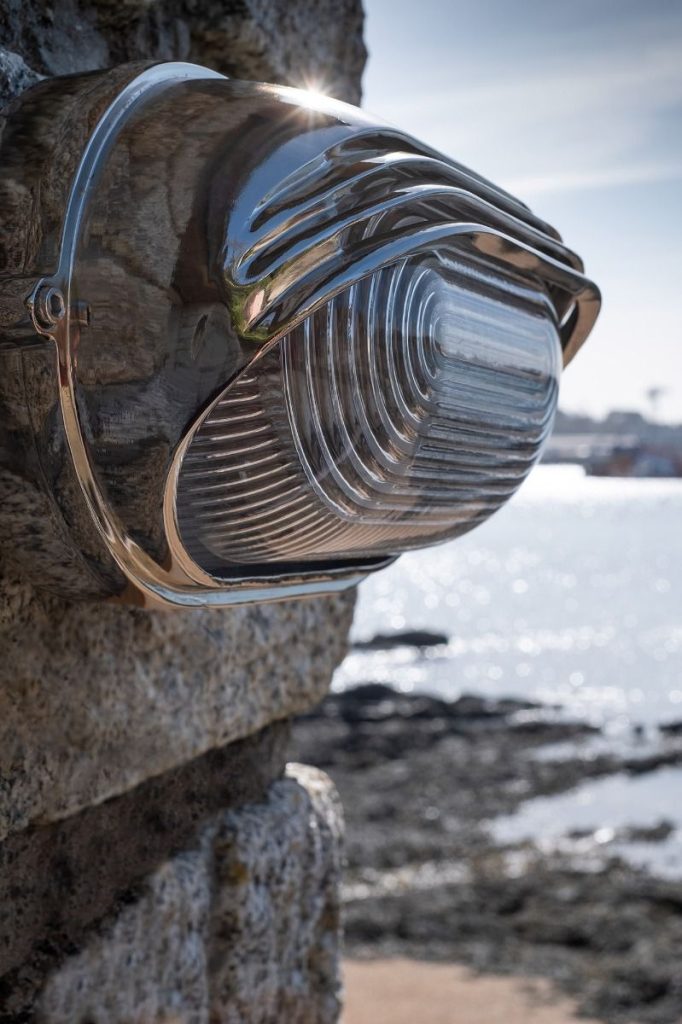 7. Kingly Polished Brass IP66 Rated Wall Light
Retro, vintage and sophisticated. The Kingly wall light really does do it all, whilst demanding attention in any bathroom space. This bathroom wall light is incredibly robust, made with real solid brass for a durable and hard wearing wall light that is made to last.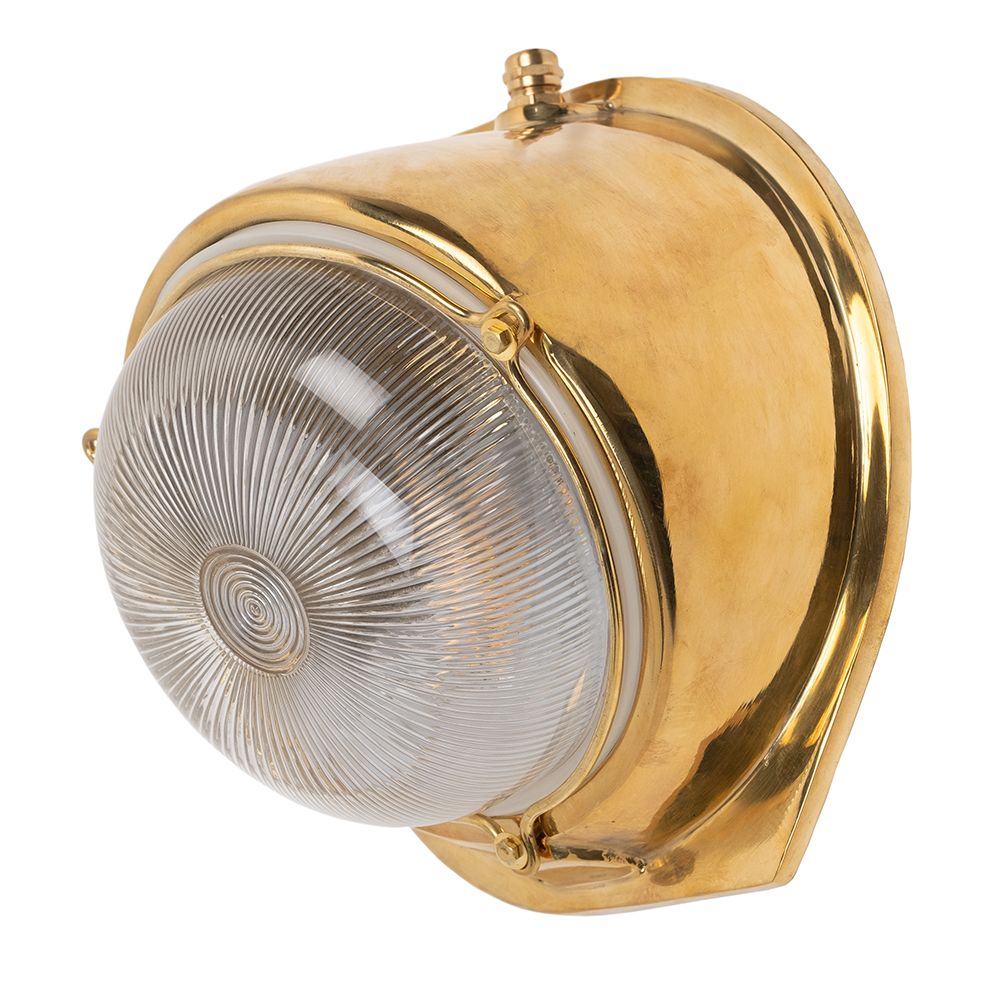 Bathroom wall lights are a fabulous way to create a beautiful aesthetic that works seamlessly with your other interior design choices, and metal finishes. Explore our full collection of bathroom wall lights for plenty more inspiration.