A Morning with James Strawbridge
Last week we joined Cornish chef James Strawbridge at his home for a morning of lighting installation, discussing sustainability, and - crucially - eating some gorgeous (ever so slightly) boozy, blueberry pancakes!
An accomplished chef and author of new book 'Salt and the Art of Seasoning', James knows all the ingredients for a well-designed kitchen - not least, lighting. We have had the pleasure of collaborating with James on his recent renovation, providing recommendations and inspiration to help illuminate the inside and outside of his home. His kitchen is now home to two of our fabulous Argyll pendants, as well as our downlights.
First up, we reviewed James' lighting needs. Getting the kitchen lighting just right is extremely important for a chef - and what better way to light up these delicious pancakes than with our High CRI downlights? High CRI light allows the true colours of food, fabrics, and paints to be seen, adding a vibrancy that captures natural sunlight. Head to our blog for more information on how to Uplift Your Mood with Downlights, and discover the benefits of High CRI Lighting.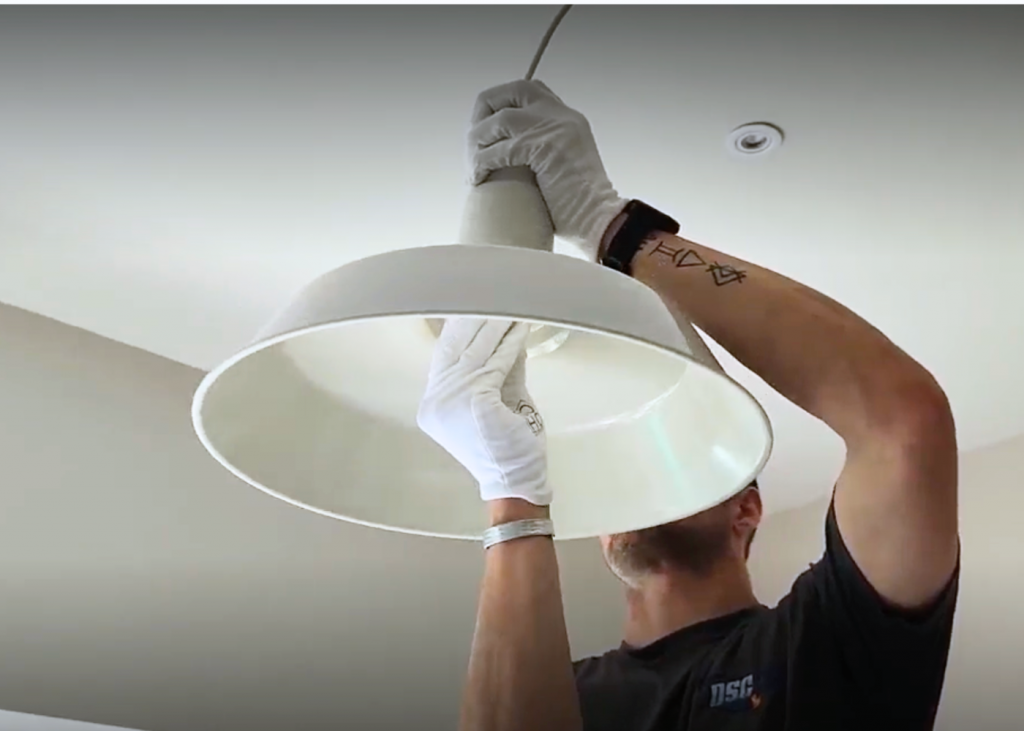 With the help of a talented electrician, we installed a pair of large Argyll industrial pendants in white, hand-picked by James to adorn the space above his dining table. Styling pendants in this way adds dimension to a space, drawing the eye up and across the room. It's also a great way to style kitchen islands. Layering light plays an important role here too, combining pendants with downlights brings ambience to James' working kitchen.
After the light installation was complete, James whipped up some delicious blueberry pancakes with a little help from Soho Lighting co-founder and Creative Director Lee. It was so good that we simply couldn't keep the recipe to ourselves!
James Strawbridge's Blueberry Pancakes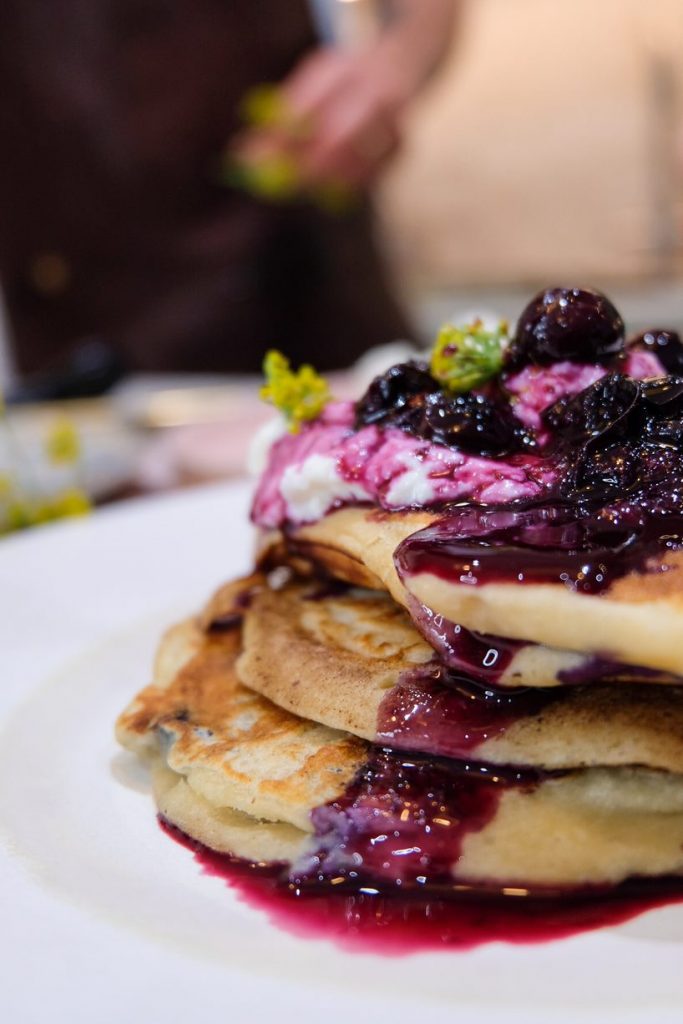 Serves 4
Ingredients:
For the blueberry pancakes
200g self-raising flour
1 tsp baking powder
300ml whole milk
1 large egg
100g blueberries
Zest of 1 lemon
Knob of melted butter and extra for greasing the frying pan
Pinch of salt
For the blueberry syrup
100g blueberries
2 tbsp maple syrup
2-3 bay leaves
1 tbsp lemon juice
Pinch of salt
(And a splash Whiskey if you prefer a boozy twist)
To serve
Feta and Greek yogurt spread
Fennel flowers [when in season]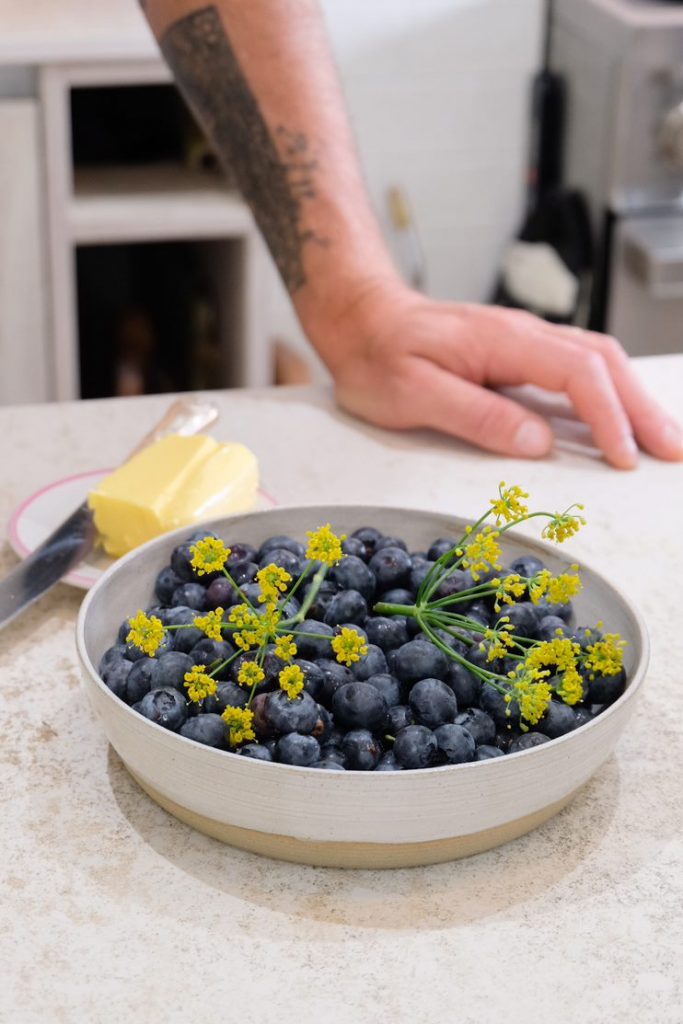 Method:
Mix your batter by combining the dry ingredients together and then beating your egg and whisking together with the milk. Combine the dry and wet pancake ingredients into a smooth batter and then add in blueberries.
Pour your pancake mix into a hot, non-stick frying pan or seasoned griddle for 1-2 mins on each side until golden brown and fluffy. Once cooked, place to one side under a tea towel to keep warm before serving.
Make your blueberry syrup by boiling the remaining blueberries on high heat with maple syrup and bay leaves. Add lemon juice and a pinch of salt to taste. Cook for 3-4 mins and then allow to cool. To thicken this syrup slightly then add 1 tsp of cornflour and whisk in whilst it's still cooking. If you fancy a boozier take on this delicious syrup, add a splash of Whiskey.
Serve a stack of pancakes piled generously with all of your yummy toppings for a stunning breakfast treat!
See more behind-the-scenes footage from our day in James' fabulous kitchen by following us on Instagram. And we'd love to hear if you enjoy the pancakes as much as we did!
[related_products]