Guide To Kitchen Island Lighting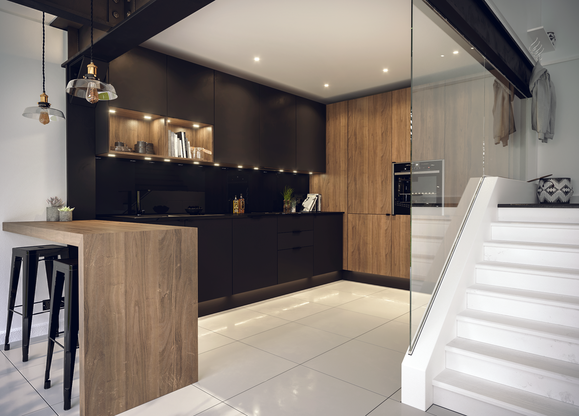 A kitchen island introduces a new dimension to a kitchen. It creates an airy and social hub that can be used for baking, socialising and working.
As it becomes a focal point of a kitchen, getting the lighting right is key to creating the wow factor in a kitchen. Whilst also providing the right levels of light for carrying out high precision tasks.
From high CRI lights to the rule of odds, our guide to kitchen island lighting covers everything you need to know to perfectly execute your kitchen island lighting plan.
How Many Lights Over A Kitchen Island?
Pendant lights are one of the best ways to light a kitchen island. They make a statement whilst adding visual interest and balance around the space. Whilst function is really important for tasks, the choices that are made here are design led based on home decor choices. But, how many should be hung?
Firstly, you should measure the length of the kitchen island, but also the width. The size of this will help you to gauge how many you could comfortably hang here without it looking overpowered, or sparse.
Opting for smaller pendant lights to fit in one more to the area can make the space feel dated. Today, there is much more of a movement towards big, statement lights that leave a lasting impact.
If your kitchen island is 2m and under you're going to want to look at hanging only two pendant lights. Whilst this does go against the rule of odds that we will touch on shortly, there are occasions when two can look incredibly effective in the space.
For bigger kitchen islands that can support more pendant lights, you're always going to want to start at three, and then increase this by odds where necessary. The rule of odds is the only exception to three's a crowd, but an absolute essential when it comes to lighting a kitchen island.
The odd number creates balanced space and harmony between the lights. Thus, the focus will be directed towards the central pendant light. 
If you don't want to purchase three lights, you can also opt for one linear light fitting which mimics 3 lights.
Placement of Lights Over Kitchen Island
For the placement of the pendant lights over the kitchen island, there's a few things you're going to need to consider. You want to ensure the pendant lights are about 6 inches (minimum) from the end of either side of the kitchen island. This gives the pendant lights a little bit of breathing room. You don't want them sitting either directly on the edge of the kitchen island.
For example, if you are hanging just two pendants above a kitchen island, divide the total length of your kitchen island by 4 (sections), this will help you work out the centre point of the kitchen island. Those 4 sections are going to give you 3 separate lines, the pendants will then hang over that 1 and 3 section line. Once you've worked this out, you just want to ensure that they do have enough room on the end of either side of the kitchen island.
As a general rule of thumb, you want your pendant lights to be at least 24 inches apart. But 30-32 inches is the optimal distance between pendants.
How High Should Kitchen Pendant Lights Hang Over Island?
Generally, pendant lights should be hung 30-32 inches above the worktop of the kitchen island to the base of the pendant light shade. If you do have taller ceilings, you can play around with the heights of the pendants a little bit more.
You also need to consider the average height of everyone in your household. If your entire family is over 6ft tall, you're probably going to need to raise the height of the pendant lights to avoid banging heads every time the kitchen island is used. Whilst we don't want the direct light to be at eye level either. If you're opting for full glass pendant lights, you can get away with positioning these a little bit lower.
There are so many different variables when it comes to hanging pendant lights above a kitchen island from ceiling height, kitchen island length to the height of your family. Each of these will impact how many you hang, where you place them,ea and how high to hang them.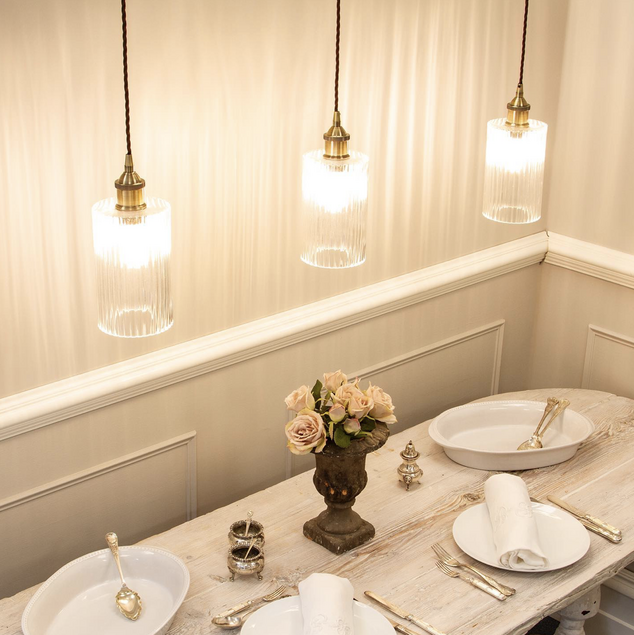 High CRI Lighting
A kitchen island is a space that can change its role throughout the day, it may also be a multi generational space with a drop down tiered section for children to sit at. Whether it's for food preparation, working or dining, task lighting requires adequate levels of lighting.
High CRI lighting provides the most accurate representation of the colours of objects. Having greater clarity and a truer representation of colour from high CRI downlights brings a number of benefits to a home including less eye strain, it can even boost your mood!
When choosing the perfect lights for your kitchen island, don't stop at the aesthetics. Getting the bulbs right will make or break the lighting, always opt for high CRI bulbs where possible.
Kitchen Island Lighting Ideas
Your kitchen island pendant lighting choices will likely be an extension of the rest of your home decor, and kitchen choices.
For a no nonsense, elegant pendant light that will make a statement in any kitchen, our range of Glass Pendant Lights are a perfect choice.
Glass lighting will beautifully reflect, disperse and retract light, helping light to bounce around the room, whilst not detracting from the rest of your interiors.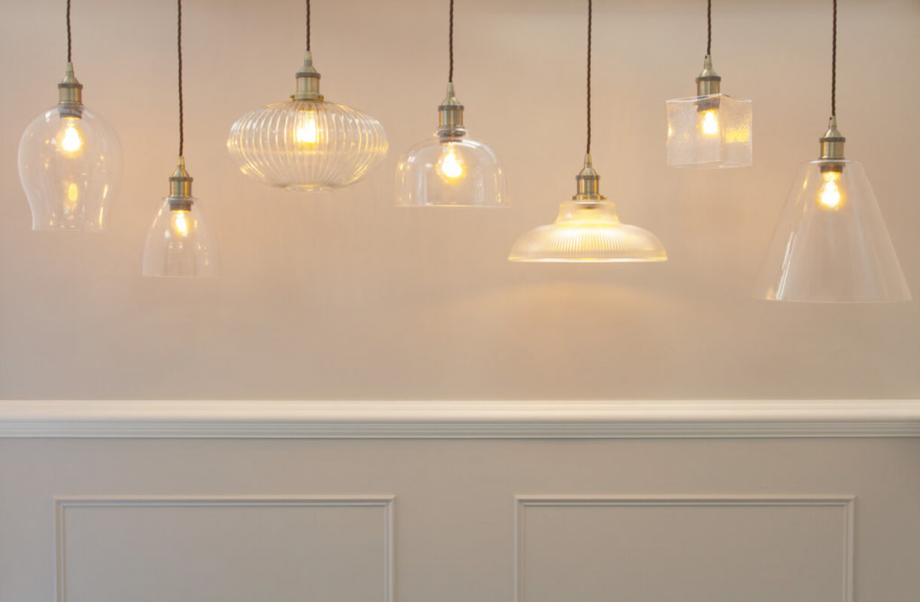 If you want to make a real statement over your kitchen island and your space allows, our Schoolhouse collection of lights will create true show stopping focal points.
A row of three Glasshouse pendant lights will add gravitas and presence to the room, the perfect choice for a period styled property.
For a more traditional feel, our hand painted collection of lights can be tailored to suit your design needs. Available in a range of desirable colours and styles, you can co-ordinate and match perfectly to the colour scheme in your home.
The Portland in squid ink blue brings a soft vintage timeless look, with curved lines and a gently rounded silhouette that complements many modern and period vintage styles. Hang as a row of three over a kitchen island to bring character and visual interest to the space.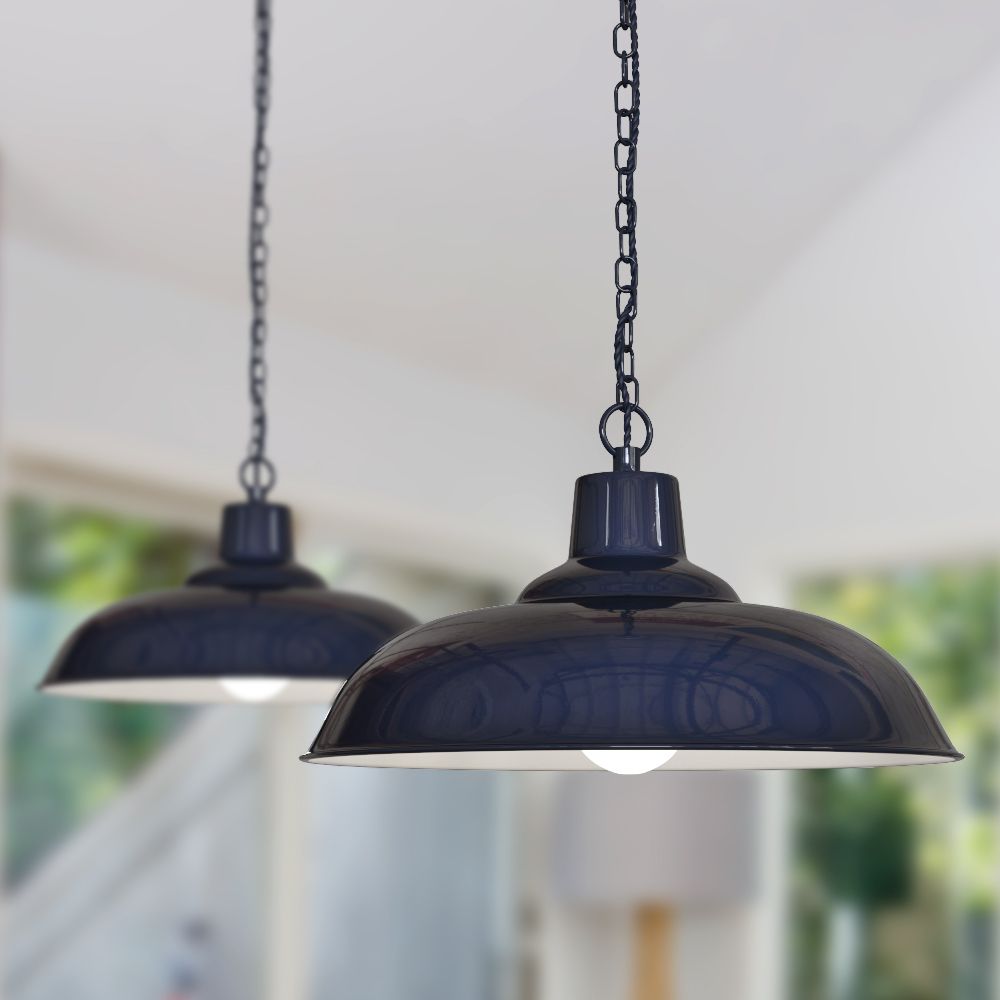 Kitchen island pendant lights can create a serious wow factor when done effectively. Consider all of the important details as well as how they aesthetically look in the space to create a functional kitchen island that works, and looks great too.