Victorian Living Room Ideas
Victorian homes are highly sought after properties. Characterised by high ceilings, mosaic tiling and those intricate, Victorian architectural details that homeowners of today just love.
It is highly desirable to retain that period authenticity in Victorian properties, often restoring original features to their former glory. Victorian living rooms can often be quite compact spaces, but with careful planning they can look exceptional. From original features to daring decor, we take a look at some Victorian living room ideas.
Restoring Original Features
One of the easiest and most favourable ways of adding character to a Victorian living room is by restoring what would be its original features. Ceiling roses, or centre flowers as they were commonly known as during the Victorian era were in all Victorian properties from terraced houses, to the grandest detached house. Whilst they would have varied in size and intricacy they were one of the pivotal features of a victorian home. Over the years they have been removed, changed and swapped for less, opulent features. The good news is that both original and replica ceiling roses are easily available online and at vintage fairs.
There are various other types of architectural detailing that are reminiscent of the Victorian property including coving and plaster mouldings. This stunning architectural detailing is one of the easiest ways to breathe opulence, character and beauty back into a Victorian living room.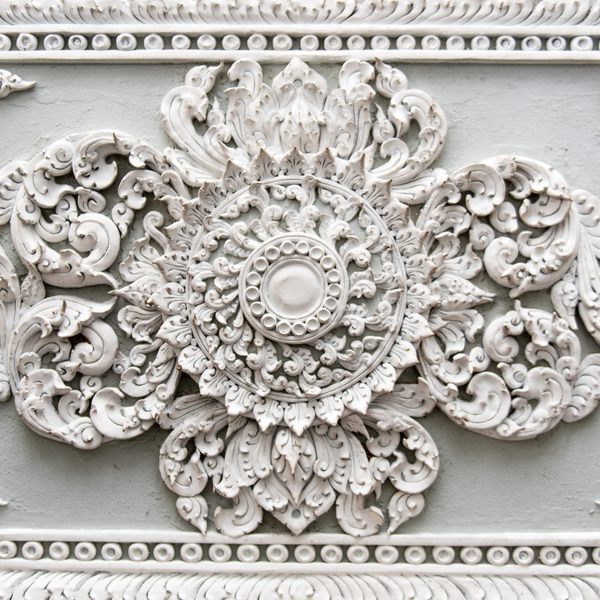 The Fireplace
Traditional cast iron fireplaces were another design feature of the Victorian era, demonstrating wealth and elegance. Most commonly, Victorian living rooms will have a chimney breast with alcoves either side. You might be lucky to still find an original fireplace in the property. But there are many replicas and originals on the market that can easily be added to the space. The likes of Facebook marketplace and vintage fairs are incredible places to pick up originals at a fraction of the price. To complete the Victorian look, opt for a traditional, ornate mantle to frame the fireplace.
Dark & Moody Colour Scheme
Dark and daring colours were a definitive design feature in the Victorian era, adding depth and opulence to a room. Soft blacks, cobalt blue and accents of red are wonderful colours to work into a Victorian living room.
Bright White
But, if you're not daring enough for the dark colours, don't panic! Bright white is still a popular colour choice for a Victorian living room. The brightness of the walls emphasises those high ceilings and architectural detailing beautifully. With statement artwork, fireplaces and furniture enhancing the rest of the room.
Alcove Shelving & Bookcases
The two alcoves either side of a fireplace are a characteristic feature of a Victorian living room. They are otherwise dead spaces that should dutifully be put to good use! The alcoves make for perfect storage opportunities, to creative shelving for books and decorative accessories, or for building in cabinetry. Sometimes alcoves can make a room feel much heavier than it is. So, opting for bright white shelving spaces will help to accentuate the light and space in the room.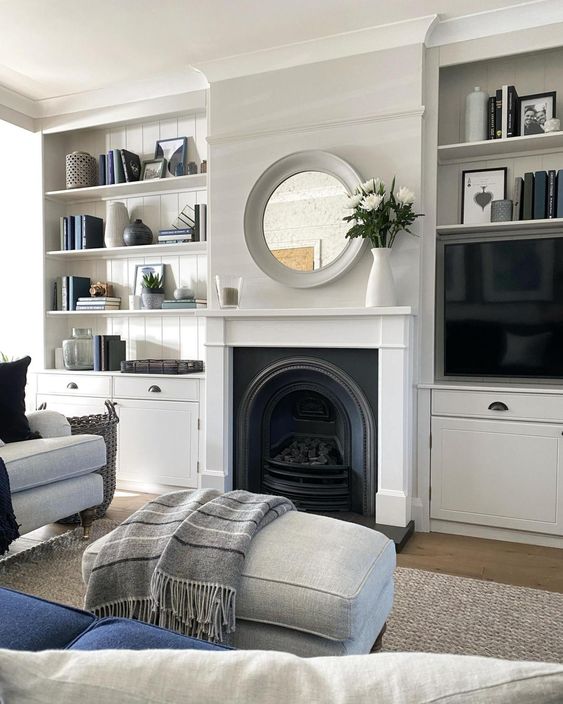 Restoring the opulence and elegance of a Victorian living room can easily be achieved. If you're opting for a more modern looking space, try mixing elements of the both for a mid-century interior that is full of character. If you liked this post, you might also enjoy Victorian Bathroom Lighting Ideas.