Victorian Bathroom Lighting Ideas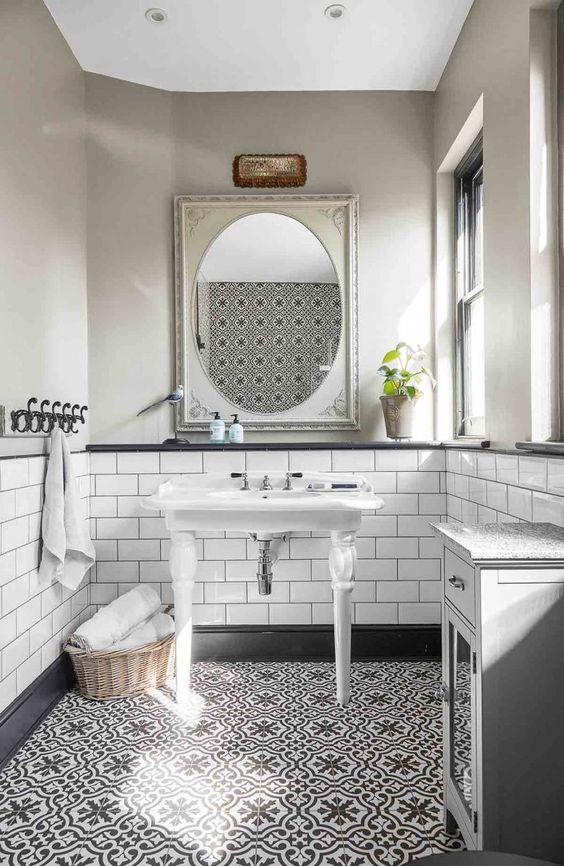 Image: Pinterest
Victorian, vintage style bathrooms offer a huge amount of character to a home. Whether you have a Victorian home or you are looking to recreate the style and era.
Beautifully detailed tiles, freestanding baths and traditional radiators. These are just a few quirks that set a Victorian bathroom apart from the rest. Traditional, vintage and more often than not, grand!
With the furnishings and finishes to one side, it's time to take a look at Victorian bathroom lighting ideas. Traditional bathroom lighting ideas for Victorian bathrooms include chandeliers, Art Deco style lights and chrome bathroom lights to name a few.
We delve into some beautiful lighting ideas to adorn the ceiling of your Victorian bathroom. Whilst keeping in line with the charm and style of this popular interior design era.
Chandeliers
Chandeliers work perfectly in big bathrooms as they light the room with presence and gravitas. Ornate and intricate, they add a focal point to a Victorian bathroom.
During the Victorian Era, chandeliers dictated a social order for the aristocracy. The detail of the design, what they were made of, and the size determined how much gravitas a person had.
Our LED candle bulbs look beautiful in an ornate chandelier. The bulbs pictured below are ideal as chandelier bulbs. The T-shape spiral filament and amber colour give this a wonderfully vintage look. Adding character and charm to the room.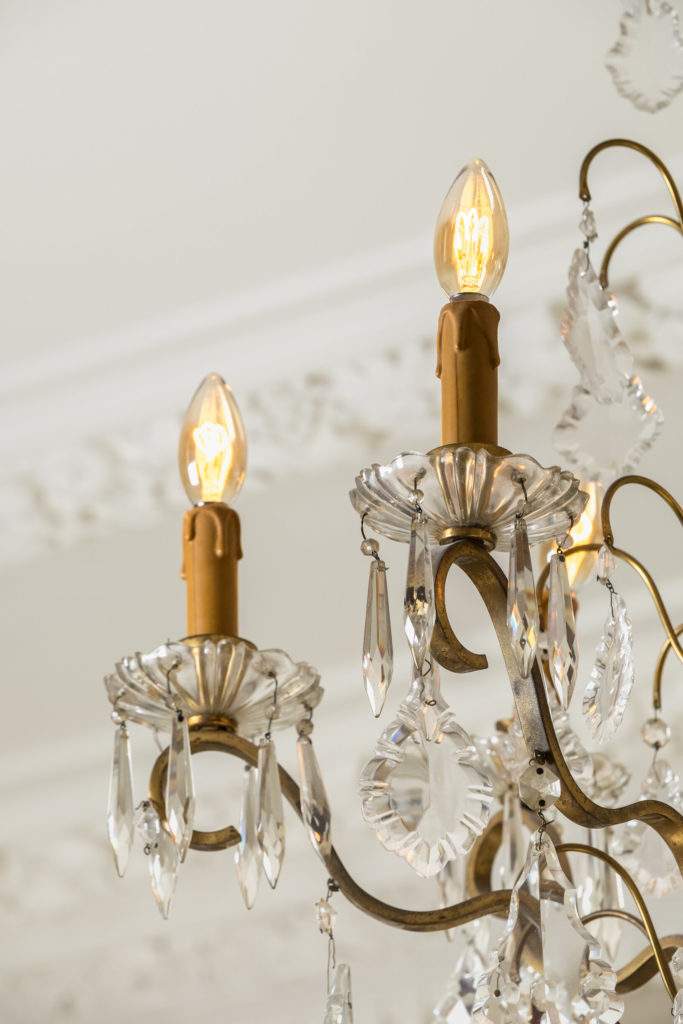 Bulbs pictured: Charing E14 2W Vintage Candle Sunset White LED Bulb
Wall Lights
Well distributed wall lights are a fantastic way to light a Victorian style bathroom. To provide a good level of lighting, we recommend layering the lighting with the use of downlights to give depth and ambience.
Our Sheraton Bras Wall Lights are elegantly grand with a distinctly Victorian gravitas, this versatile light exudes effortless taste and style. A sensational addition to a Victorian bathroom.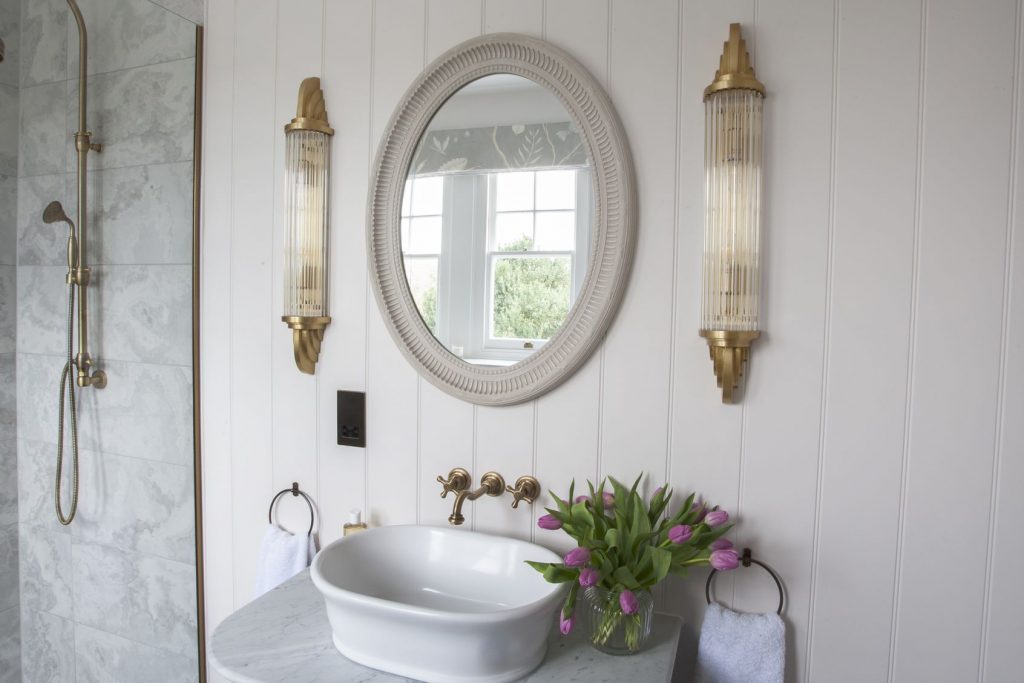 Pictured: The Sheraton Polished Brass IP44 Rated Wall Light
Downlights
Downlights are a great all rounder for a Victorian bathroom. They offer well distributed light and they are suitably IP rated for a bathroom.
Whilst they are not the most traditional lighting style for Victorian bathrooms, opting for brass, copper and chrome well help to keep in line with the popular metals of this era.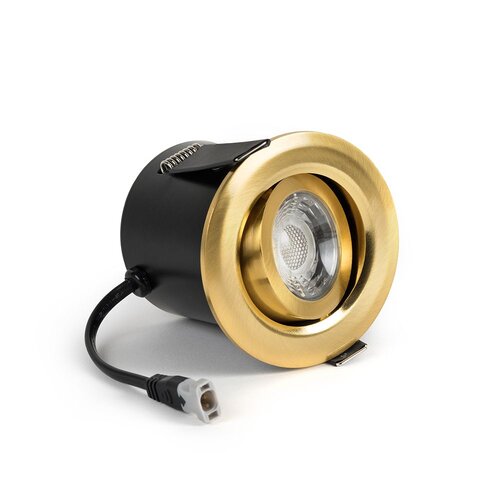 Pictured: Brushed Brass Adjustable Tiltable 4k Fire Rated LED 6W IP44 Dimmable Downlight
Glass Pendant Lights
Pendant lights look beautiful hanging from a ceiling in a Victorian home. Victorian ceilings are often incredibly intricate with architectural detailing and mouldings. Because of this, pendant lights are a great choice as they allow for upward lighting, creating an airy, social and light space.
The Schoolhouse Collection is simply breathtaking, whilst retaining its vintage authenticity, perfectly styled for the Victorian era.
These pendant lights come with some clout, so you will need a large bathroom to accommodate them.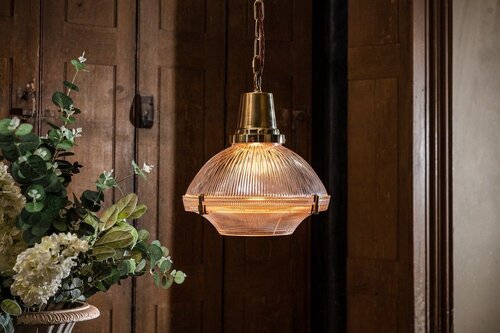 Pictured: Hollen Polished Brass Brimmed Dome Pendant Light - The Schoolhouse Collection
Brushed Brass Sockets & Switches
The Victorian Era was a time of immense change and mass production. In this time brass and bronze was used for majority of fixtures on doors, cabinets, furniture, floor registers, electrical switches, etc.
Attention is in the detail! Our Brushed Brass sockets & switches are the perfect finishing touch to a Victorian style bathroom. It is popular in period styled and statement properties as warm brass tones and subtle ageing lend an instant timelessness and elegant authenticity to any home.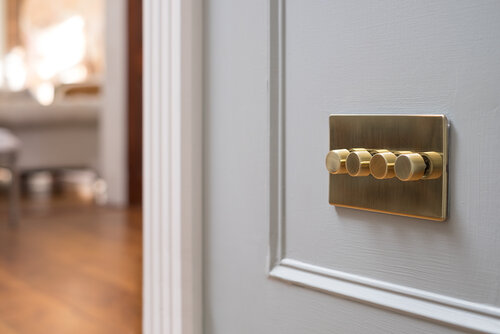 Pictured: The Savoy Collection Brushed Brass Period 4 Gang 2 Way Trailing Edge Dimmer
Some simply sumptuous ways to light your Victorian era bathroom with style!
[related_products]