Taking The Shabby Out of 'Shabby Chic'
'Shabby chic' was born in the 1980's, a style of interior design where furniture and furnishings are selected for their appearance of age and signs of wear and tear for that authentic, vintage feel. It remains a popular choice of design, lending a French, rustic charm to any setting.
Lee Lovett, director at Soho Lighting speaks of her endless love affair with French interiors...
"I bought my first French bergère chair aged 25. I had no idea of its origin or style but knew that I loved it. I drove past the antique shop window displaying it for 4 months before commanding the courage to step inside and enquire - and so began my passion for French interiors! 25 years on, I still love that chair and all the pieces I have avidly collected since in the quest to create an interior of authentic, faded French opulence".

And, so to the bedroom...
The art to creating the perfect French 'Shabby chic' boudoir is to make it look effortlessly stylish. Heirlooms handed down through generations thrown together in an eclectic mix creating a sumptuous faded grandeur that is both gender neutral, and soothing to the soul.
Creating a shabby chic look is not without its limitations. Most of us are not in a position to inherit gorgeous french furniture and lighting, and recreating this beautiful look is easy to get wrong.
The bedroom can become more of an assault to the senses than a calming haven of tranquillity and sleep. Too contrived, too minimalist, glaringly faux, too 'frilly' or claustrophobically busy are common outcomes and costly mistakes to make.
We explore 6 key areas that will help you to create that perfect French bedroom that is chic and authentic, as opposed to 'shabby' and fake.
1.Colour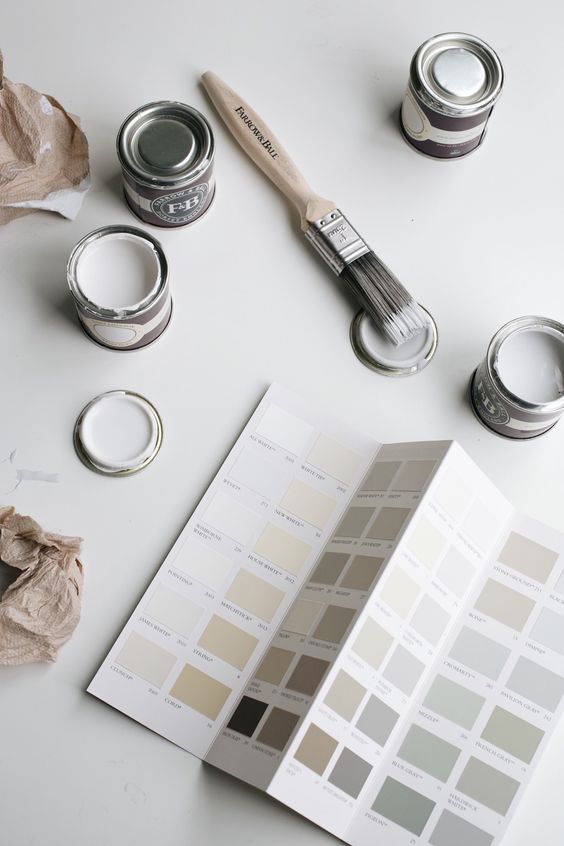 Pick from a palette of soft French colours – blues, greys, chalky greens, off whites - and never brilliant white! Bright white alters the softness of other colours that it sits with giving a more scandinavian look. Instead, try F&B colours in Wimborne white, shadow white, breakfast room green, dix blue, cornforth white, or the stronger Manor house grey.
Remember that colour shades are mercurial and the same colour will often look different in different rooms and lights.
Create a colour board with a patch of each paint colour to enable you to see how the different colours look together. Once created, move it from room to room to see how they look in different lights.
2. Paint finishes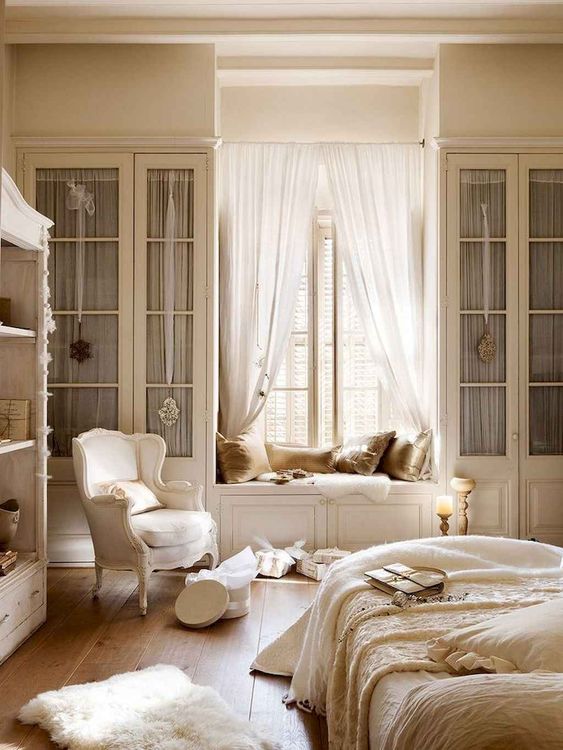 Ban the gloss. French walls should have a matt/chalky finish and French wood a soft eggshell sheen or chalky paint finish. Shiny walls and gloss painted wood is a definite 'no' when replicating a traditional French finish.
Farrow and Ball and The little Greene Company carry a beautiful range of period finishes with Estate Emulsion for walls and Estate Eggshell for wood work.
When repainting furniture, Annie Sloane (the pioneer in authentic painting techniques and recreating the French 'look') has a divine range of chalk based paints and top coat waxes perfect for that 'lived in' French finish. Her colours can be easily mixed to compliment any colour scheme and there is no need for any fiddly undercoating – her chalk paints literally adhere to anything!
Annie still runs courses near Oxford in this style of painting, but you can also learn from the comfort of your own home. She has shared numerous youtube videos with instructions on 'how to..' that will help you achieve that perfect French 'look'.
3. Furniture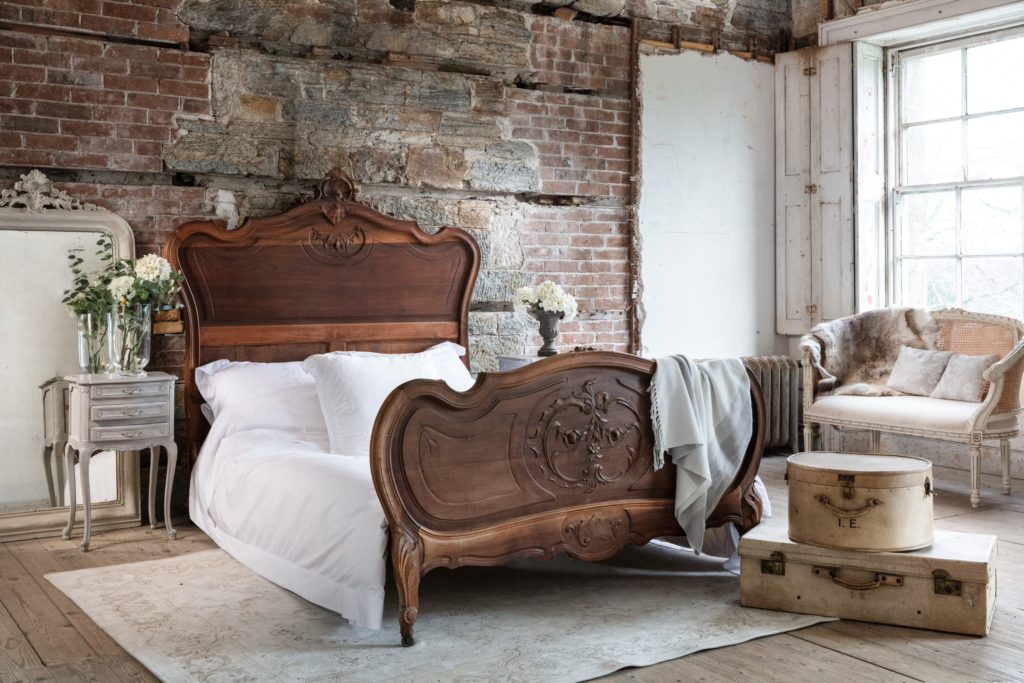 Don't buy new! Save money and avoid the'faux' look. No matter which era of French furniture you love (Rocooco, Louis IV) online stores such as eBay, Selling antiques, Lstb, etc have a huge variety of French furniture and accessories in all price ranges. You can source amazing pieces from charity shops, house clearances, auction houses and antiques events such as the National ICAF events.
Focus on the size and shape of the piece and don't be deterred by the colour, as this is one aspect that can easily be changed.
The bed is the centre piece of the room and there are so many styles to choose from - hard wood, Bergere / Cane or upholstered styles like that of the Corbiere, so take your time and choose wisely with this key piece.
The Armoire (French wardrobe) comes next along with the chest of drawers or traditional French bombe / commode. In addition, Gesso framed mercury foxed mirrors add that authentic feel, whilst adding light and space the room.
4. Lighting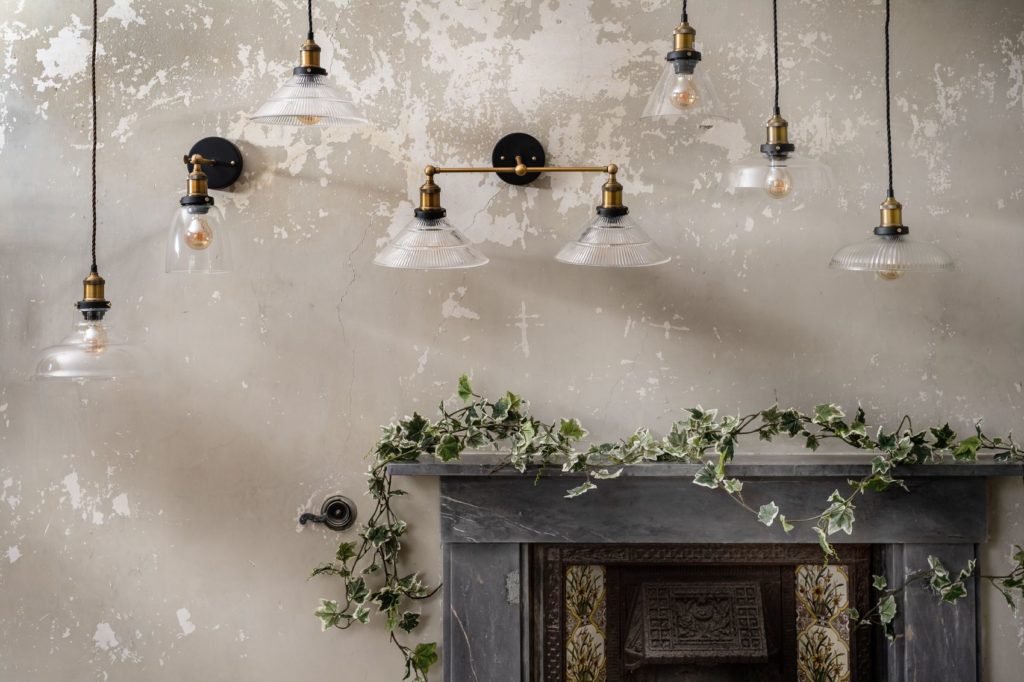 Pictured: The Soho Lighting Company Romilly Light Collection
Lighting is essential, both for creating ambience and setting the mood of the bedroom. Softly lit lamps, and over-head chandeliers create a romantic feel and glass or enamel shades for pendants and wall lights give a classic look.
Sourcing traditional, antique lighting is desirable but it can be costly, as rewiring is often required to meet today's electrical standards. Fortunately, exceptional replication lighting can be sourced from numerous companies. Including the Romilly collection by The Soho lighting company which boasts a range of exquisite glass pendants and wall lights. Equally, their stunning OhSo F&B hand painted enamel lights collection in 12 different styles and 10 colours matched to farrow and ball shades would look stunning in any french bedroom setting.
5. Switches and Sockets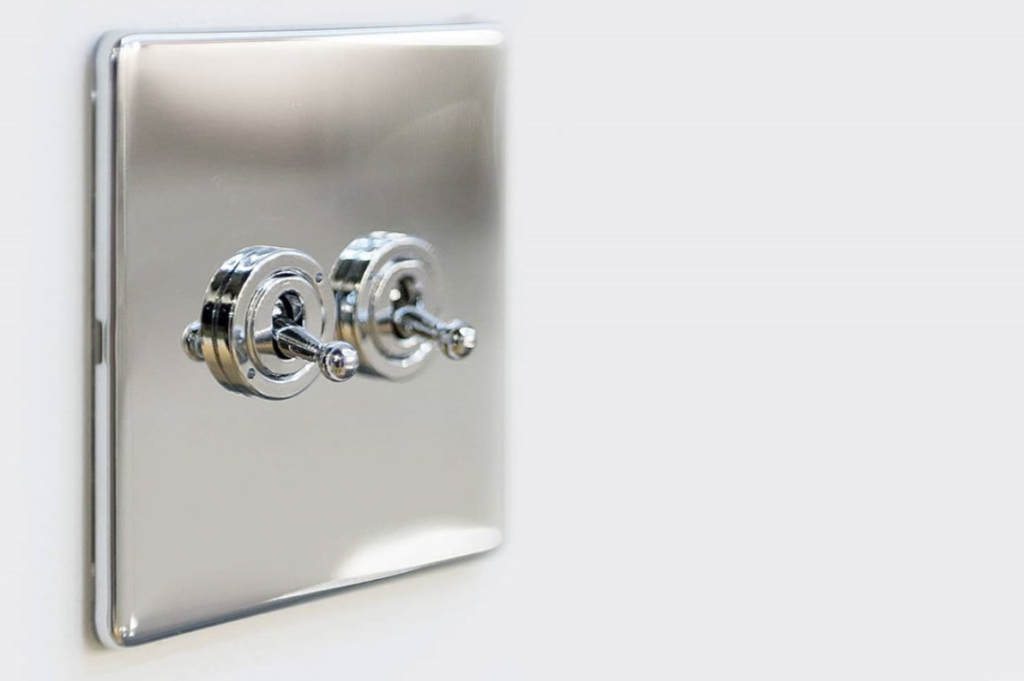 Pictured: Polished Chrome Flat Plate 20A 2 Gang Intermediate Toggle Switch Screwless
Something so regularly overlooked are the switches and sockets of the room. They really are the pièce de résistance, and the final missing detail that makes such a difference.
Touched and viewed more than any other design asset in a bedroom, these potentially gorgeous items are often left in a plain white plastic which would never feature in a period French bedroom. Gorgeous French toggle switches will complete the finish of an authentic french bedroom adding an understated elegance charm. The Soho Lighting Company provide a range of chic screwless toggles and sockets in a choice of finishes to suit your home.
6. Flooring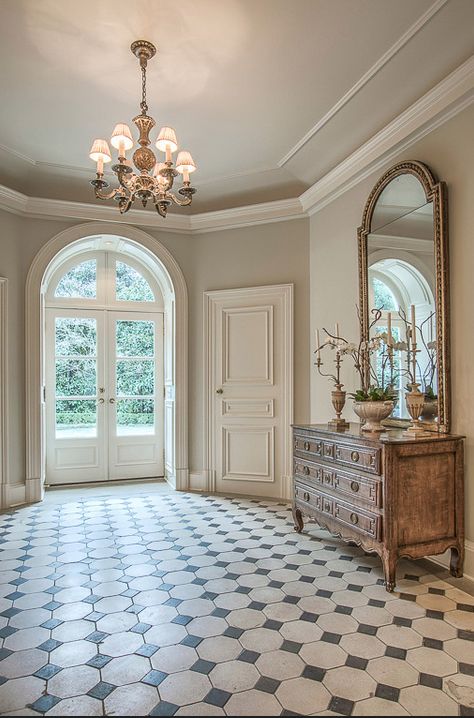 French floors are typically hard, softened with woven Aubusson rugs. Wood floorings such as floor boards or parquet work beautifully, although tiles can be more practical if you are fixed on under floor heating.
Aubusson rugs are gorgeous but carry a hefty price tag. However, nowadays there are many woven imitation Aubusson rugs on the market which look great and in keeping with the feel.
Armed with our key considerations to remember when creating a shabby chic bedroom, you won't fall shy to the overly contrived style of shabby chic, creating a calm, cool and collected French charm to your home that will be loved for years to come.