Period Kitchen Lighting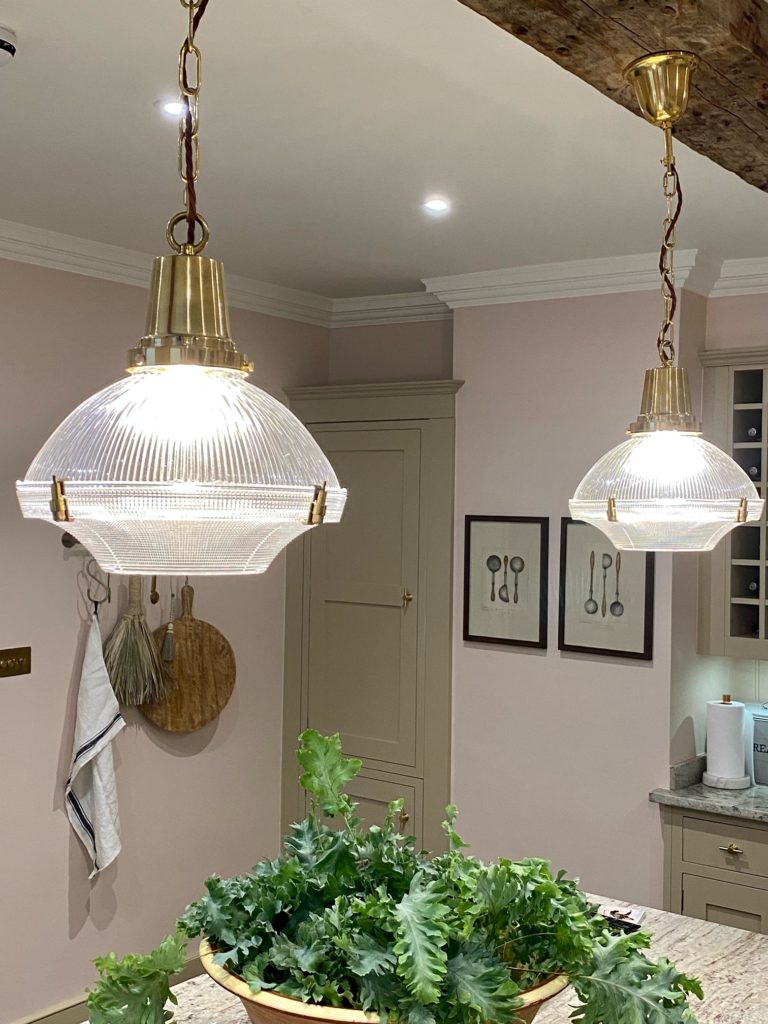 The kitchen is the main heart of the hub, and one that should be light, social and airy. The lighting is key in such an integral room. You want every room to flow flawlessly in and out of the kitchen. Lighting can help you achieve just that.
Period lighting is perfect for both period properties and those that want to achieve gravitas and presence in their kitchen. For that extra wow-factor and period authenticity in your home, here are some period kitchen lighting ideas.
Period Kitchen Lighting
A period property often boasts those enviable high ceilings, and carefully positioned and well proportioned lighting is required to fill and illuminate such a space. For grand, high ceilings, there is no better pendant light than the Glasshouse Polished Brass Clear Pendant Light.
The glasshouse is simply breathtaking. A row of 3 over a kitchen island will bring gravitas and gorgeous illumination to a large room.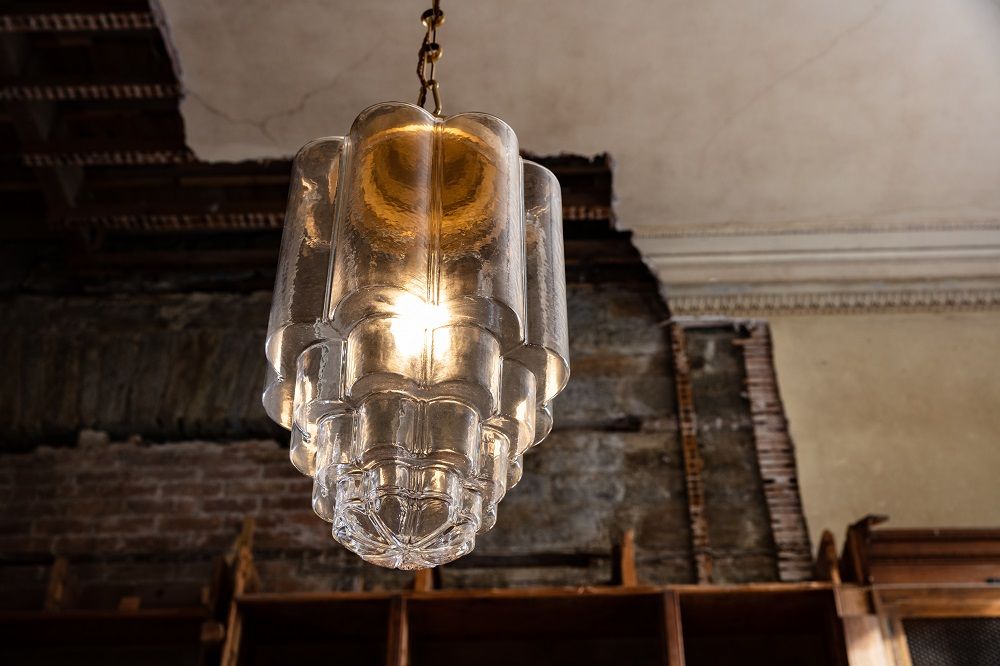 Make like our Soho customer who opted for the stunning Hollen Lacquered Brass Brimmed Dome Pendant Light. Fitted along their historic beams, and above a kitchen island. Modelled on the early 1900s Industrial Brimmed Dome Holophane Pendant, our Hollen brimmed dome pendant oozes sophistication and charm.  This period light looks sensational on its own, or in a row of odds.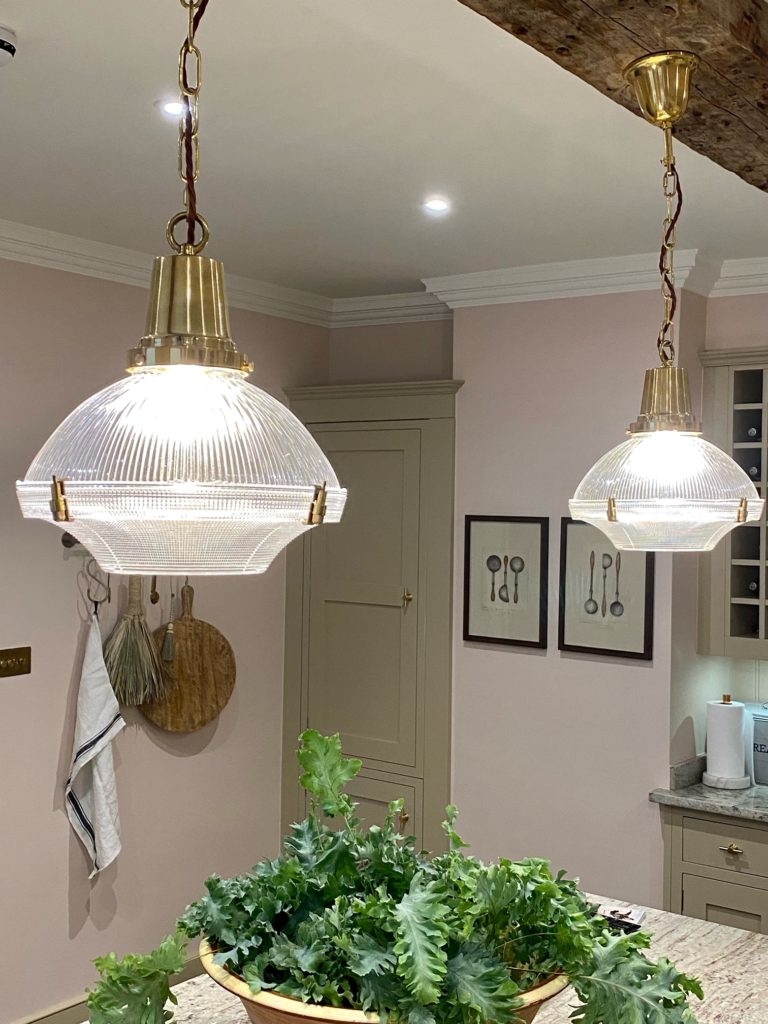 The resplendent Dean is modelled on the 1920s vintage design with neoclassical elements. This breathtaking beauty would look fabulous in a larger kitchen space, dotted as a row over a kitchen island. This period light can be appreciated in period properties or those that want to replicate period authenticity throughout.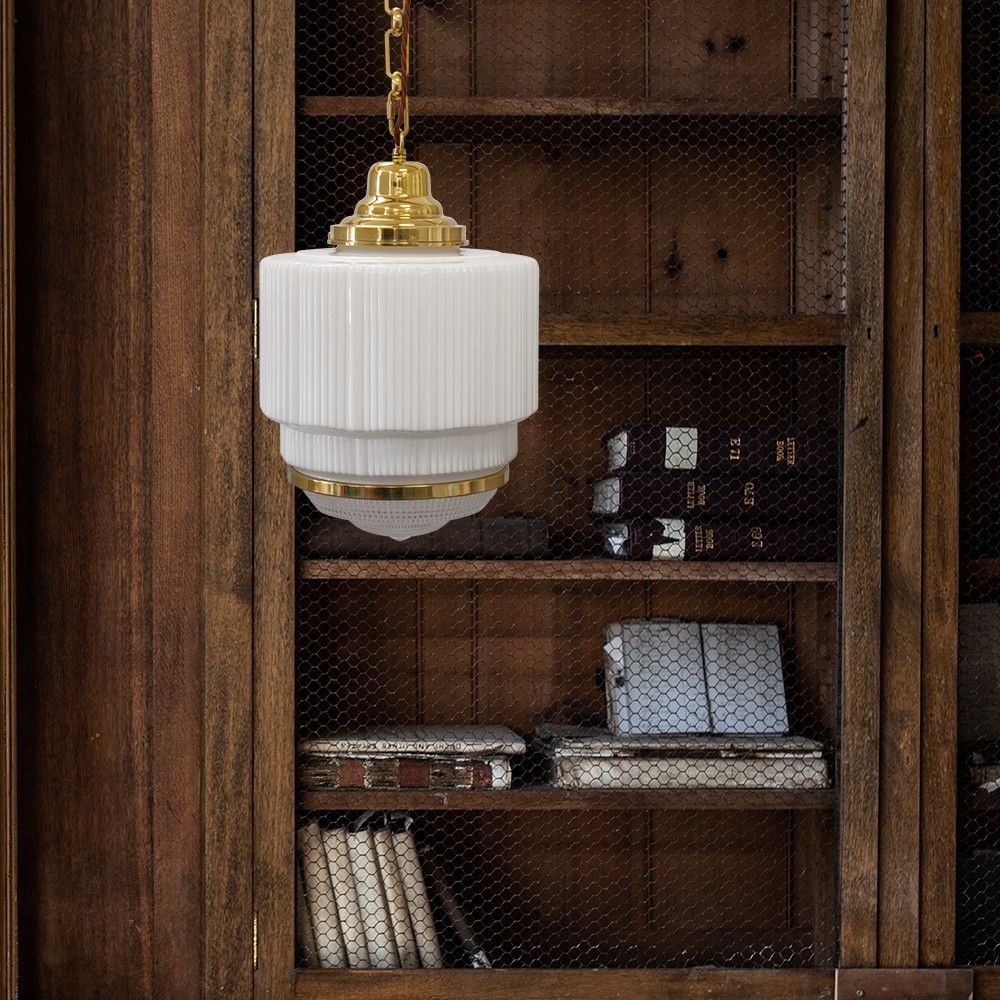 Wonderfully classic, the Regent Vintage Pendant Light features classic period styling and eye catching detail. This light is perfect for properties of all distinctions. Position on their own or in a row of 3 and 6 for visual presence. Available from our hand painted collection, in a range of desirable colours.
Small, yet beautifully formed. The Frith Nickel Opaque pendant light looks sensational when hung in multiples above a kitchen work top, island or dining table. Ungalvanized, polished Nickel provides a stylish reflective period finish which can be left to naturally patina and darken over time to a more muted and matt aged Nickel finish or be occasionally polished to retain it's rich, honeyed reflective appearance.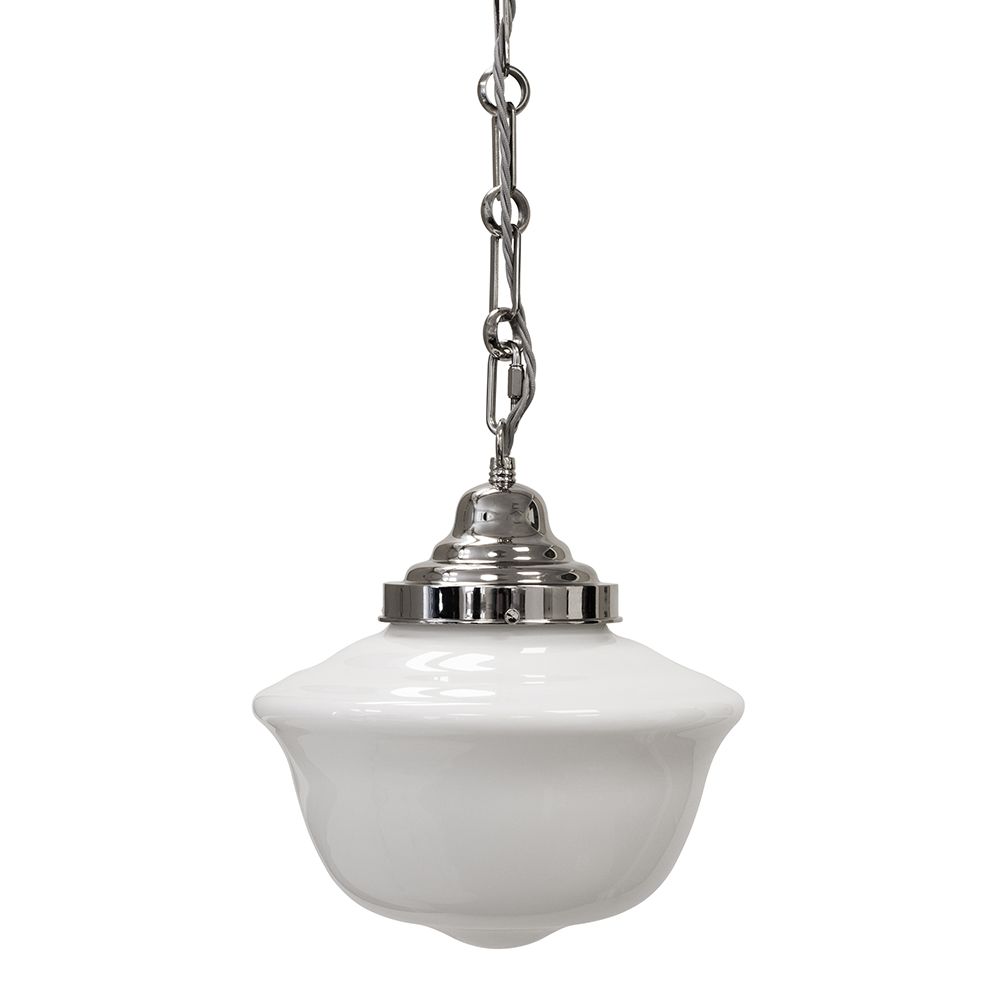 Larger rooms, and those with high ceilings may benefit from a layered lighting scheme to adequately illuminate the room. The Sheraton Brass IP44 Rated Wall Light will add style and sophistication to any interior. The clear cut lines are a serious nod to the 1920s, a perfectly period wall light for any kitchen.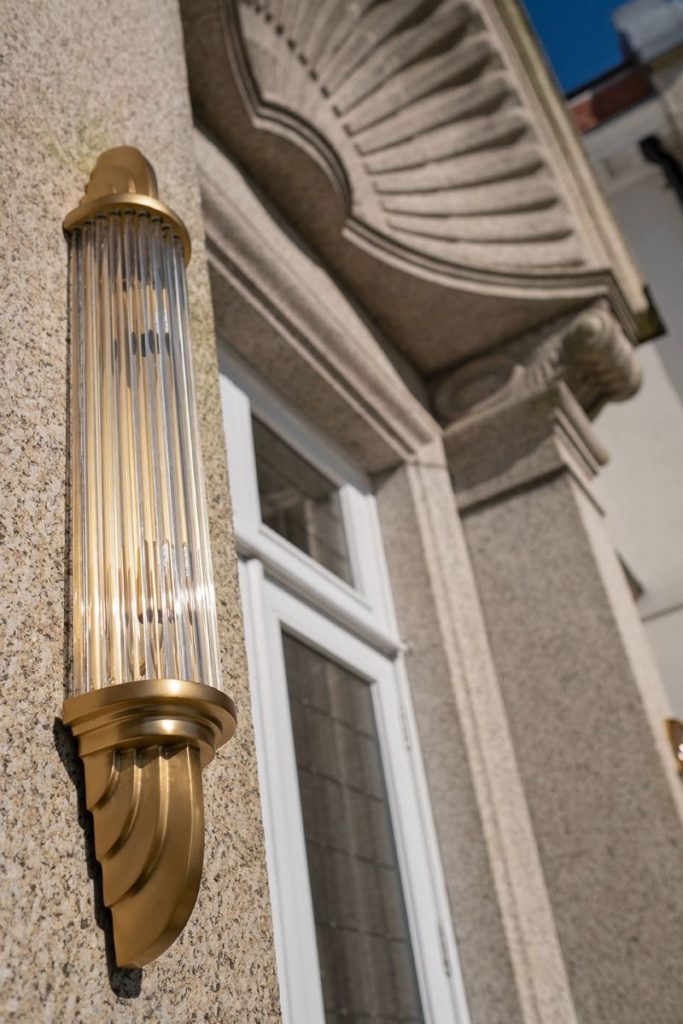 Transformed from the practical to the sophisticated and stylish, the textured prismatic glass of the Hollen Globe provides a combination of up light and down light which projects a wonderfully even distribution of light, without casting shadow or glare.
A sensational light as a row over a kitchen island. But as demonstrated below, the Hollen Globe looks equally as gorgeous on its own as a focal centrepiece in the room.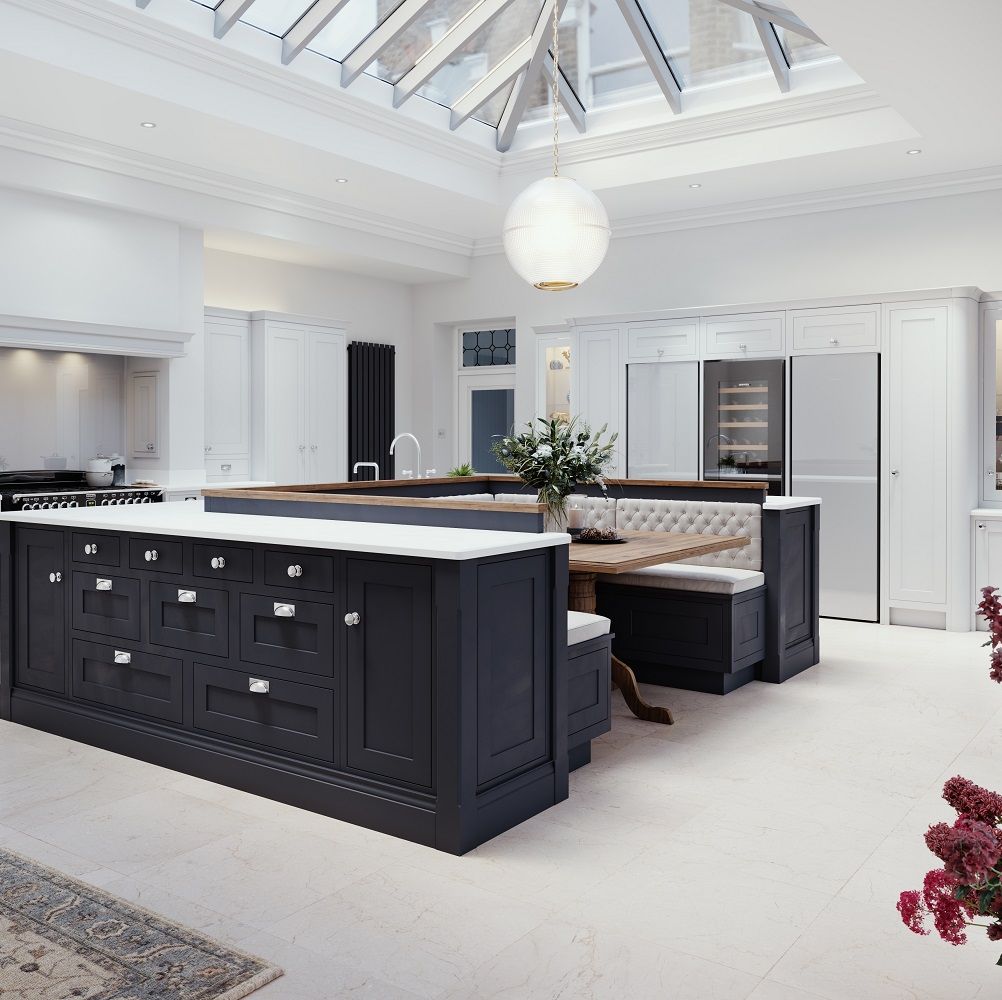 Period lighting can transform a kitchen space, create the right foundations with a lighting plan and your entire room, and kitchen will flow beautifully. Take a look at our Schoolhouse collection for more period lighting inspiration for your kitchen.