Mixing Metals In Your Interior
For those wishing to follow the beat of their own style drum, mixing metals and finishes can be a fabulous enhancement to an exciting interior.
This said, an unplanned mix or overload of finishes will fight for attention and detract from other interior design decisions you wish to take centre stage. Imagine a kitchen with polished chrome door handles. White plastic switches and sockets. Aged brass window furniture and copper kitchen cabinet furniture. I think you get the picture….
How To Mix Metals In Your Interior?
Mixing finishes requires careful planning and thought. If you are less confident about taking this route, below are 3 top tips to support the production of aesthetic hardware pleasure and prevent a cacophony of clashing finishes.
1.Select A Dominant Finish
Select one dominant finish and compliment or accent with up to two others.
Using more than three hardware finishes in a room can be visually disruptive and launch an assault on the senses. Our brains are naturally pattern seeking machines.
Three is the simplest number from which to create a pattern and, as such, assets are more aesthetically pleasing in 3's. Our brains are forced to explore the pattern which gives us time and visual opportunity to appreciate the full aesthetic, delivering immediate subconscious satisfaction.Genius!
2. Use The Mix Throughout Your Home
Once you have selected your mix of finishes, cascade that mix throughout the interior. Do not be tempted to add additional finishes as consistency will ensure your hardware provides connectivity and flow between the separate rooms and spaces.
3. Be Brave
Be brave with opposites. Do not be afraid to use a mix of polished and matt finishes and feel confident in combining warm and cold tones – they look sensational together! It is true that opposites attract.
Subtle & Sophisticated
Selecting one or two neutral finish colours, then mixing the tone and reflective finish will add subtle but sophisticated depth.
A polished nickel bell pendant would work beautifully with brushed chrome kitchen appliances and cabinet furniture with white metal downlights.
Bold & Confident
Be daring with a set of copper pendants, polished chrome cabinet hardware with complimentary polished chrome and copper mix in kitchen appliances. A confident look for a kitchen!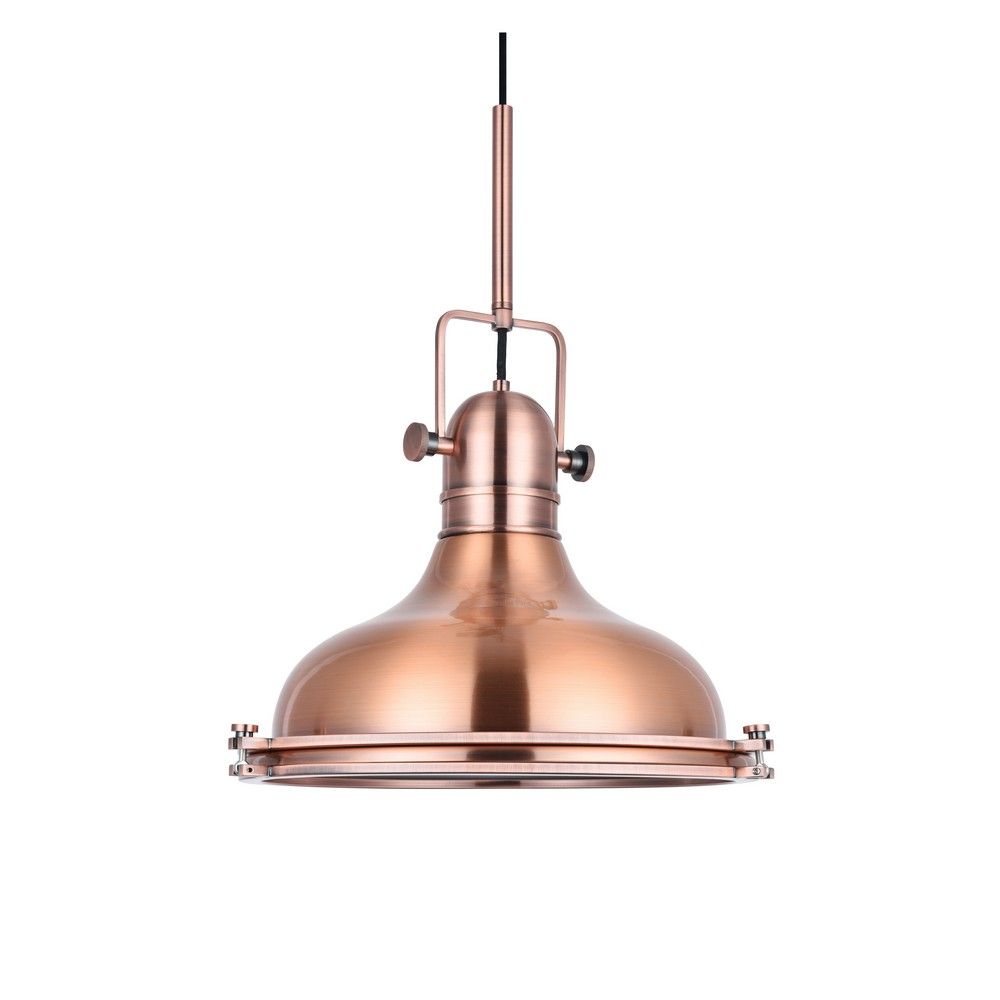 Pictured: Cambridge Rose Gold Bell Shaped Ship Pendant Light
Three is not a crowd – It Is Aesthetic Genius
A definite exception to the rule of 'three is not a crowd'. Try mixing brushed brass pendants with copper cabinet hardware and brushed chrome downlights. A feast for the eyes!
Inspirationally Different
Mixing metals is going above and beyond for your home interiors. Inspirationally different! In a bedroom you could mix brushed brass and polished chrome by combining different finished switches on either side of the bed. The devil is in the detail!
Recognising the sensational effect of mixing finishes, The Soho Lighting Company, launch their fabulous 'Fusion' collection. A range of stylish, screwless switch and sockets in a blend of metals, colours and finishes to enhance your finish mix throughout your interior.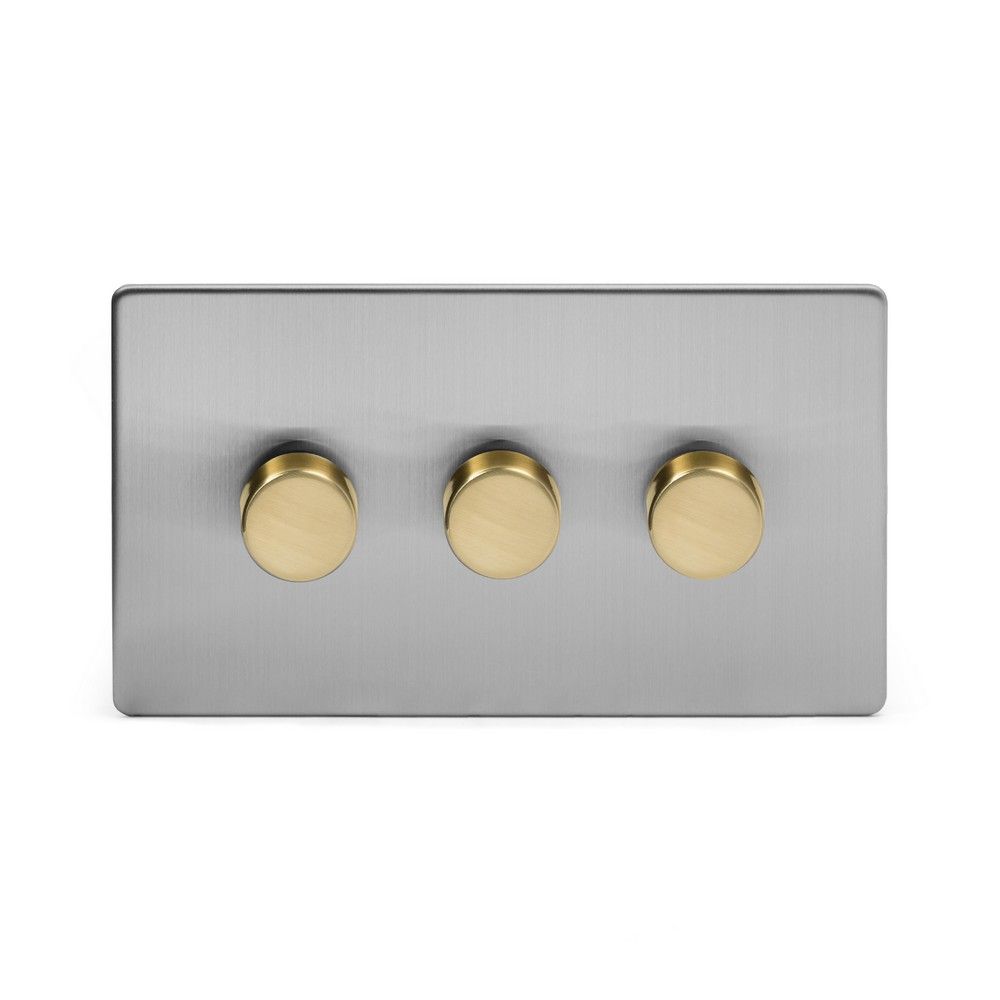 Pictured: Soho Fusion Brushed Chrome & Brushed Brass 250W 3 Gang 2 Way Trailing Dimmer White Inserts Screwless
Changing the face of sockets and switches, this hand-crafted collection provides an unprecedented choice of finishes and never-before-seen opportunities for personalisation.
Mixing metals has never been so easy. Screwless, stylish and unique.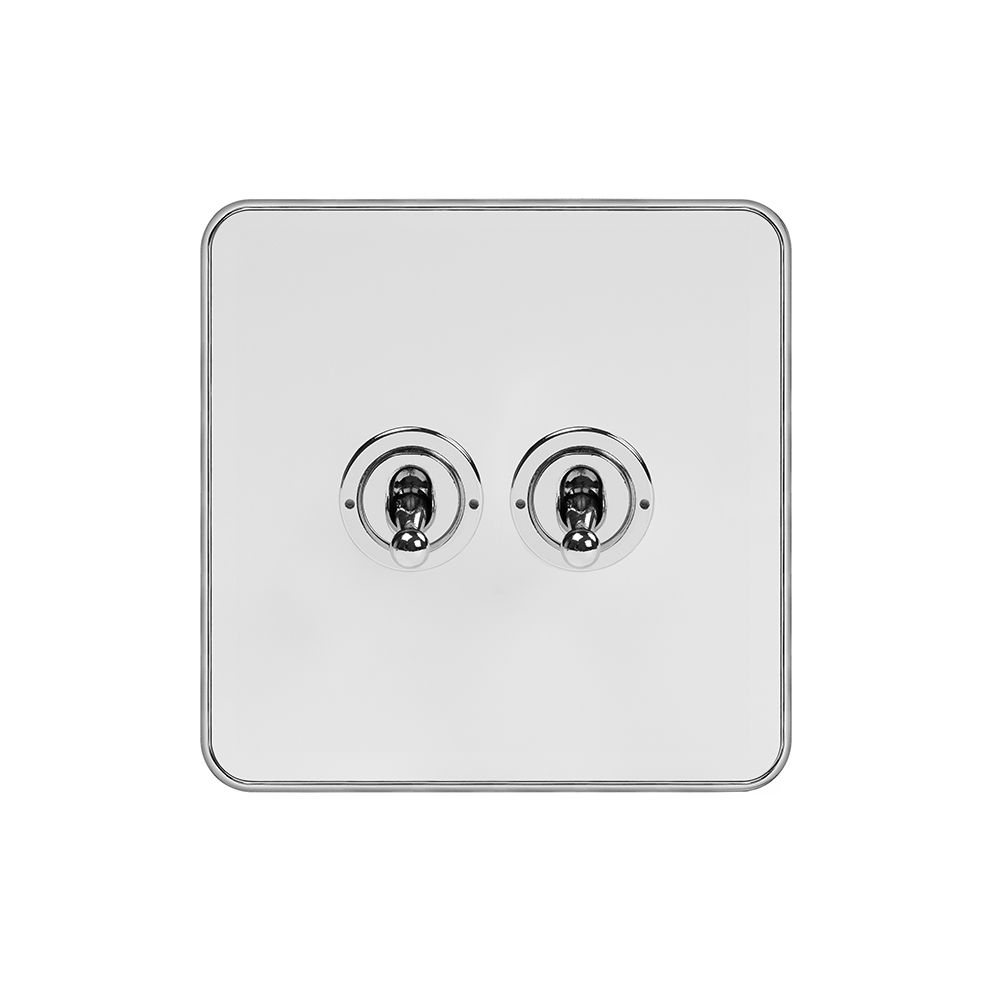 Pictured: Soho Fusion White & Polished Chrome With Chrome Edge 20A 2 Gang 2 Way Toggle Switch White Inserts Screwless
[related_products]