Contemporary Vs Modern Decor
If you're not permanently involved in the design world, it can be difficult to distinguish the differences between both modern and contemporary decor design.
Both decor styles offer fantastic options to bring an interior to life. We explore the era of these styles and more to help you decide which decor style is most suited to your home.
What Is Contemporary Decor Design?
The main difference between these two decor styles is the era at which they originate. Contemporary design belongs to the current time period, what is currently trending and 'in'. Because of this characteristic, it makes it very difficult to nail down this decor style. Of course, it is one that is constantly changing.
However, the most distinguishing feature can be the architectural lines. Contemporary homes tend to have bold and sweeping curves.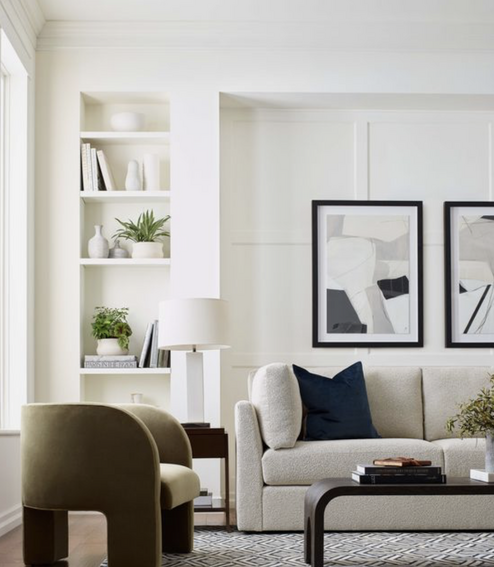 Taking a nod from contemporary decor today, it represents a calm, collected and minimal space with the use of more neutral colours, deeper masculine tones are also often incorporated.
When it comes to furnishing a contemporary space, it's all about keeping it minimal. Furniture is usually very simple, with smooth surfaces and clean lines. For flooring, this usually means being carpet free and opting for tiling, wood or vinyl instead.
Contemporary Lighting
Lighting is key when it comes to contemporary design. You want to ensure that optimum light is directed onto the key features in a space. Natural lighting also plays a big role. Make use of floor to ceiling glass, large windows and skylight windows to flood the space with light.
Downlights are a contemporary lighting choice as they are streamlined, neat and tiltable downlights can allow you to direct the light to the area required.

What Is Modern Decor Design?
Modern decor design refers to the architectural style that was popular between the early 1900s and 1950 which reflects the modernist movement of the 20th century. Originating from the German Bauhaus Schools of design, the new design focused on minimal features and maximum function. 
Modern design is characterised by the use of architectural straight lines. Previous styles that employed heavy textures, carvings and wood tones were replaced with open space and minimalist features.
White, beiges, and even some shades of black are the main colour palette for modern design. However, you can incorporate brighter colours through subtle accents in the home.
Modern design also lends itself to open plan spaces, such as in kitchens. Natural lighting is also a big component in modern design, flooding rooms with light for an airy and social feel.
The material of the furniture is also a tell tale feature of this decor style. The modern design era ushered in natural materials to construct furniture. Furniture comes from natural materials, but is built in a way that is offers practicality and style too. The Eames chair, was one of the defining pieces of the era and no doubt, an iconic piece that you have come across at some point.
Hopefully you'll be able to distinguish easily between these two iconic decor styles in your next interior project!
[related_products]