Choosing The Right Colours For Your Home
Whether you're in the renovation stages of your house or looking to give it a little refresh, colour is something that you need to nail from the outset.
Choosing the right colours for your home is incredibly important. It will allow your home to flow from room to room, as well as working with the period of your property.
According to Market Watch who recently carried out a report, the colour you paint your walls with can have a dramatic impact on the purchasing value of your home! Indeed, it's not one you want to get wrong, but this doesn't mean you have to play it safe with white washed walls.
It can be a lengthy process, but one that is worth spending the extra time on. We explore the key considerations to make when choosing the right colours for your home.
Take Inspiration From The Period of The Property
The period of the property should have a say in the colour scheme. A colour well suited to a contemporary home won't necessarily look as good in a period property.
For period homes in particular, you may used an architectural feature or an iconic antique piece that you can seek colour inspiration from. Whilst any colour can be used in a dated property, those who are passionate about recreating an interior style from the past usually opt to use a variety of neutral and tonal shades, such as whites, creams, greys and taupes, to keep their homes bright and create a clean backdrop to allow displays and features to stand out.
For added authenticity, you might seek colour inspiration from the eras gone by to match the period of your property.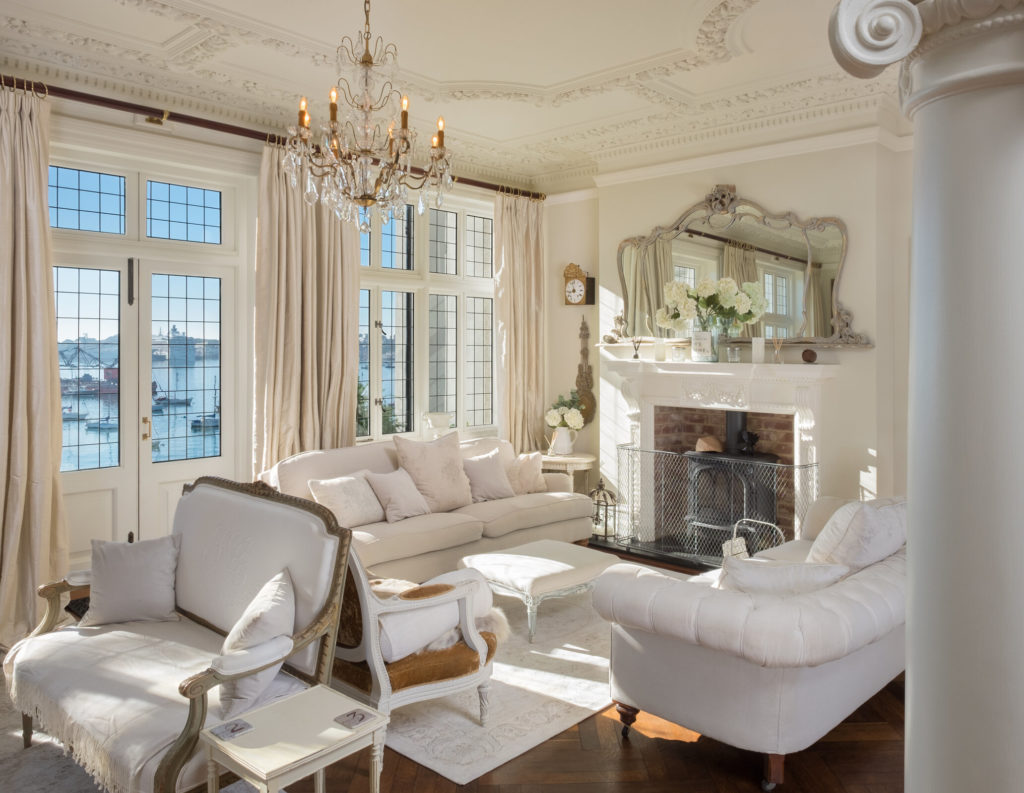 Test It First
Whatever you do, test the shade first, and lots of them! There's no better way to find the perfect shade then having a few in mind and playing around with them in the desired room. Instead of painting directly on the wall, paint onto a piece of wood which will allow you to carry it around the room, observing the colour from different angles.
Just make sure that the light source in your room has an adequate CRI level, as paint really can look different in different lights. This will certainly eradicate the risk of any surprises once the full room has been painted!
Avoid Trends
Whilst a certain paint colour or colour scheme might be 'in' now, trends quickly change and you can guarantee it will soon be 'out'. If you opt for a timeless paint scheme it will avoid having to redecorate every couple of years, and it will stop your home looking dated before its time.
If there is a specific colour you have your heart set on, introduce the colour by way of home decor accessories that can easily be swapped out and repurchased once the fad has gone.
Think of Your Rooms As A Whole
It can be easy to dissect a colour palette on a room by room basis but, but you should think of your rooms as a flow. You don't want to disturb the flow by introducing lots of different colours.
The colours in your home, especially those on the same floor should have an adjacent and cohesive colour palette. Collect your paint swatches and compare together room by room to see how they work together.
Work With What You Have
If you are looking to refresh your current home, you're going to want to take stock of your current furniture and decor as you're going to want to work with this as best as you can.
Think about the upholstery fabrics and any artwork that you currently have and take inspiration from them! The colours you choose for your room will need to complement the existing furniture to help pull it together.
Armed with these key considerations, we hope taking the next step to choosing the colour scheme in your home is a little bit easier!
[related_products]