William Morris Home Design Inspiration
"Do not be afraid of large patterns, those natural forms which are at once most familiar, and most delightful to us, as well as from association as from beauty, are the best for our purpose" - William Morris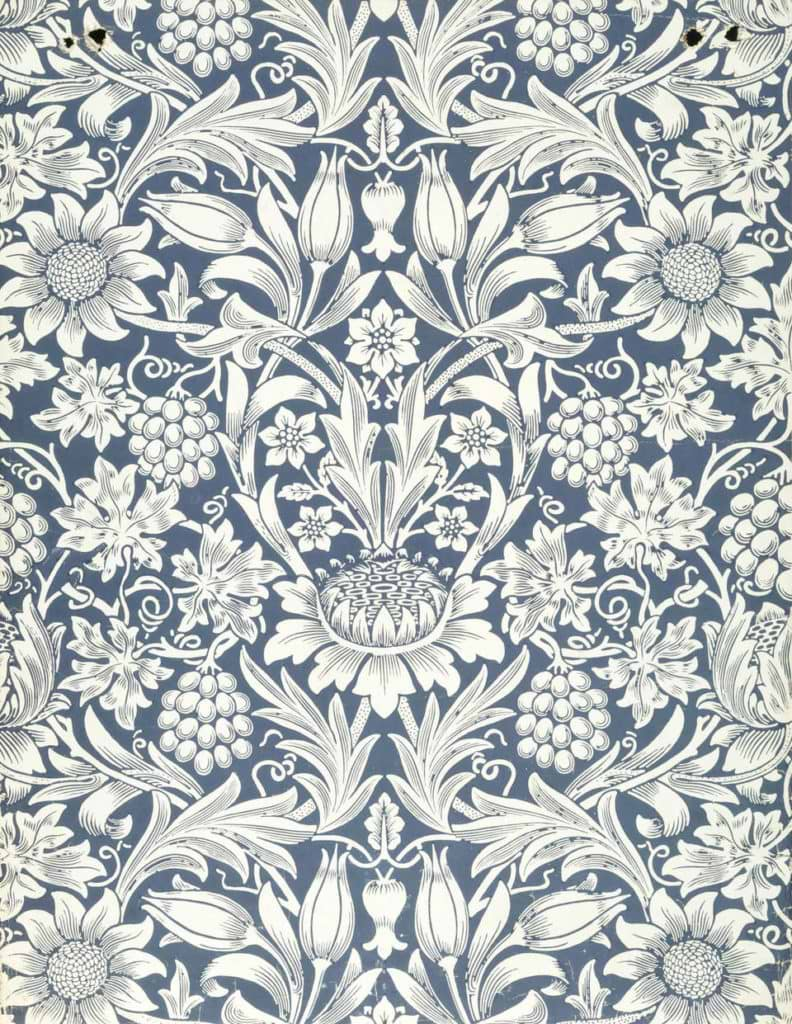 William Morris is one of the greatest celebrated designers and creative minds of the 19th century. Furthermore he was a key character in creating the Arts and Crafts movement, Morris remains incredibly influential today. He sort to create homes and spaces that combined the ornate and decorative aspects of nature with the functional. With beginnings as an architect, Morris went on to become a decorator, poet, fabric printer, writer and much more. As a result he became one of the most revolutionary designers of his time, drawing great inspiration from the medieval era.
1. Nature and its Influences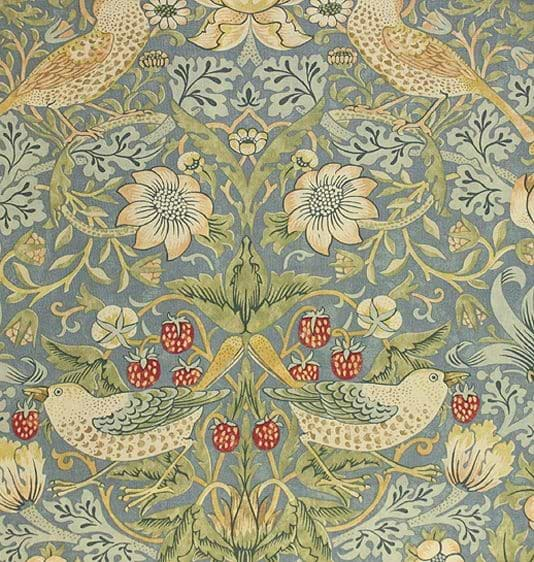 The Medieval era instilled in Morris the desire to create objects rich with natural beauty. Furthermore it grew in him the idea to use locally sourced materials and hand crafted methods that his work became so famously associated with. Similarly, the artist and writer John Ruskin was another great influence on Morris. Ruskin infused in Morris his love of the natural world that is so prevalent and admired in his motifs and designs.
"Nature is painting for us, day after day, pictures of infinite beauty if only we have the eyes to see them." – John Ruskin
2. All Walks of Wallpaper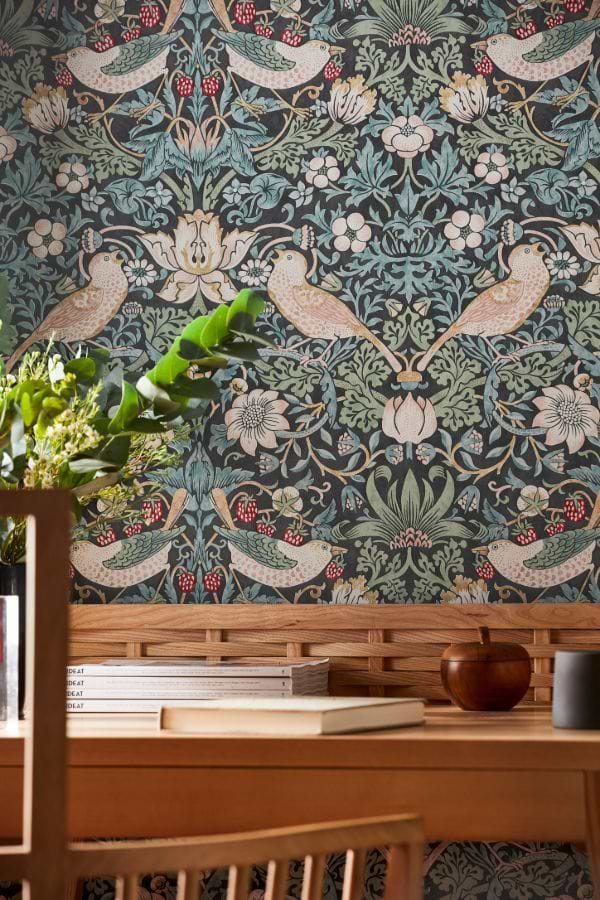 Above all, the motifs in William Morris's wallpapers are a celebration of life and the natural world around us. Full of fruits, plants, forests and all manner of creatures from the animal kingdom. They spill over with joy and life. So, does it come as a surprise that these beautiful decorative patterns prevail in our modern world today? Perhaps not, what with rapid industrialisation and encroaching technology. And of course modernity surrounding our daily lives, reconnecting to nature seems more important now than ever before.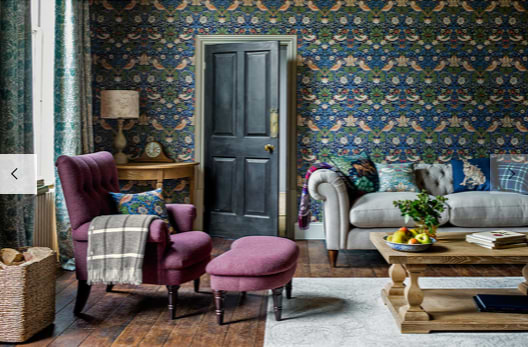 So how best to enjoy the splendid William Morris designs in a modern or traditional home? Well wallpapers are perhaps what William Morris was most famous for. And the Arts and Crafts movement was certainly not shy to wallpaper. In fact many houses fully embraced the look with wall-to-wall coverings of it.
However in the modern world of white and block colour walls this may be overwhelming. Opting instead for a single statement wall in a signature William Morris wallpaper. This will fill a room with warmth and grandeur without becoming over-powering. 

Link: The Schoolhouse Collection
3. Living room
In living room spaces you can pair this look with some antique style lighting and furniture for a more traditional look. Especially when it comes to lighting. So try finding pieces that hark back to a bygone era of meticulously crafted objects. This will really add to a space and compliment the wallpaper.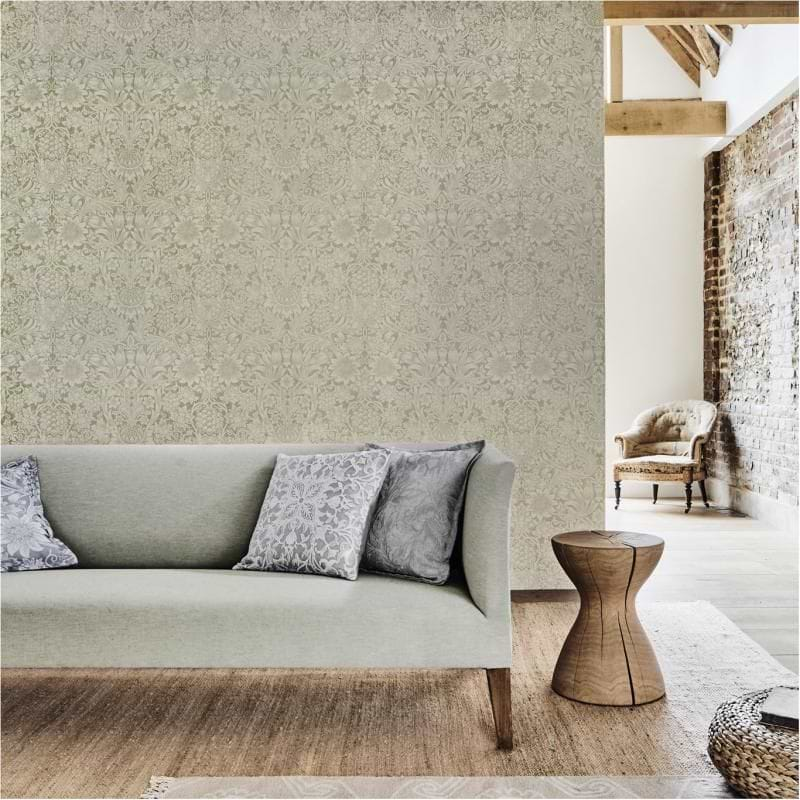 In fact William Morris often said that when looking into his wallpaper designs they should appear to be 3 inches deep. This illusion of depth was created by his clever use of floral and fauna. He would layer these images to make it seem as if there was space beyond. So by using William Morris wallpaper you may even make a room feel a bit bigger that it is! Win win!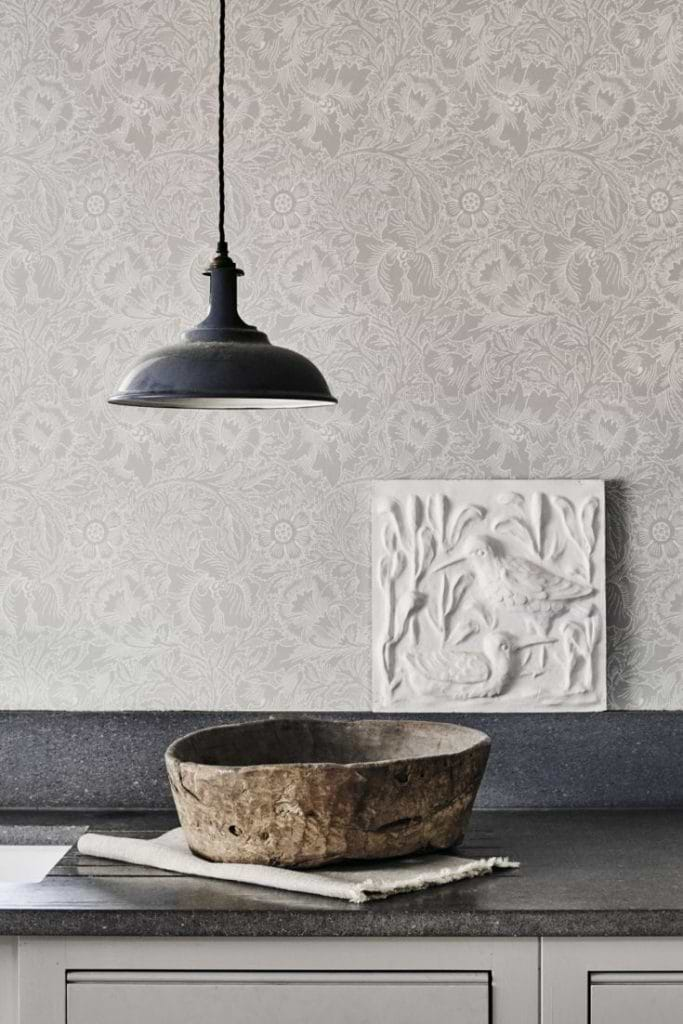 For a more modern and minimal feel you can also opt for paler wallpapers and bring in simple industrial style finishes. Lighting is another easy way to do this.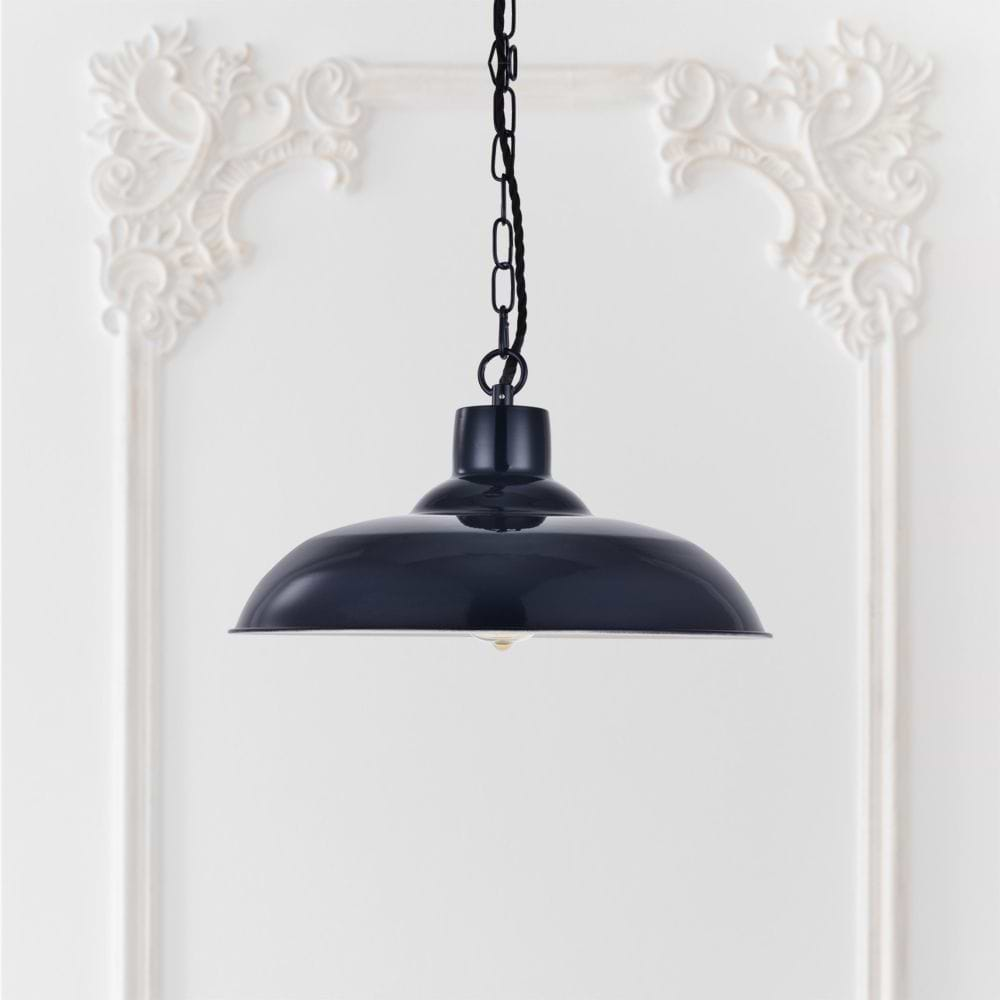 Link: Portland Reclaimed Style Industrial Pendant Light Squid Ink Dark Blue - Soho Lighting
4. Colourful Morris Curtains and Wonderful Windows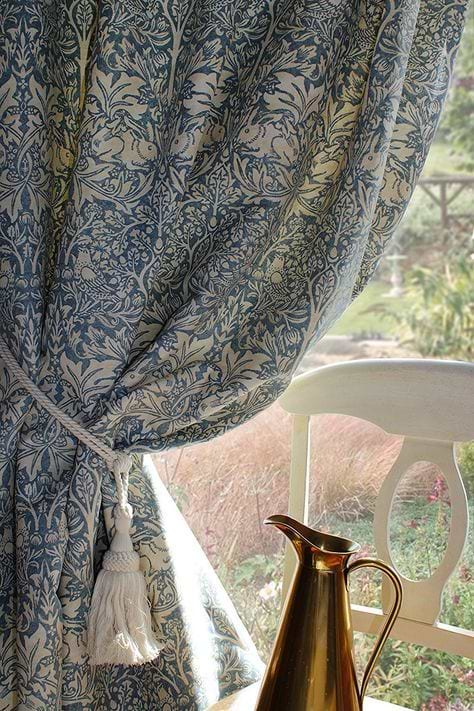 For your windows curtains are a must! The Arts and Crafts love floras and elaborately patterned fabrics. William Morris made many memorable, exquisite patterns for fabrics. Many of which were to be enjoyed in the form of window curtains. So don't hold back, it's time to dive into the folds of floral fabrics!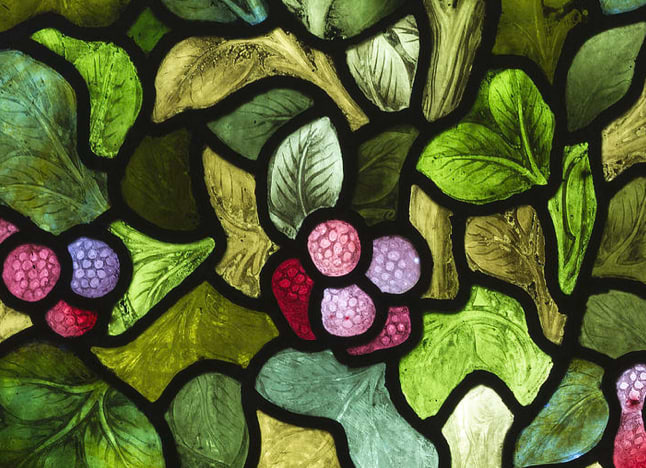 Another thing people may not know about William Morris was that he also made many stain glass windows. And many of them heavy influence by medieval churches and cathedrals, but with an emphasis on nature and floral motifs. So if you're lucky enough to have some stain glass features in your home then make sure to bring attention to them. Let their colours shine through!
5. From Fruits to William Morris Fabrics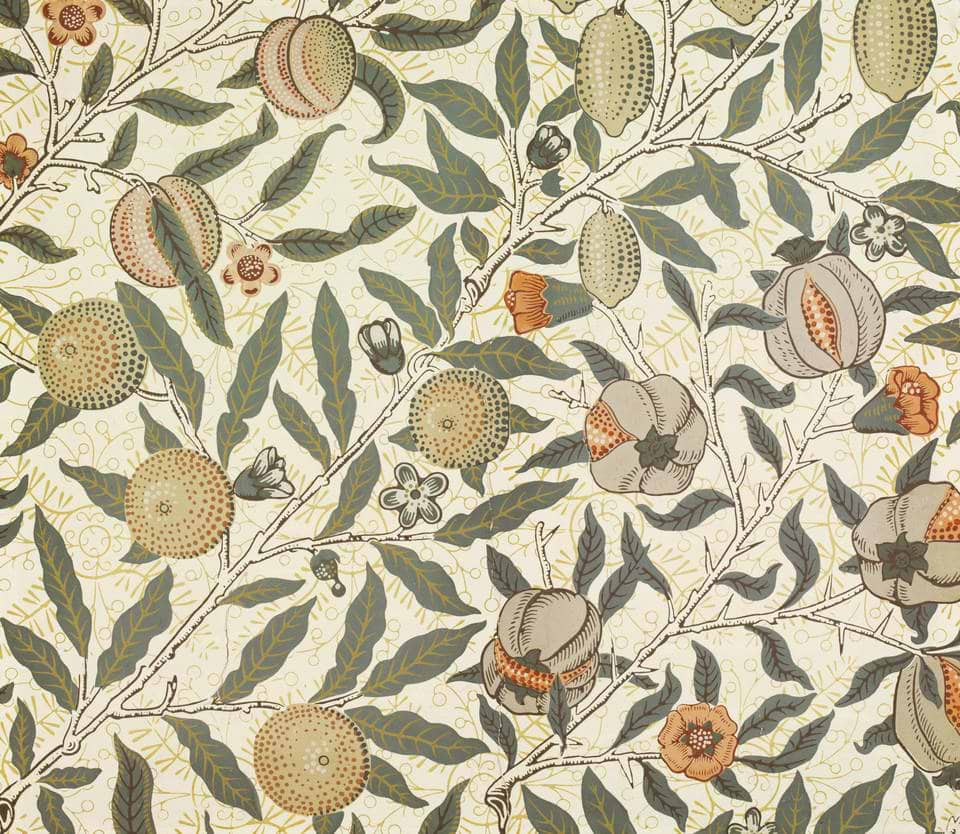 Aside for curtains, William Morris's fabrics are also widely used to create splendid duvets and pillow covers. So in addition to being luxurious and decorative, this bedding will fit right into traditional or period bedrooms. However the contrast of this elaborate bedspread against a more modern and minimal setting can also work splendidly.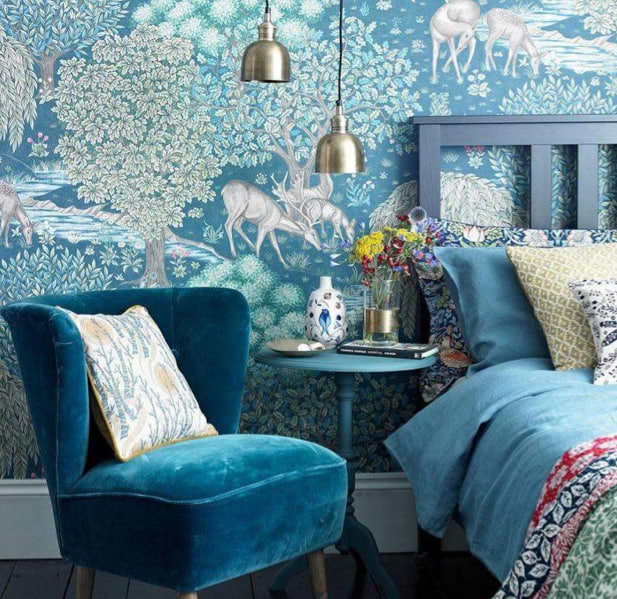 So in a more contemporary bedroom, the William Morris bedspread turns into an inviting focal point that the rest of the room centres around. So for a really unique 'Arts and Crafts' feel finish the look with hand finished light fixtures and furniture. Furthermore, Morris strongly believed in being able to see the human aspect in his finished work. He wanted design to celebrate the joy of craft and creating. So filling you bedroom with handcrafted pieces is a must! From lighting to furniture, every little bit adds to the enjoyment of the space. After all Morris thought you should "have nothing in your house that you do not know to be useful, or believe to be beautiful."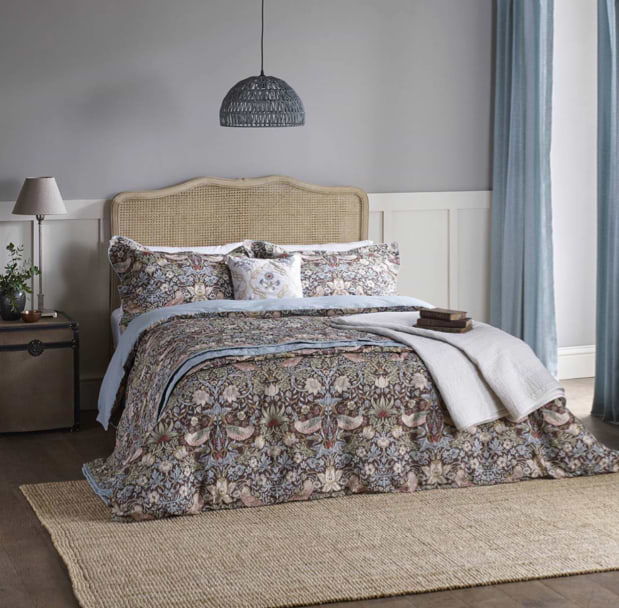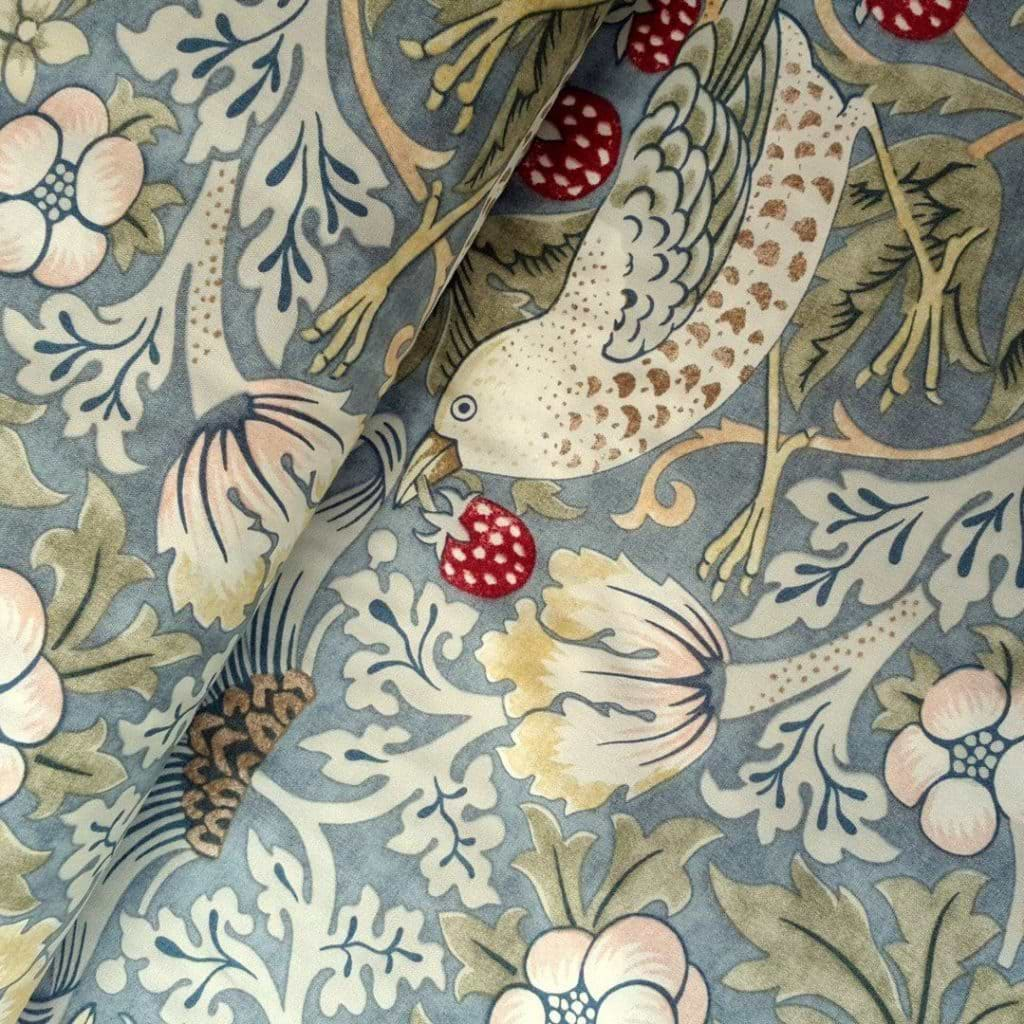 6. In conclusion
So from fabric to wallpaper there are many ways to bring a bit of the wonderful William Morris into your bedrooms and living spaces. A genius at creating repeating patterns from natural forms. So from a Strawberry Thief to bountiful fruits, these rich designs won't fail to bring life and happiness into your homes.
"Come then, since we are so mighty let us try if we can to do the one thing worth doing. Make the world, of which we are a part, somewhat happier" - William Morris