The Importance of Interior Hardware & Selecting The Right Hardware Finishes For Your Interior

Pictured: Kettle Co Kitchens
In the case of interiors, beauty really is in the detail. Selecting finishes such as hardware is often overlooked or left until the last minute when budgets are scarce, or absent!
Switches, sockets, window and door furniture can 'make or break' the aesthetic of an interior. New York-based interior designer Young Huh talks of hardware as "the jewellery" of an interior. We see it as more fundamental than that.
It could be argued that on average you engage with these design assets more than any other interior feature. Every time a person switches on a light, plugs in a charger or appliance, opens or closes a door or window, your design choices are subconsciously being viewed, used and appraised.
Leaving such a pivotal design choice until the last minute can result in a long-term undesirable finish which is not to your taste and detracts from your overall design effect, hard work and expense! You can find yourself forced into panic buying products based on availability, the quickest delivery time or lowest cost.
Last minute, forced decisions are a common and easy mistake in an interiors project, and costly to change or alter once a project is complete. So, plan them in, set aside budget and acquire the highest quality, best value products suited to your interior.
With your purchase time planned in, the next question is which finish to choose? A much-debated topic with strong and sometime opposing designer 'views', it is helpful to look back and start and the beginning ….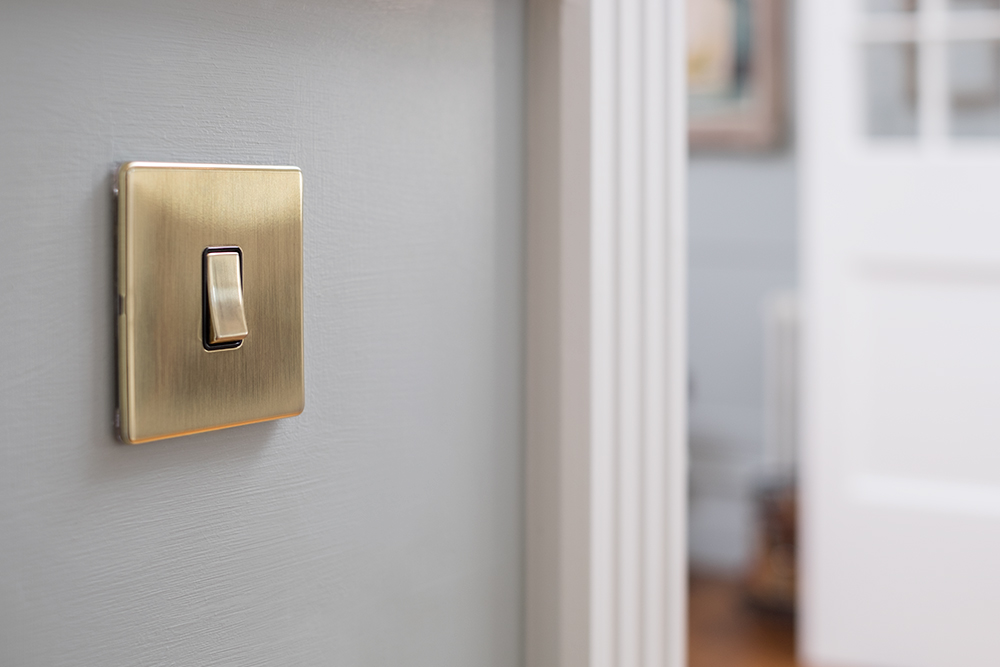 A Brief History of Switches & Sockets
The introduction of the switch plate in 1884 saw light switches and sockets commonly created in bronze or brass - both metals that beautifully patina with age when not regularly polished.
Pictured: The Charterhouse Collection Antique Brass 1 Gang Retractive Toggle Switch Screwless
Doorknob hardware at this time varied to include brass, bronze, porcelain and glass, however the backplates were made mostly of brass, as was window furniture, giving a common brass theme to hardware finishes throughout the interior.
Moving through the Art Deco era and beyond new materials and finishes were introduced - such as Bakelite, nickel and chrome, however, the tradition of finish consistency was retained.

As time, style and technology evolved, light switches were eventually fabricated on mass in cost effective white plastic. As this affordable style of light switch became easily accessible to all, the tradition of matching switches and sockets to other interior hardware became a thing of the past.
So, how do we decide on the 'right' hardware finish?
Our view is that it is a matter of the 'look' you wish to create, personal taste and style. With hardware finishes there are primarily two approaches;
Be authentic - reflect the period of your home and aspire to one consistent finish throughout your interior.
Be creative - mix up the finishes to varying levels and effect depending on the guiding principles you follow.
Whichever route you choose, ensuring aesthetic 'joy' as opposed to hardware 'eyesore' requires purposeful and timely planning, using the highest quality products that your pocket allows.
Reflecting Period & Tradition
For those aspiring to create an authentic period interior, allow the period of your property to guide your choice of hardware finish. For example, antique brass is a classic Georgian finish, whereas the Art deco era invites the introduction of polished or brushed Nickel etc.
With your finish selected, let your creativity lead additional decor choices by layering with different colours, patterns and textures. This will add depth and interest to your home so long as the finishes of your socket and switch face plates, door and window furniture aspire to match.
Bathrooms can be the modern-day exception to this rule. Switches and sockets look effective when matched to the finish of taps and showers, irrespective of the hardware finish throughout the rest of your interior. Adopting this approach will not detract from the authenticity of your overall period aesthetic.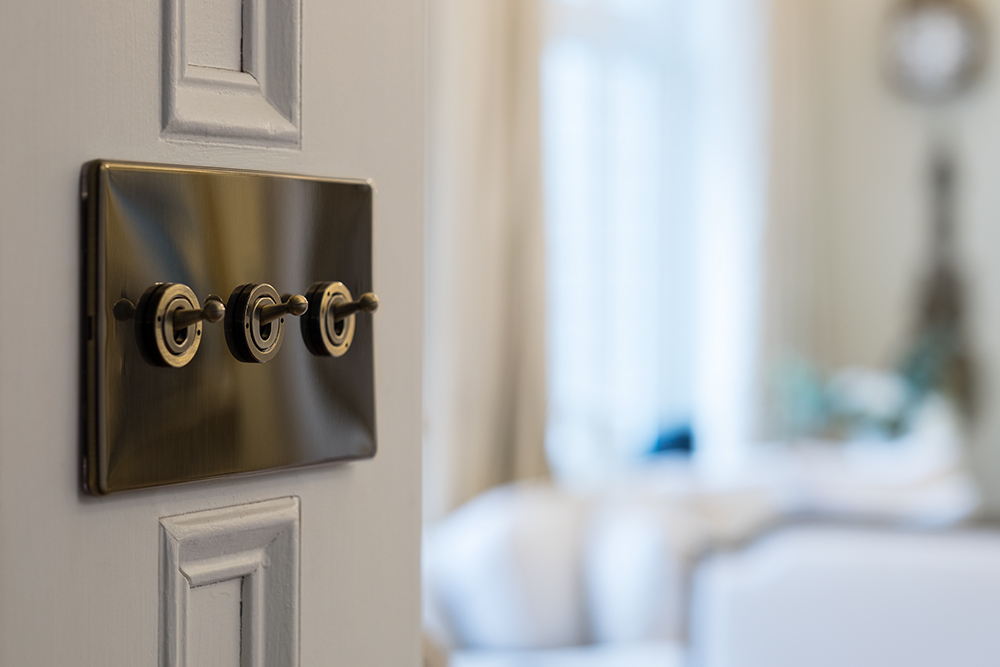 Pictured: 3 Gang Antique Brass Toggle Switch
Mixing It Up
If you are less concerned about authentic renovation and keen to imprint your personal taste and style onto your interior, then get creative and mix up your finishes!
There is a vast array to choose from with a general guiding principle of limiting the mix to up to three different finishes throughout the interior. More than three and the eye can become distracted, clashing with other palettes or design features and leaving an impression of 'clutter'.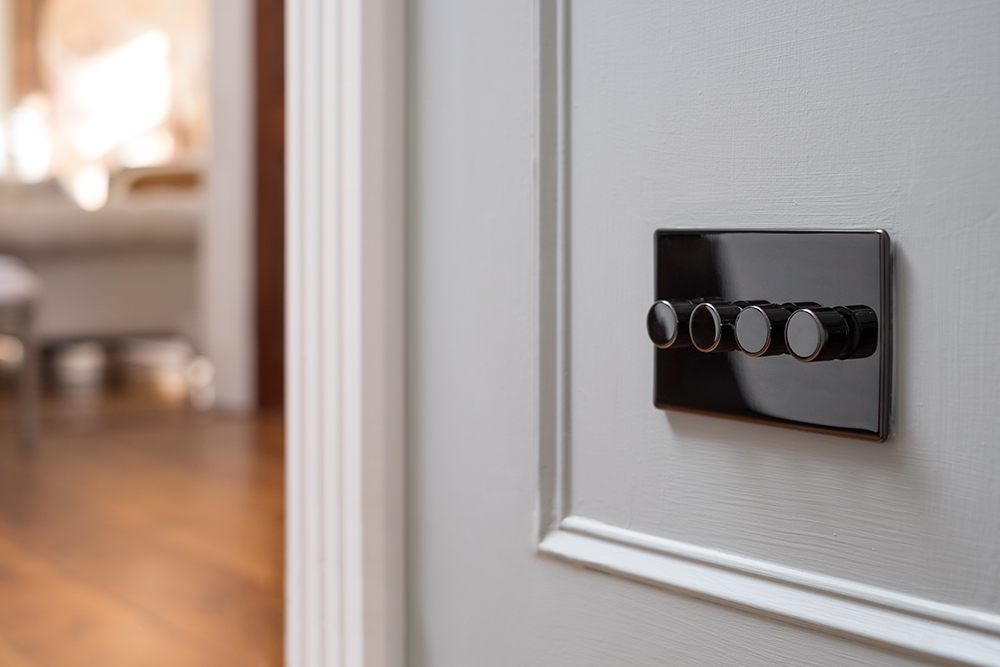 Pictured: The Finsbury Collection Polished Chrome 1 Gang Retractive Toggle Switch Screwless / The Finsbury Collection Polished Chrome Luxury 2 Gang Double Pole Socket with White Insert 13A / The Connaught Collection Black Nickel 4 Gang 2 Way Trailing Edge Dimmer
With this principle in mind, let the aesthetic of your interior lead the way, and set your creativity and personal style free. Again, buy the best quality products your pocket can afford and enjoy these fabulous design assets for years to come.
[related_products]