The Best Loft Lighting Solutions
Loft and Attic rooms have always had a secret sort of charm to them that make them such desirable spaces. Well worth the extra effort to find those choice pieces perfectly suited to them. So if you're lucky enough to have a loft space in your home or are perhaps planning a loft conversion in the future we've got a few design tips that may help.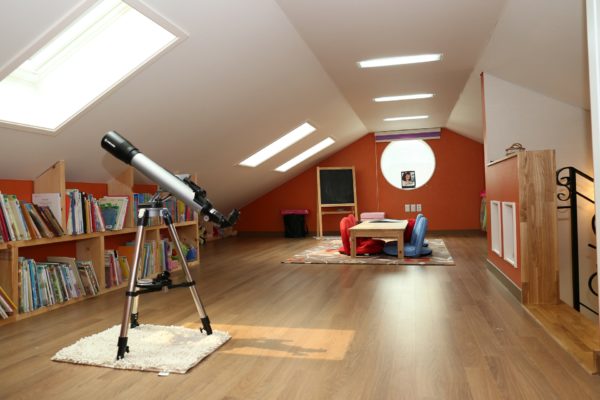 Lighting a loft space can be tricky, what with either low or slanting ceilings and little wall space it certainly can be a challenge. But today we are going to share our top 5 ways to make this challenging task an easy one to overcome.
 Natural lighting
The Wonders of Windows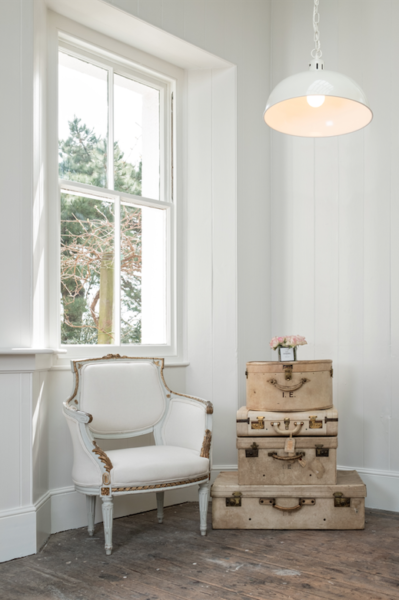 Link:
[Berwick Rustic Dome Pendant Light in Clay White]
First things first: natural light. We all love natural lighting and putting in the right windows is essential to making a room feel open, light and airy. From gables to skylights, adding these to your loft room will go a long way in brightening up the space.  And bringing more light in is always a good idea. Skylights especially will introduce beautiful views of the sky that won't comprise your privacy.
Never Underestimate a Well Placed Mirror
Now I know what you're thinking, what do mirrors have to do with lighting? Well, even though mirrors won't create any light themselves, by adding a large statement mirror to a loft space it will do two wonderful things.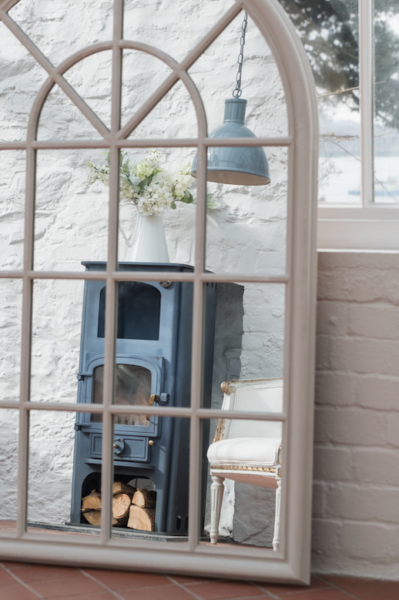 Link:
[Pictured: Wardour Industrial Bay Pendant Light in French Grey]
First it will do what any large mirror will do to a space; that is make the room look instantly bigger. Secondly, it will reflect all light in the room. And when well placed it's almost like having an additional window. Furthermore a mirror won't just reflect natural light into the room. It will also reflect any light from the light fixtures you choose to put into the space.
Light Fixtures
So although windows are wonderful ways to light up your loft in the day, in the evening or even on a dark, rainy or winter's day it's nice to switch on your favourite soft lighting. That way you can easily bring a relaxed and ambient feel to your a home. So what lights to choose from for your loft space? Well that all depends on the room's height and purpose as well as the look you want to create. Be it an office, bedroom or living space it's important to match lighting to your needs.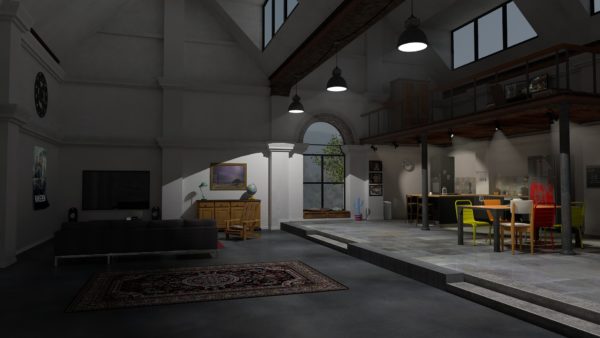 The Power of Pendant Lights
3a) How Large Pendants transform a High ceilinged Loft
If you have the height for Large Pendant lights (about 2 meters), they are one of the best design additions for loft living spaces. Not only do they add industrial grandeur and sophistication to a room. But they can also be easily adjusted to the height of your loft. Suspended high in the rafters or low over desks and coffee tables they bring focus to the breadth and dimension of a space.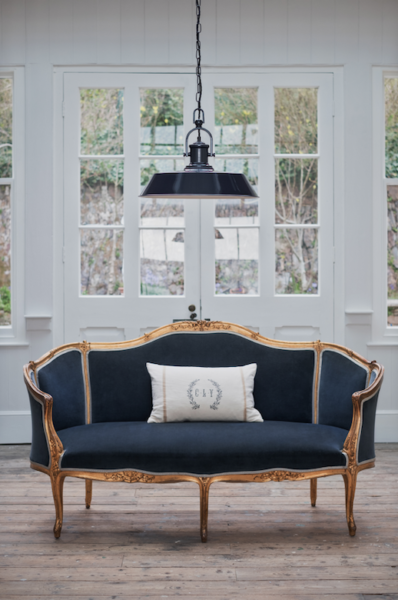 Link:
[Pictured: Brewer Cage Industrial Pendant Light in Squid Ink Blue]
Perfect for offices and living areas or even a bedroom with the plethora of pendant designs to choose from these days. Never underestimate how quick it is to change the look and feel of a room with the simply addition of a well-placed pendant.
3b) How to make the most of Bulb Holders
Another firm favorite for lighting up your loft spaces, and never out of style, is the classic bulb holder. Timeless, compact and easy to install even on sloped ceilings, bulb holders are the height of industrial simplicity.
Link:
[Pictured: Ealing E27 4W Giant ER180 Sunset White LED Bulb]
Pair them with a bold, elegant light bulbs to complete this classic look that will illuminate your loft with a soft warm glow year round. Also adjustable for low ceilings, bulb holders really are impeccable all-rounders.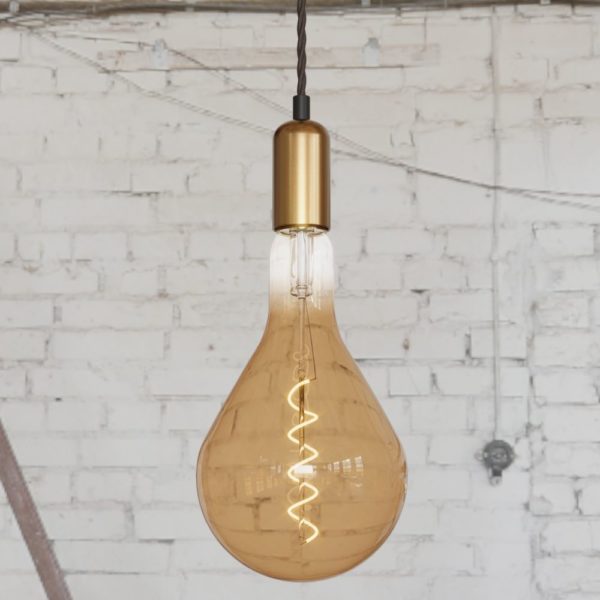 Link:
[Edison Aged Brass Pendant Bulb Holder with Twisted Dark Brown Cable]
Recessed lighting: Downlights and LED Strip Lighting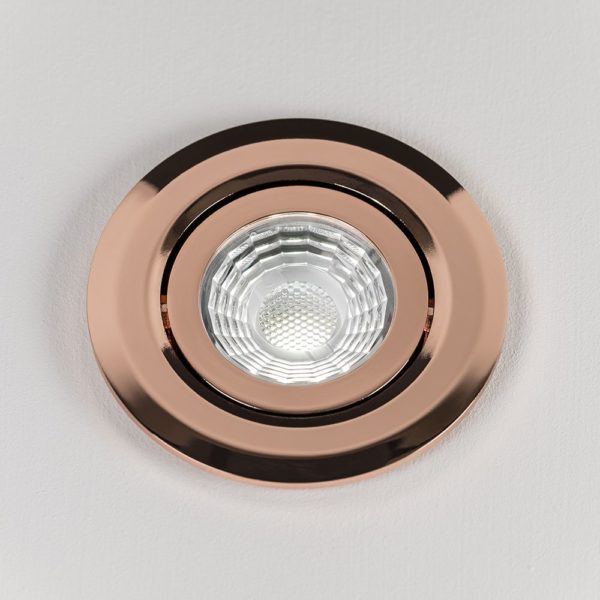 Link:
[Rose Gold Tiltable CCT Fire Rated LED 6W IP44 Dimmable Downlight]
4a) Why Downlights are great design additions
Downlights are defiantly a go-to light for loft spaces, especially if you're low on headroom. Modern, efficient and great for installing on sloped ceilings downlights create a lot of light while taking up very little space. With great minimalistic design they also work well in both modern and period properties. Blending seamlessly into the style of your home.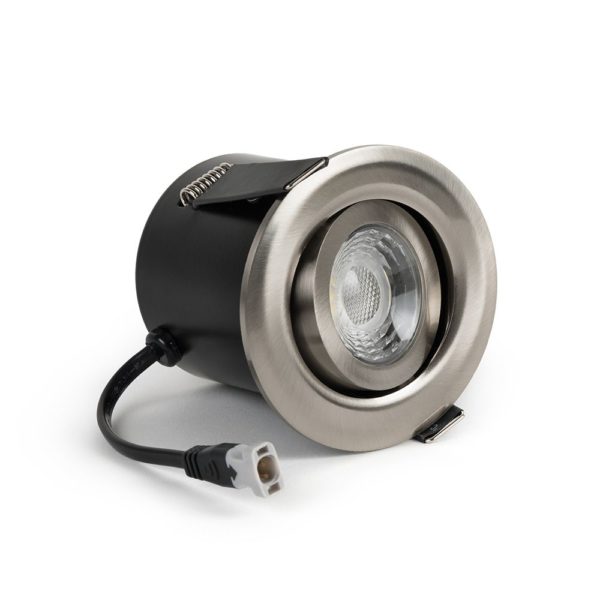 Link:
[Brushed Chrome Tiltable CCT Fire Rated LED 6W IP44 Dimmable Downlight]
So how to choose the right downlight for your loft? Firstly choosing downlights with a low profile will make for easy installation . This is because loft ceiling can have less space to install electrics then regular ceilings. Secondly by choosing CCT (colour changing) downlights which emit a warm, soft daylight light you'll be able to mimic the feel of natural light. This will go a long way in brightening up a room with little natural light of its own. Finally choose a downlight that has both dimmable and tiltable options, this will give you control over how much light you want in the room and where. Tiltable options are especially useful in loft spaces that can have unconventional and tricky corners to light. So whether it's a bedroom, living or office space downlights really are a flawless mix of form and function that will bring balanced lighting to your loft.
4b) The versatility of LED Strip and Ribbon lighting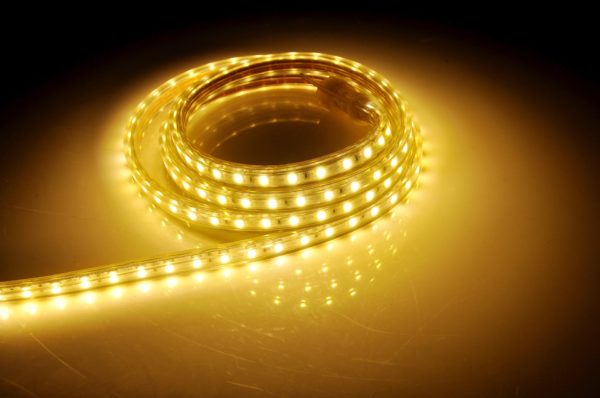 Innovative and flexible LED strip lights are perfectly suited to lighting all the awkward spaces in your home; ideal for lofts! One of the most versatile lights around, they can be cut to size and are easy to install just about anywhere. Best when hidden, the LED strip light lifts up and transforms a room into something truly unique. Perfect for bringing height, light and dimension to difficult spaces. Try lacing LED strips along beams or a under skirting boards to create an elegant, floating feel to your loft that's uncluttered, highly efficient and brilliantly impressive.
5: Why Light Placement is just as important
Another great trick when it comes to lighting your loft is placing recessed lighting low to the floor. This is a wonderful way to maximize space when space is limited. Or if ceilings are low and it's hard to put in a simple overhanging pendant light or to even a freestanding floor lamp. By placing recessed lights, like downlights and LED strip lighting in the wall and low to the ground you won't have to worry about bumping your head on low hanging light fixtures. Low recessed lighting will also stop you form tripping over excess wires from freestanding lights and lamps. Neat, minimal and stylish this isn't a design trick to overlook.
When to use Wall Lights
Wall lights are great above desks and bedside tables. So if you're looking for office or bedroom lighting these versatile fixtures are perfect for freeing up surfaces. They also  produce bright and concentrated light. Ideal for working at a desk or relaxed reading in bed. They also take up very little wall area so even if wall space is limited. And as it often is in lofts, they'll always find a place to fit.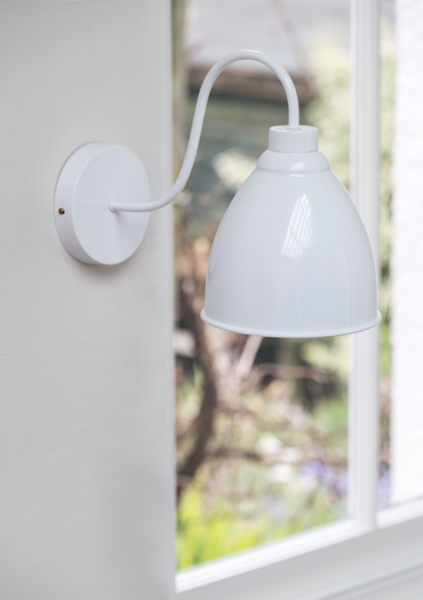 Link:
[Pictured: Oxford Vintage Wall Light in Pure White]
So good luck with all your lighting design endeavours! Hopefully now you've got a few excellent ideas! So time to illuminate your home so you can enjoy loft living to its finest and brightest.