Shabby Chic Living Room Ideas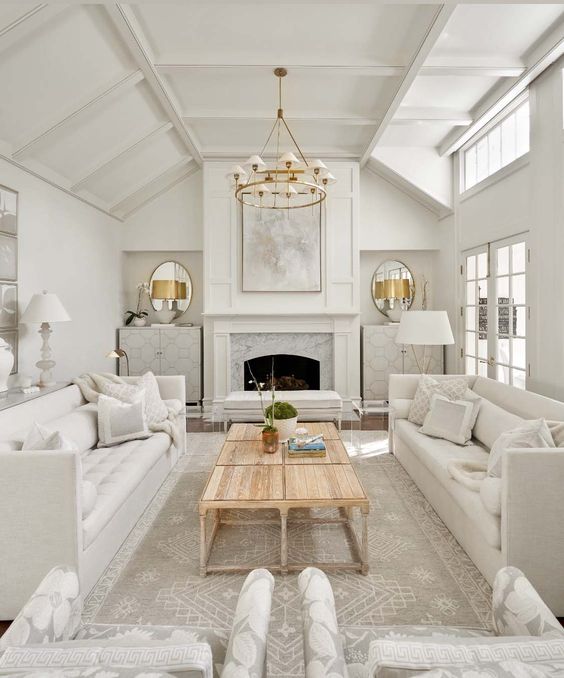 The shabby chic interior design trend first surfaced in the 1980s. It's one that is still coveted by many in their homes today. The shabby chic style is characterised by authentic furniture with a vintage feel. Lots of chalky off whites and neutral colours and rustic, vintage decorative accessories.
Whilst it is mostly suited to certain period homes, cottages and country homes, it remains popular throughout many types of properties, achieving that cosy, calm and homely interior. If you're looking to recreate this style throughout your home, take a look at these easy and stunning shabby chic living room ideas.
Key Pieces of Furniture
Focal pieces of furniture will create the base foundations of a shabby chic living room, and are so important in setting the right tone. When choosing shabby chic furniture, never buy new. Whilst authentic, vintage furniture is desirable, it does come with a price tag. You can source lots of antique furniture from house clearances, charity shops, eBay and Facebook marketplace.
Focus on the size and shape of the piece, and don't be deterred by the colour, as this is one aspect that can easily be changed.
Sofas and chairs will become the main centrepiece of the room, and there are many different styles to choose from. Remember, that sofas can easily be reupholstered in the fabric and colour of your choice.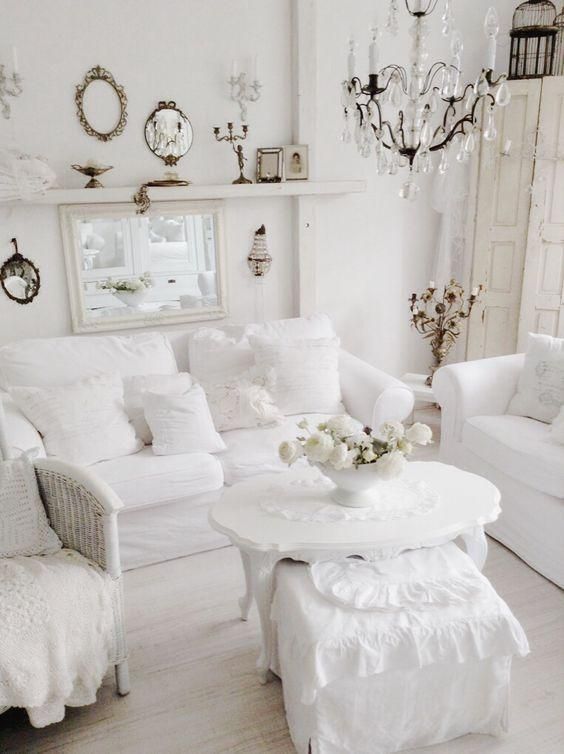 Colour Scheme
Whilst chalky whites and neutrals are the cornerstone of shabby chic design, it really isn't such an insular trend. Pops of colours are warmly welcomed in a shabby chic living room, and it's what helps to create that warmth, and cosiness which is reminiscent with this trend. Many shabby chic interiors will simply shun the idea of introducing other colours. But in doing so it helps to add further depth to what can appear to be an otherwise bland space.
Instead, focus on introducing soft pastel colours as they break up the harsh monotony of white. These accent colours can easily be introduced through decorative accessories, pillows and throws. We're just talking about small hints of colour, uplifting and refreshing the main colour.
Maximum Details
Other ways to break up the monotony of white is by adding maximum details to the room, and layering. Layering lots of detail and texture will create that depth, character and cosy warmth to the space that lacks without it.
Dress the room with pretty fabrics, lace, textured rugs, crochet and distressed wood. Gallery walls are a great idea, but focus on antique frames and prints that really mean something to you. This is what will create that vintage, rustic look - avoid matching frames at all costs!
Mismatched Accessories
There is nothing symmetrical about shabby chic style, and that's what makes it so much fun! Whilst the colour palette can seem insular, it's really time to bring the 'shabby chic' element to life with mismatched accessories.
Essentially, nothing has to match, as long as it brings a vintage, rustic element to the space that is in keeping with the interior trend. We're talking about things like mismatched antique frames, a vintage mirror, a salvaged console table. Most importantly, have sone fun with it! Browse antique fairs and Facebook marketplace regularly to source different, unique items for the space.
You can create something really special in your home with a shabby chic inspired living room. You don't need to stay within the confines to enjoy this homely interior trend. Be brave with pops of colours, and remember to listen to the beat of your own style drum!