Navy Blue Home Interior Design Ideas
"Navy always feels so classic and chic" - Luba Libarikian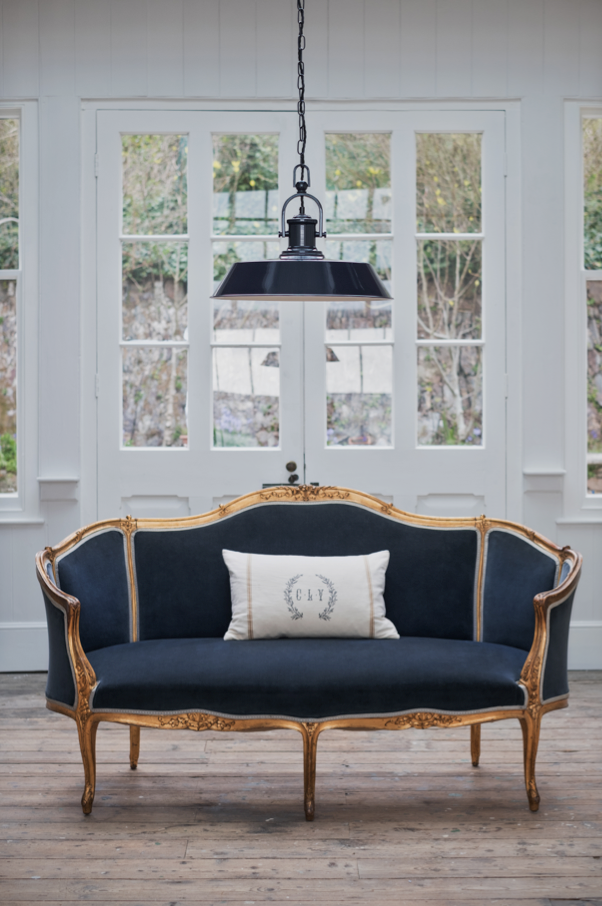 Link: Brewer Cage Industrial Pendant Light Squid Ink Dark Blue - Soho Lighting
Navy, it's a colour that's always calm, cool and collected. And perhaps that's why during these turbulent times it's become the must have colour in our homes. Sweeping in with a sea like grace, navy is a timeless all rounder. Having always been a hue associated with luxury and power, this rich colour also has a mysterious ocean depth to it.
So it's not hard to see why it's also the colour on trend for interior designers this year. Pantone has even made a classic deep blue colour of the year! So if you're looking to do a bit of New Year decorating soon then we have a few design tips that will help inspire navy into your living spaces. 
1. Grand, Glam and Gold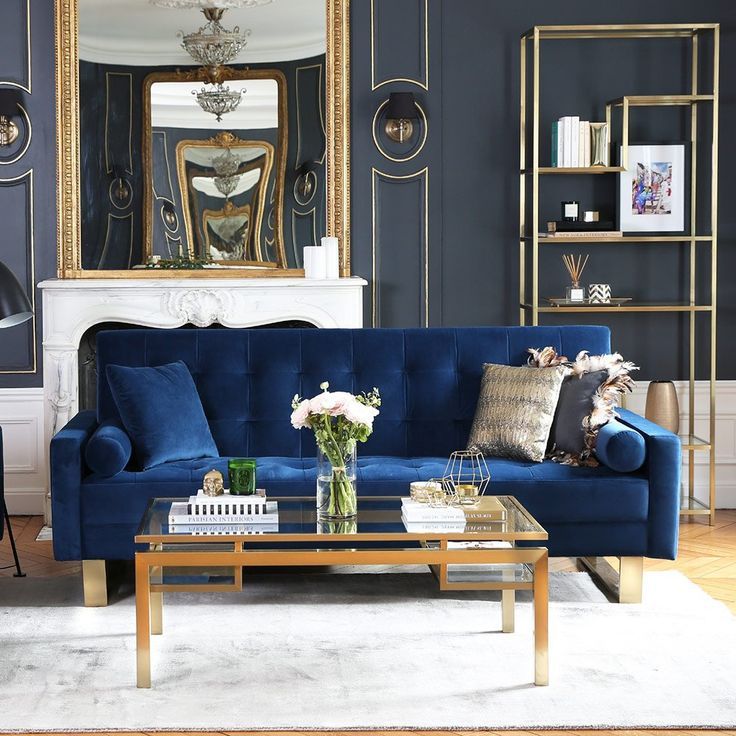 Gold and navy has gone hand in had since Egyptian times. So it's no wonder that this colour combo fit for a Pharaoh would bring such a luxurious feel into one's own home. The key to this look is going big with navy for your walls and sofas. And then dressing up the look with delicate glass and gold finishes. Gold lights, coffee tables, mirrors and art frames are all great choices that will balance out the bold navy walls and statement pieces.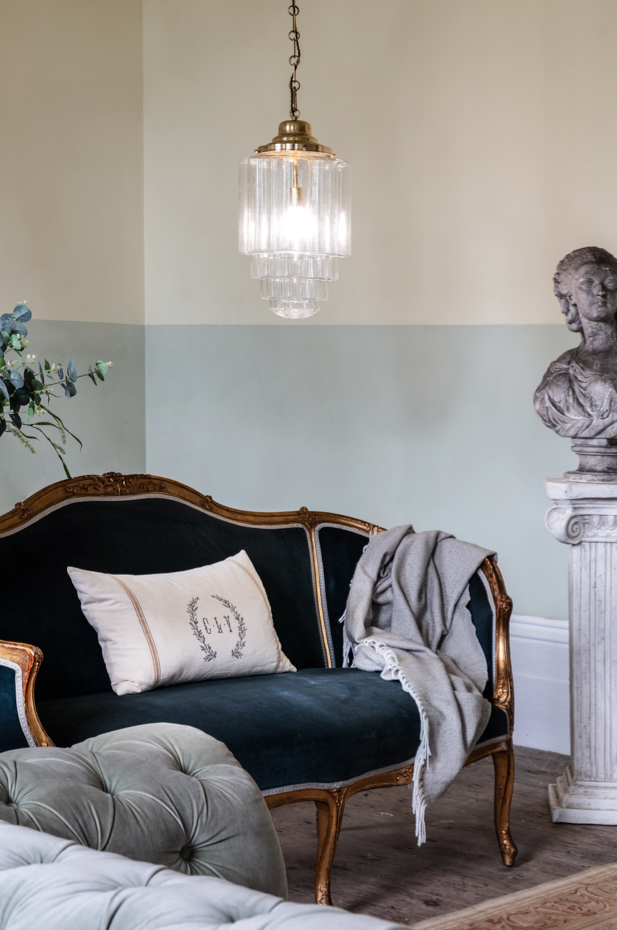 Link: Glasshouse Brass Clear Pendant Light - The Schoolhouse Collection
Fabulous Fabrics
Furthermore, don't forget about fabrics! For a truly luxurious feel then velvets and silks are fundamental! A grand navy velvet sofa adorned with gold silk cushions will create a space that feels so sumptuous that it's hard not to sink into it.
2. Navy and Natural Colours for a Calming, Nautical Look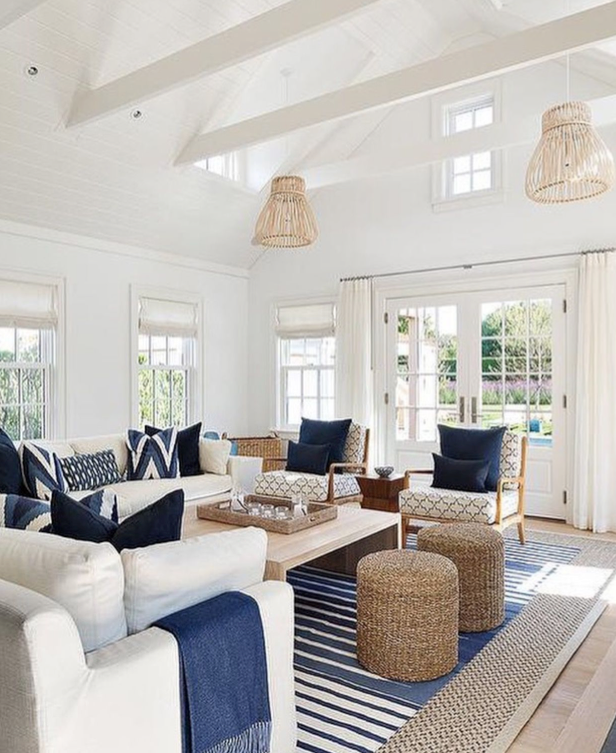 Navy with natural colours is another winner for you interiors. There are a variety of relaxed looks you can achieve with these colours depending on what style you wish to create.
For a classic nautical seaside living space, pair bold whites with ocean blues and then add in a few brass accents. Try adding in navy and white patterned pillows on cream or navy sofas. This aesthetic is always a favourite when it comes to creating a beach house vibe.
Bold as Brass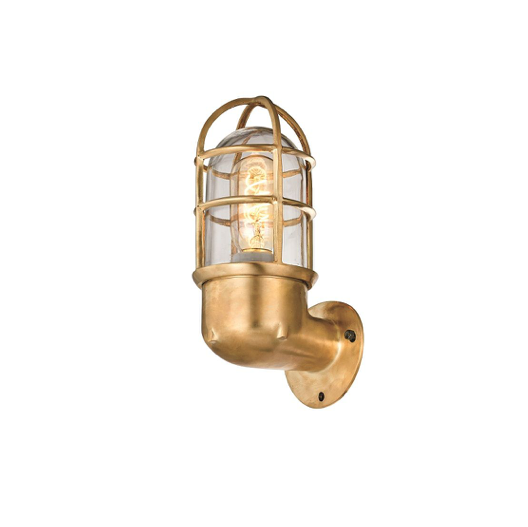 Link: Kemp IP66 Rated Wall Light - The Outdoor & Bathroom Collection
To add brass accents to your nautical interior it's best done with lighting, sockets and switches. So it's worth putting in that little bit extra to find unique pieces that hark back to a time of tall ships and old sea captains. Wall lights are especially good for this. Particularly wall lights that allow you to see through to old fashion style Edison bulbs.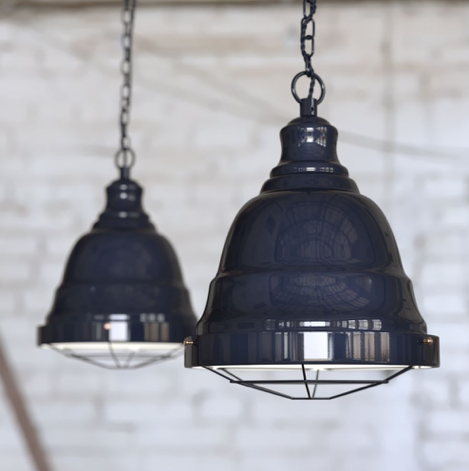 Link: Ganton Vintage Cage Pendant Light Squid Ink Dark Blue - Soho Lighting
 On the other hand bringing in some navy blue pendant lights would be a unique way to invite this colour into your spaces. And to keep with the nautical theme try opting for hand-painted metal lights over fabric lampshades. This will help keep that hardwearing nautical feel.
3. Dusky Rose Pinks for a more Feminine Feel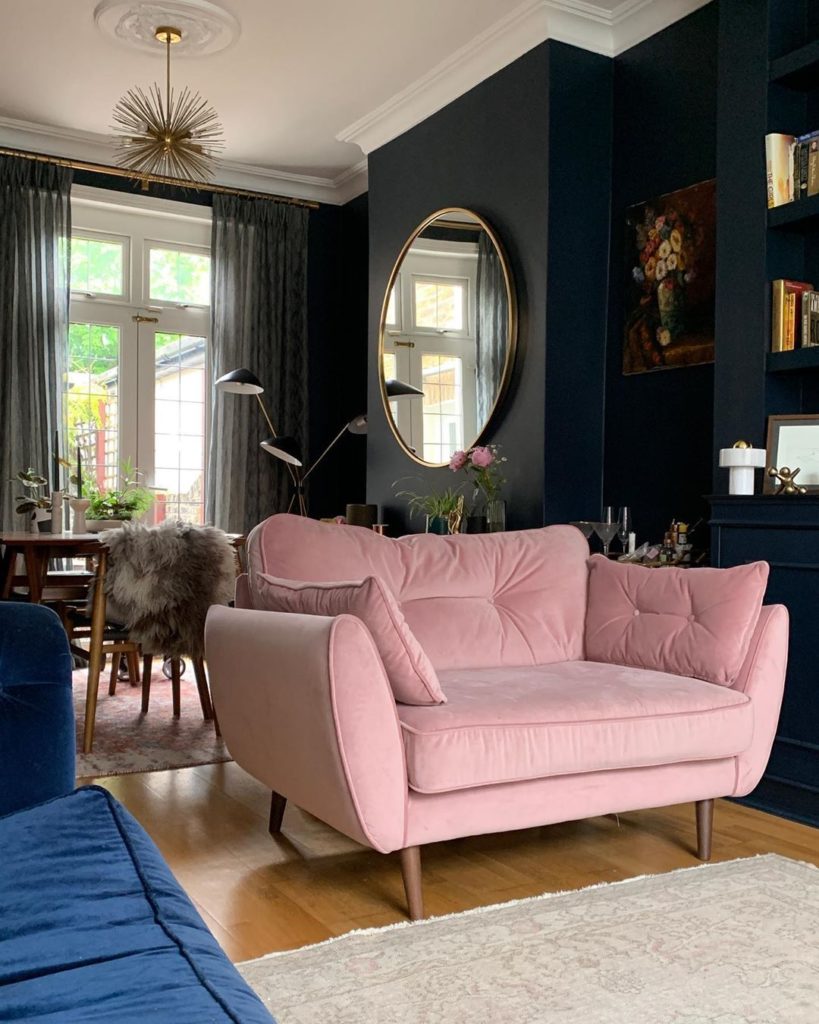 Image https://www.pinterest.co.uk/pin/732749801852955805/
Because navy is such a deep and heavy colour, interiors that use it can lean towards becoming more masculine in style and feel. However if you wish to balance out this powerful colour with a bit of feminine flare then there are a few simple ways to do this.
Firstly you can soften the look simply by pairing navy with some soft dusky rose pinks. Pinks will create a strong contrast to the navy that will both lighten the space and add some warmth to your rooms.
Rose Gold Glam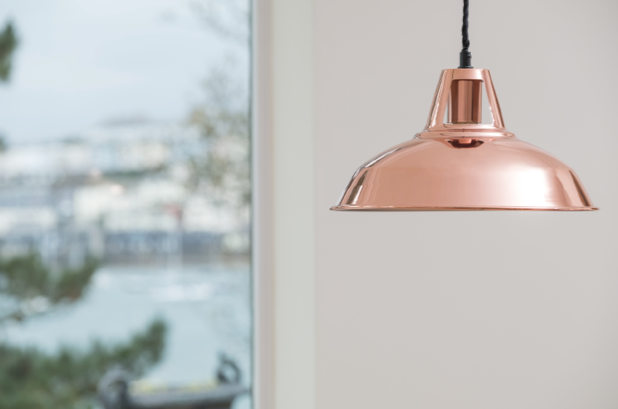 Link: Cambridge Rose Gold Step Pendant
Secondly you can bring in some gold and rose gold accents with lustrous mirrors and elegant lighting. Especially for dark blue bedrooms these small additions will contrast the cool tones. Adding warmth and drama while giving your bedroom that effortlessly elegant ambiance.
Lastly you could add in a splash of green. A few hues of green will spice up the deep blues and pinks giving your room a superb striking finish. Green pillows, rugs or even houseplants and vases full of flowers and foliage always do the trick.
Navy mixed with pink and rose gold and a hint of green is a really glamorous colour combination. Furthermore it will give your interiors a wonderfully exotic and exuberant feel! Perfect for livening up dull bedrooms, bathrooms and living rooms.
So hopefully now you have a few more navy blue living room ideas to help you with your New Year decorating! 
"Instilling calm, confidence, and connection, this enduring blue hue highlights our desire for a dependable and stable foundation on which to build as we cross the threshold into a new era." -
Pantone Color of the Year 2020 
Classic Blue 19-4052