Meet the New Matt Black Fusion Collection!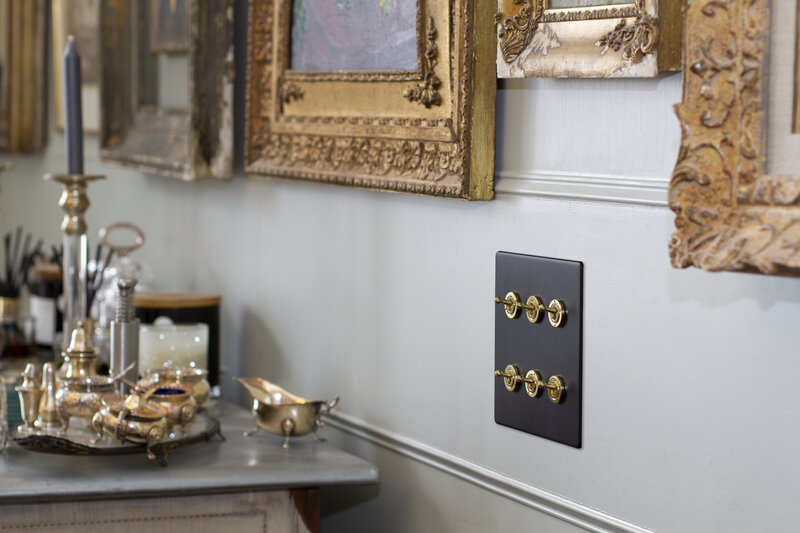 Black is back and is the new modern, sleek trend for 2022 interiors; this gender neutral colour scheme can be utilised to match, contrast or enhance; creating texture, drama and balance. Challenging the typical light and bright interior, a black scheme can create unexpected, striking visual impacts, evoking aspirational responses from your visitors, to your trendy decor. There are numerous ways to successfully incorporate our stunning, incredibly versatile sockets and switches within your home.
Soho's sleek and oh so striking matt black finish creates dramatic vibes that seamlessly complement eclectic, chic, contemporary styled homes. Presenting the new hand-crafted matt black Camden collection. These screwless sockets and switches are part of the fusion range, now available at The Soho Lighting Company.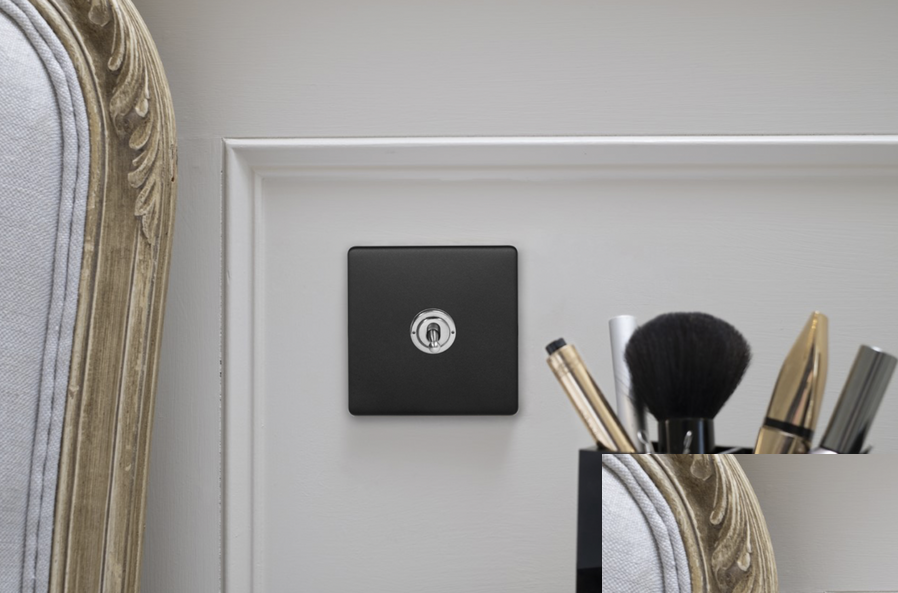 Available in two alternative flawless finishes, these elegant dark tones can either be contrasted with beautiful, brushed brass for an antique appearance, or brushed chrome for a more art deco vibe. Whatever your style, our handcrafted switches will be the perfect compliment! You never have to choose again whether to match the colour scheme or the metal accents throughout your room, with the fusion range you can combine both, creating a harmonious finish.
Whether you prefer a toggle function, to suit a period property, or a more contemporary dimmer or rocker switch, the matt black finish is available to fulfil your unique requirements, adding a distinctive touch to any space.
A unique feature of all Soho sockets and switches are their completely screwless finish, meaning that unsightly screws are a thing of the past. All our applications are designed with a flat plate, ensuring they are fitted seamlessly upon your black backdrop wall, enriching that clean, contemporary appearance.
How we spend time in our homes constantly evolves, particularly post pandemic, many of us are confined to our homes for all types of daily duties. It is fundamental to create a tranquil space to be able to retreat to, this can be achieved by painting your walls or ceiling black in line with the new trend. For example, incorporating the black colour scheme in your bedroom can work wonders for intensifying the nighttime darkness, indulging a desirable cosy nesting feeling, increasing the hormone levels of Melatonin. This is 'the signal that helps initiate the body's physiological preparations for sleep - muscles begin to relax, feelings of drowsiness increase, body temperature drop' as stated in this ResMed article. By incorporating a dark colour scheme you can help induce this sleep hormone and facilitate a healthier, undisturbed sleep.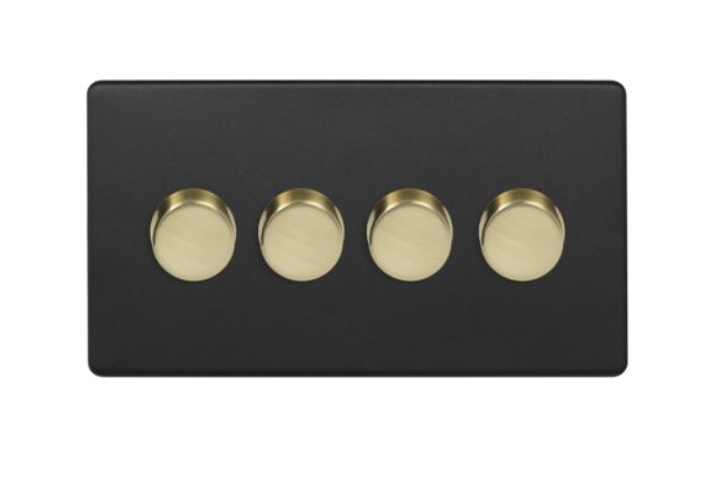 Incorporating dimmable light controls will allow you to adjust your room's light augmentation, changing the level of illumination with ease. This will have positive impacts on the mood and contribute to this desired mellow and calming ambience of your bedroom. Our matt black range will be sure to add a style statement that perfectly matches your black inspired interior.
Black looks stunning either as a pivotal focus or as a minimal accent in any room. Many people favour a white dominated theme with hints of black, making Soho's incredibly versatile matt black collection of sockets, switches and pendant lights the perfect finishing touches.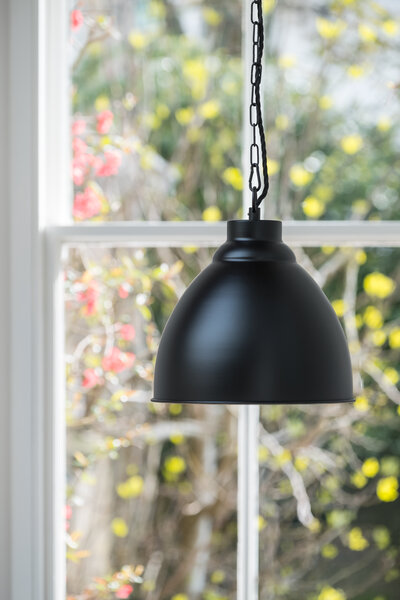 It takes courage to fully indulge in a completely black interior, therefore having accents distributed throughout your room enables you to test how you feel about this theme in your room before proceeding. If a full black room is too overwhelming, more discrete touches can be added, which will still exhibit this eclectic trend. Black adds an immediate contemporary elegance, our range offers the perfect means to add these accents. In addition to our matt black switches and sockets, we also offer you our range of industrial lights, such as the pictured hand painted Oxford pendant; stunning, classic and timeless.
This pendant will be the perfect accompaniment to any kitchen design, you can really conjure a dramatic visual statement by hanging a row of three above your kitchen island or table. The standard white interior of the shade enriches light output, bringing enhanced illumination to your dark interior. Pair with the stunning Argyll Vintage Wall Light to add coordinating black touches to your black inspired scheme and perfectly complement your other accents. Adding these bold features of your sockets, switches and light installations can really replicate the desirable trend of black interior design.
Texture is a major component in the decoration process, juxtaposing layers of different textures helps achieve a sense of depth. The matt effect of the plate in our new Soho Fusion range of switches and sockets immediately adds to the character of your room. Combined with the shiny surfaced bushed metals of the chrome or brass is a great way to create further visual and textural interest. Add a timeless and elegant statement and introduce this stylish, unique, screwless collection into your interior .