Lighting Design Guide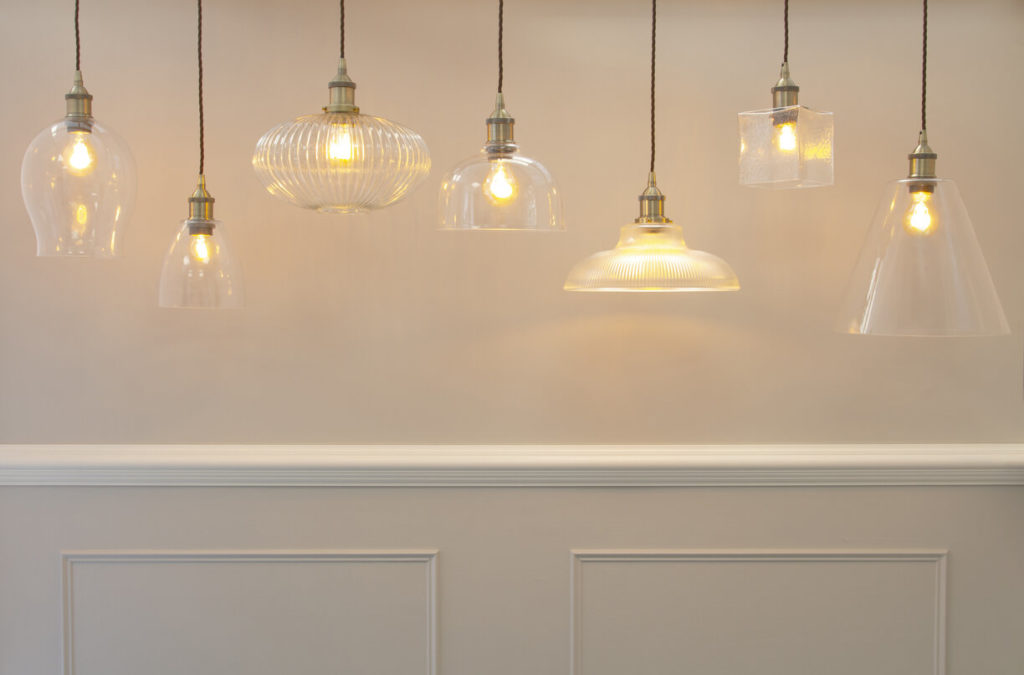 Think of an interior as one with many different layers. A beautiful interior can't work with furniture alone, neither can it work without the right paint. But there is one crucial element which glues everything together, and that's lighting.
There's no point in executing the perfect interior without even considering the lighting. Plonking a couple of lights in situ will not do your interior the justice it deserves. Effective, and well positioned lighting should enhance the room and everything within it. It's the most important part of any home renovation and interior refresh, yet one that easily gets overlooked.
Lighting design will effectively guide you, and your home. There are many important considerations to factor in, including positioning. It's then about letting the science meet the interiors to provide a well lit, and enhanced space. We caught up with lighting design consultant Claire Pendarves to understand the essence of lighting design.
Colour Temperature & High CRI
Picking the wrong colour temperature and CRI can cause chaos with your interiors. The wrong CRI levels and your furniture and objects in the room can lose clarity and look a different colour.
It's all about enhancing what you have, and being considerate with colour temperature, and CRI levels can do this seamlessly without making the room work harder.
Claire Pendarves, lighting design consultant says;
"You have to be careful becase there are two ways of looking at the colour of light. You've got the colour of the actual light, for example I like 2500K, but that is not daylight. Daylight is quite a bit colder. And then there is colour rendering. That means, if you're looking at some fabric in a shop and they have old fashioned flourescent lighting and you wanted to know exactly what that colour is like, you would say "can I take it to the window and see?" So you'd see it in natural light and that would show you the real colour. You'd say "Oh gosh, it's much greener than I thought." So under natural light, that's 100 colour rendering (that's how you'd quantify it). What you want is ideally lighting that is as close to 100 CRI as possible, although it's pretty unusual to get that. But 90cri would be very good. But a lot of standard LED wall lights will be 80.
Opting for high CRI levels, as close to daylight is recommended. Our high CRI downlights are >95-97 CRI. High CRI lighting benefits you with greater clarity, improved colour differentiation and more natural lighting. The below image shows the staggering difference between a low (left) to high CRI (right). You can see how a poor CRI level could distort the colour of your walls, and furniture.
Dimmer Switches
As we caught up with Claire, we asked what her biggest lighting regret was;
"Not putting in dimmers. I remember a property, it was a Georgian rectory. She had had a flood and the electricians came in and put LED lights in her beautiful ceiling. All these downlights peppering. They were awful downlights, you could see these little circles and they were glary, and she couldn't dim them. She was almost in tears, but it had all been done and paid for by the insurance company. So in the end we put some lovely lights over her kitchen island. If you don't have dimmers you can't adjust the atmosphere. What you have to do is ensure that your dimmers are compatible with your downlights. Otherwise you get flickering and all sort of problems. Always check before buying. sometimes one component in the downlight could change and you're a bit stuck".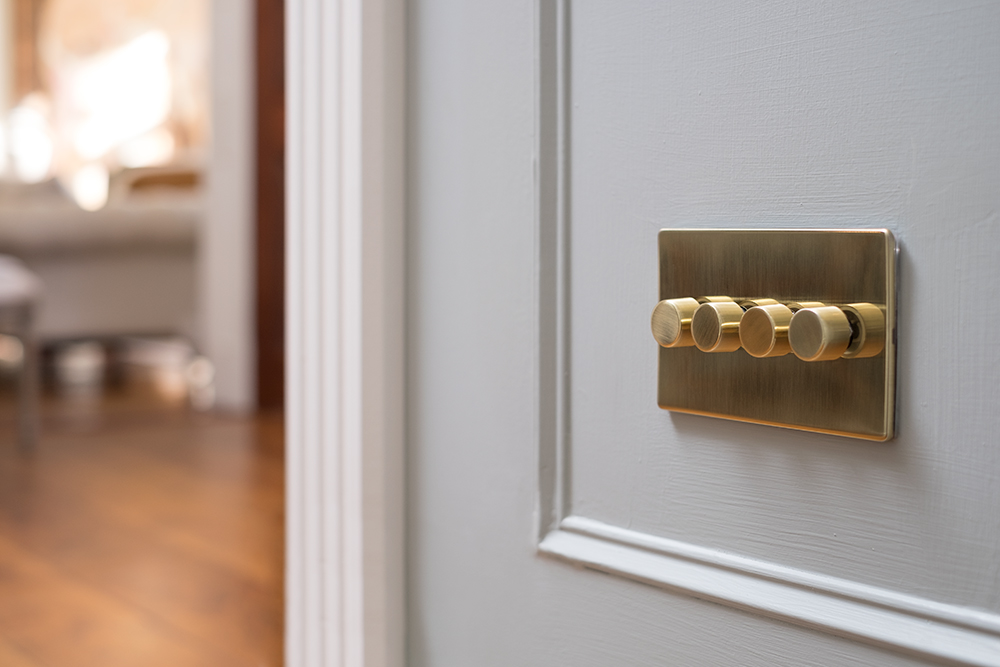 Having flexibility with your lighting scheme is key to controlling the ambience of your home as the day changes, and the roles of the rooms change. There's nothing relaxing about taking a bath in bright white lighting, but a dimmer switch can easily help you take things down a notch to an ambience that is relaxing, and calming. They are one of the most powerful items that can literally change a space. Whilst every room doesn't need a dimmer switch, it is recommended for use in a bathroom and kitchen where greater flexibility is needed.
The Rule of Odds
It's the only exception in our eyes of three's a crowd. The rule of odds when it comes to lighting design is golden advice.
When lighting a kitchen island or dining table, the power of three is tantamount. When hanging pendant lights, opt for three, five or seven as the pendant in the middle will always have an equal number on either side, creating an aesthetically pleasing symmetry.
The odd number creates balanced space and harmony between the lights. Thus, the focus will be directed towards the central pendant light. Kitchens need a lot of flexibility with their lighting, so installing a dimmer switch will help you to achieve that perfect level of ambience throughout the day.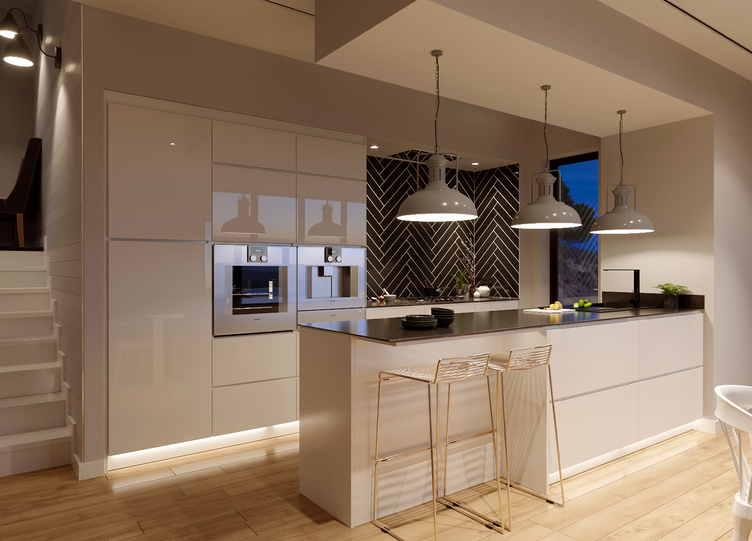 Create A Lighting Design For Tomorrow
Lighting technology specifically, and trends are here today and gone tomorrow. If you have a family, whilst your lighting setup works well now, the design may need to change in the future to adapt to your children.
We asked Claire about how you can plan and create a lighting design that's fool proof for tomorrow;
"Use the best technology if you're doing a new build. By the time it's finished, that will be current. Things move so fast. If you don't, you're designing for yesterday. Children grow into adults. When designing a child's bedroom think about how it wil merge into being an adult room later.
Be sympathetic to the property. It will tell you what it wants or needs".
Clare's fail safe light design tip was; "lighting is a journey, think of it as it wants to pull you through a house".
Lighting can be considered as a 'boring' interior purchase, but when you see the difference good lighting can make to a room, it's instrumental in pulling everything else together. A big thank you to Claire for providing your expertise and knowledge on effective lighting design for interiors.