Industrial Living Room Ideas
Industrial living spaces are a hot topic in the design world right now and it's not hard to see why. Emanating cool sophistication, industrial living spaces have a timeless clam and elegance to them that's irresistible. With attractive accents and bold materials, industrial interiors seem to break the rules of convention and get away with it effortlessly.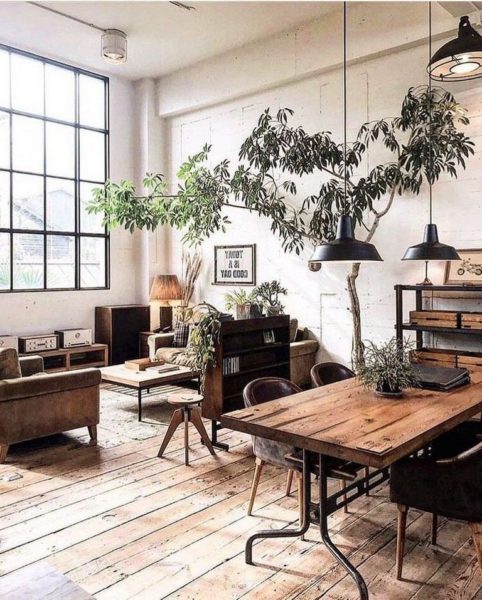 https://www.pinterest.co.uk/pin/10273905386292150/
Furthermore there are so many ways of creating an industrial style living room. From quick and simple design additions to features that may take a bit more work. So no matter how ambitions a project you are embarking on there will always be something here for you. So time to share some of the industrial design essentials when it comes to achieving this look!
Keeping Colours Industrial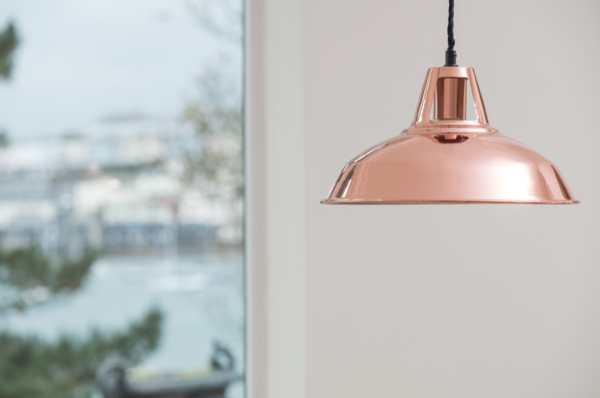 [Cambridge Rose Gold Step Pendant]
Industrial living areas tend to embrace neutral colours, utilizing the minimal and clean look that they create. With perhaps the occasional spark of colour to break up the tones. Shades of grey, white, black and brown that work harmoniously together will really open up a space. This makes a room feel larger while giving it that unique warehouse feel.
Why Materials Matter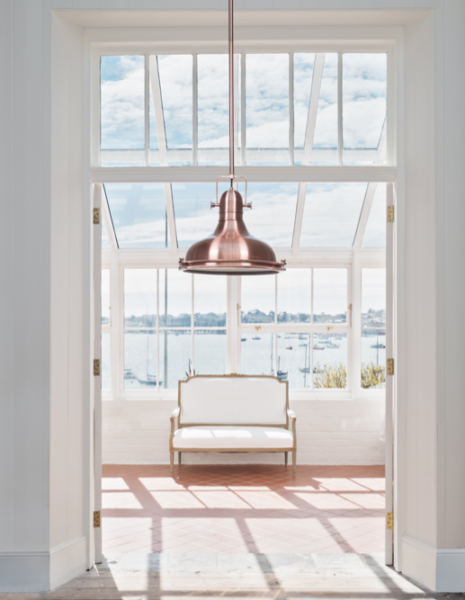 [Cambridge Rose Gold Bell Shaped Ship Pendant Light]
Another important signature of industrial interiors is the type of materials they use. Hardwearing and robust materials such a concrete, metal, wood and brick are the building blocks to creating the perfect industrial living room.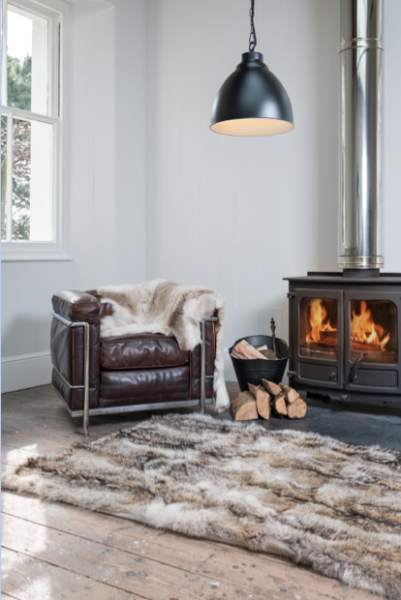 [Oxford Vintage Pendant Light Matt Black - Soho Lighting]
Broad, wooded floors or polished concrete floors are both good choices when it comes too industrial living. Concrete can also extend into the walls and when left unpainted it creates a modern vibe that's unlike any other. Or perhaps you have an unplastered brick or breezeblock wall exposed? The last thing you want to do is cover it up. Instead bring attention to these unique features and balance them out with sharp, clean-cut furniture and accessories.
Metal Pendants Lights are a Must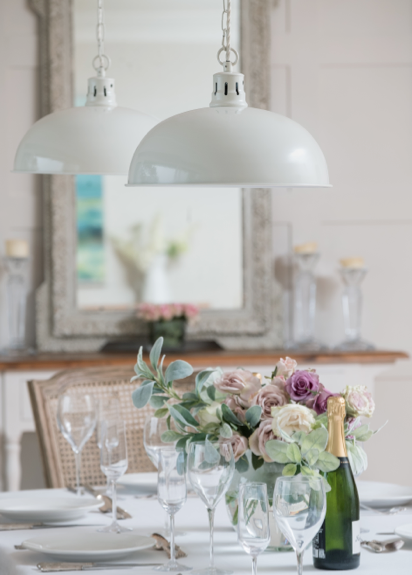 [Berwick Rustic Dome Pendant Light Clay White Cream - Soho Lighting]
Lighting is a wonderful way to quickly transform the look and feel of a room. Industrial lights are especially good at this because of their bold and recognizable design. With just few well placed low hanging metal pendant lights you can give your living space a subtle edgy industrial vibe. Metal is also the perfect material for lighting when creating an industrial living room. Both hardwearing and grand, iron, copper, steel, brass are all great choice. Or if you want a more elegant twist on an industrial light, rose gold or painted metal will give you that robust industrial look but with an updated elegant look that's a bit more unique. Placement is also another simple way to easily create an industrial style living space. Simply by grouping lights in rows above breakfast bars, coffee tables or dining tables you'll be able to recreate that fabulous factory feel.
The Transforming Power of Vintage Bulbs and Bulb Holders
[Suk 27 Ealing E27 4W Giant ER180 Sunset White LED Bulb]
Bulbs are another elegant design trick that you can implement into your home to get that industrial feel. Large, bold traditional bulbs that show off the filaments work best. And if you want to be more environmentally friendly then choosing innovative LED bulbs are a much better choice. Especially since there are so many more choices with LED's now a days. Finding attractive, traditional bulbs that still maximize on energy is a much easier task to tackle.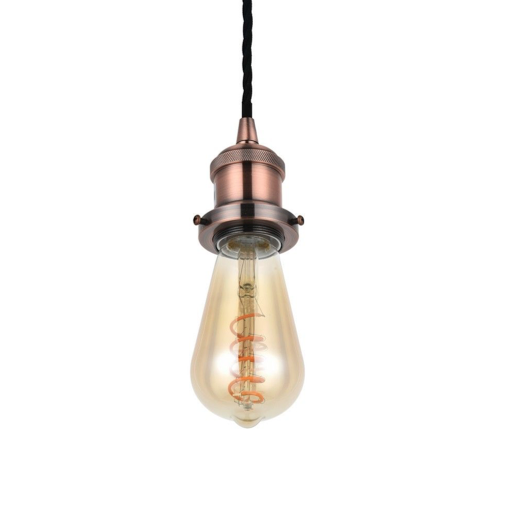 [Edison Red Copper Pendant Bulb Holder with Twisted Black Cable]
Furthermore by paring LED vintage style bulbs with simple bulb holders you'll complete the industrial look with ease. Bulb holders are a classic when it comes to industrial design because they give off that large factory feel. Minimal and understated, but don't let their simplicity fool you.  Bulb holders are the pinnacle of 'less is more'. Show casing big, stunning bulbs beautifully, they have the perfect balance of form and function all while allowing bulbs to maximize on light.  Win win!
Finish with Good Furniture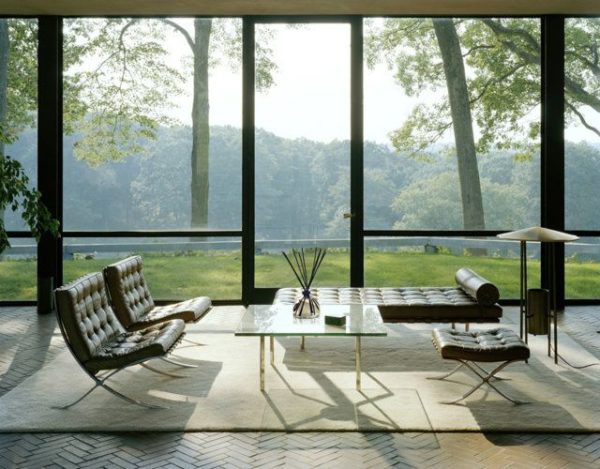 https://www.pinterest.co.uk/pin/376121006374721274/
The right furniture can be hard to get right in industrial living spaces. The furniture you choose needs to compliment the architecture of the space. You don't want anything too big that will make the room feel smaller. Also juxtaposing sleek modern furniture with bare walls and concrete floors can be a fun contrast that helps to balance the room and keep it from looking too scruffy.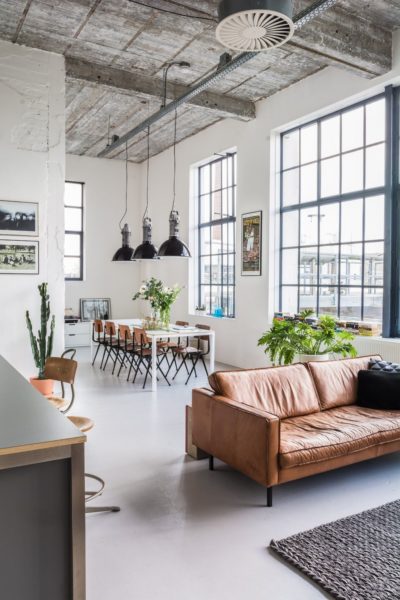 https://www.pinterest.co.uk/pin/311592867960886777/
On the other hand a nice well-made, worn sofa and some thread bare rugs can help to inject some much needed warmth and personality into a room. This is especially true if the architecture of your industrial living space is a bit sparse, impersonal and unembellished. By adding in some threadbare and much loved personal features the room will gain a comfortable feel and become less sterile and uninviting. This contrasting symmetry of old and new if a design classic that always looks unique. So if your architecture is more modern and geometric add in some shabby sheek furniture. And if you architecture is more shabby sheek contract with some clean cut furniture. And hey presto, the industrial look will come to you. So hopefully you now have some new design tips to take away that will help with all you industrial decorating endeavors!