Industrial Chic Decor Living Room Ideas
Industrial Chic always brings with it an edgy and raw splendor. Its design beginnings stemming from the utilitarian architecture and fittings found in old factories. Industrial chic design grew to be much more. Soon finding its way into our social spaces and homes. Bold, sexy and warm, there are many appealing qualities to Industrial Chic.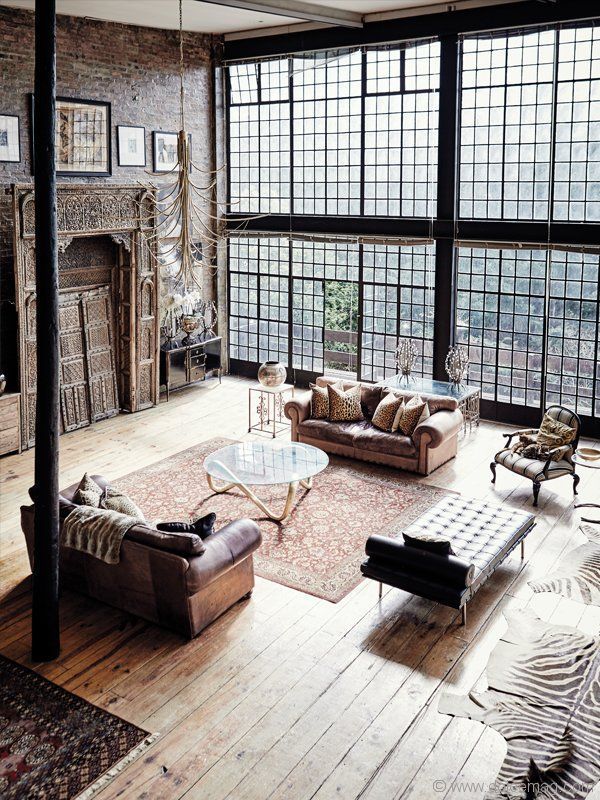 With its hardwearing materials and unapologetic rustic charm, Industrial design is forever a popular style choice. So today we're going to share some of the key elements that go into making industrial chic design. And you'll see why Industrial Chic living rooms are so desirable!
1. Floors, Walls and Windows
Link: Cambridge Rose Gold Bell Shaped Ship Pendant Light
Beginning with the basics are the architectural features of a room. They are the building blocks of industrial chic design. And it's these features that can make designing an industrial chic living room easy or a little bit trickery. Big old-fashioned windows with thin metal frames are some of the most iconic features to industrial chic design. Bold and yet delicate, they let in lots of natural light and cast playful shadows into living spaces.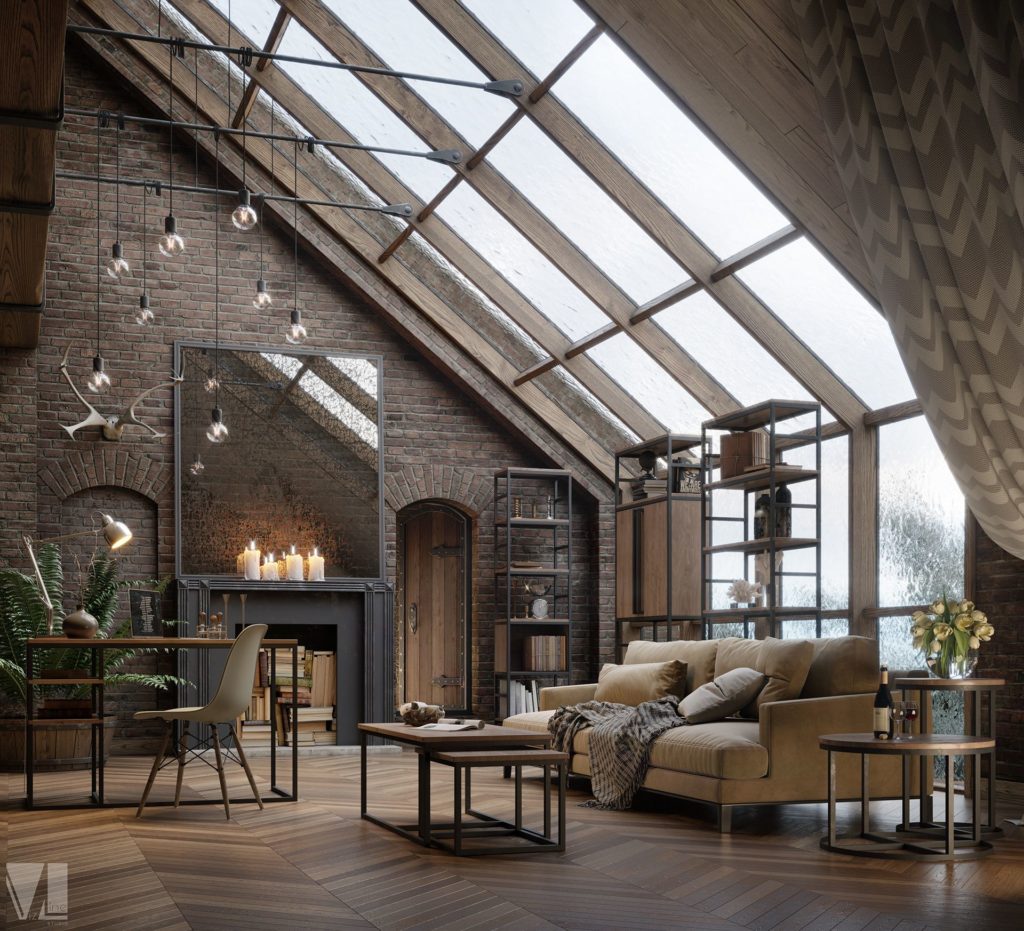 Flooring is another important component to the overall feel of Industrial Chic. No room for soft fully carpets here! This design is all about hard wearing polished concretes and worn down woods. These features give a space a more utilitarian, almost unfinished vibe that is so wanted with this look. Old tiled or stone flooring would also work well.
For the walls, the bearer the better! And if you're lucky enough to live in an old building then try bringing attention to all its interesting original features. No need to cover them up! Exposed brick walls are a favorite finish for any industrial chic enthusiast! Limestone and concrete walls with exposed pipes are another excellent choice!
And if you live in a loft or have high ceilings and exposed beams then it's always a good idea to bring attention to these features. Highlighting these attributes will give your industrial chic look an authentic and unique edge.
2. Highlight your Industrial Lighting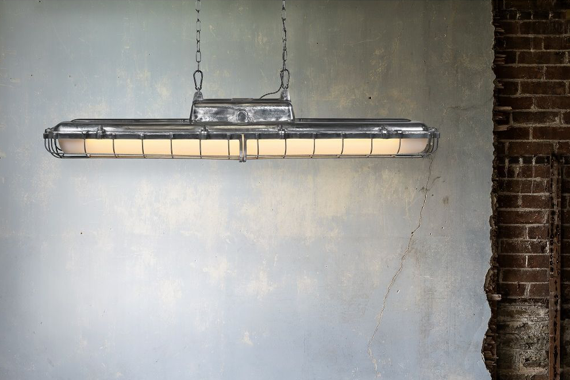 Link: Warwick Aluminium Industrial Strip Light - The Statement Collection
Statement, bold, low hanging industrial lights have a transforming power in any space. And when creating this look at home this simple addition is one of the easiest ways to bring Industrial Chic into your living room. Furthermore there is an abundance of choice when finding the right industrial lighting for your needs.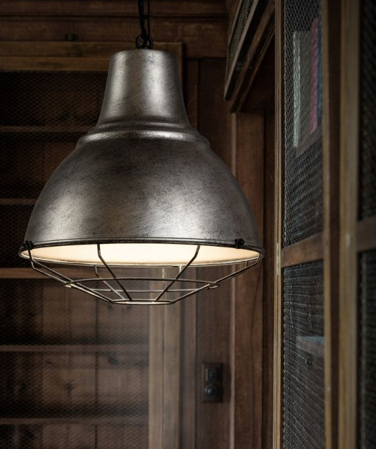 Link: Compton Black Coffee Caged Bell Pendant Light
From large, hardwearing metal pendants to thick, heavy glass lights. Or even naked old-fashioned bulbs for a more unfinished and delicate feel.
For a more unusual, chic look you could even try adding a few bursts of colour with some hand painted industrial pendants.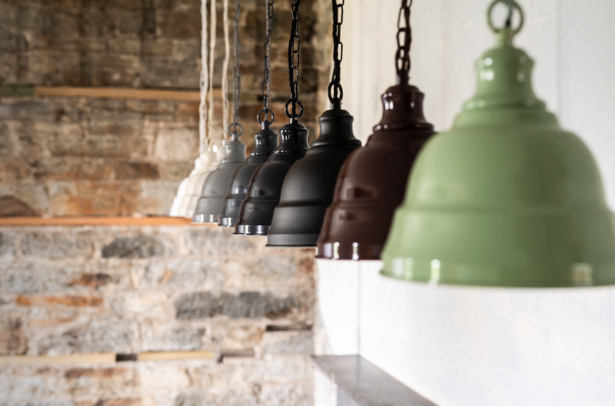 Link: Ganton Vintage Cage Pendant Light Leaden Grey Slate - Soho Lighting
Also don't forget the power of multiples when in comes to arranging industrial lighting. Lining up low hanging pendants in rows is particularly effective when trying to emulate that old-fashioned factory feel. However one large centrepiece like an industrial pendant will add powerful ambiance to a space. Instantly giving your living room an industrial lift!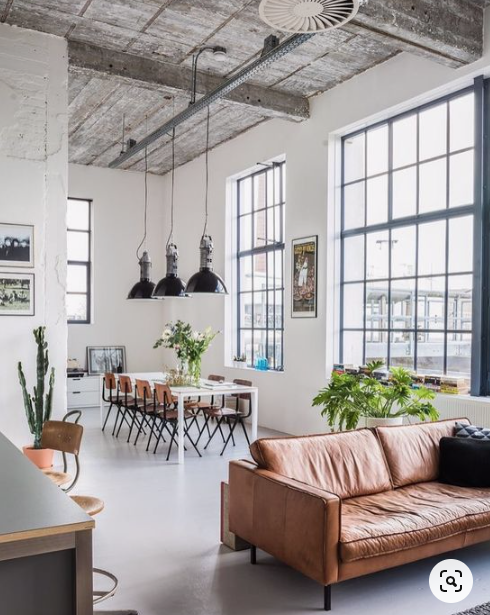 3. Industrial Chic Furniture and Textiles
Industrial Chic: now for the furniture. Here you can be a bit more creative depending on personal look and taste. But there are a few guidelines that industrial chic rooms tend to favor. Firstly lean towards natural materials when picking out your sofas and coffee tables.
Think metal, wood and glass for things like shelving and coffee tables. Then opt for sofas and chairs that mix metals and woods with leather, linens and organic cottons. These age-old materials boast of quality and keep with the hardwearing industrial aesthetic.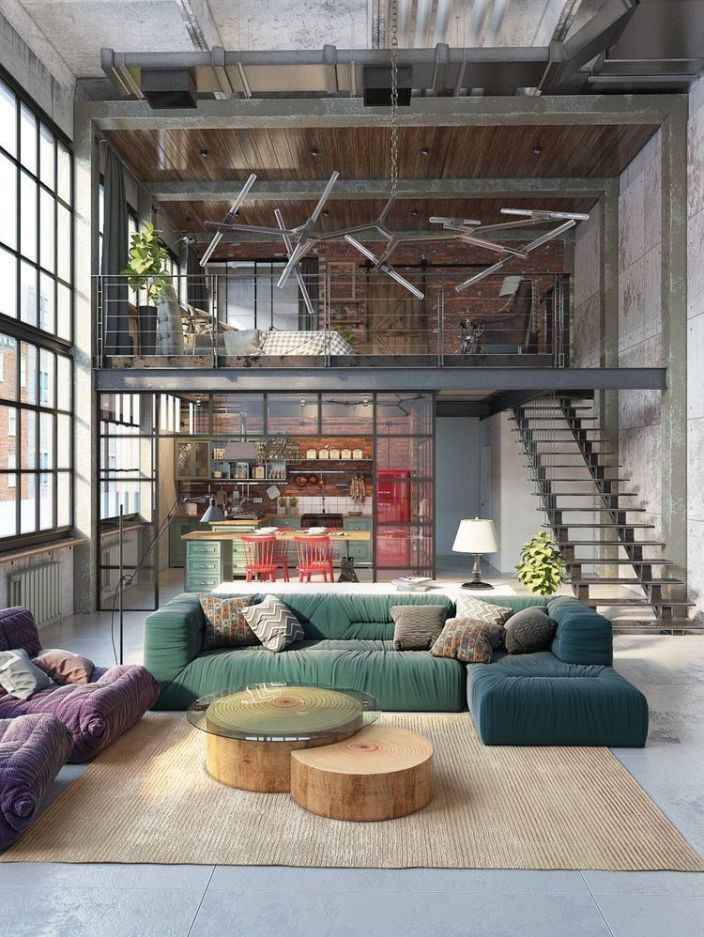 To keep this look more chic bring in some playful elements to your fabrics. Silk rugs and velvet cushions will add a richness and softness to the look. This is also another area where you could bring in more colour to the space. You could even spice up the chic with a few indulgences. Like luxurious beaded or embroidered cushions to really juxtapose the no-frills aspect of industrial.
However this contrast would work best in a space with lots of architectural industrial features. Rose gold finishes and delicate embellished details would also give your industrial living rooms a kick more chic!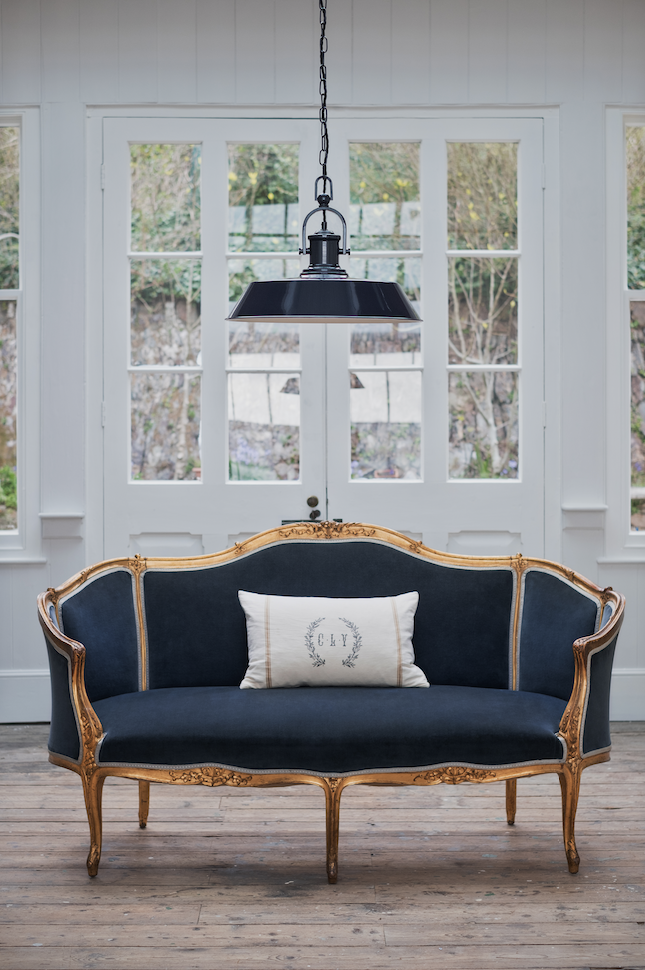 Link: Brewer Cage Industrial Pendant Light Squid Ink Dark Blue - Soho Lighting
In conclusion what makes an industrial chic living room is a mixture of things. Firstly, emphases on raw architectural elements that already exist in your home. Secondly find high quality lighting and furniture made form natural materials and with a utilitarian design. And lastly adding in a layer of luxury! Finish off with grand velvets, silks and gold for that extra spice of chic glamour!