How To Make A Modern Living Room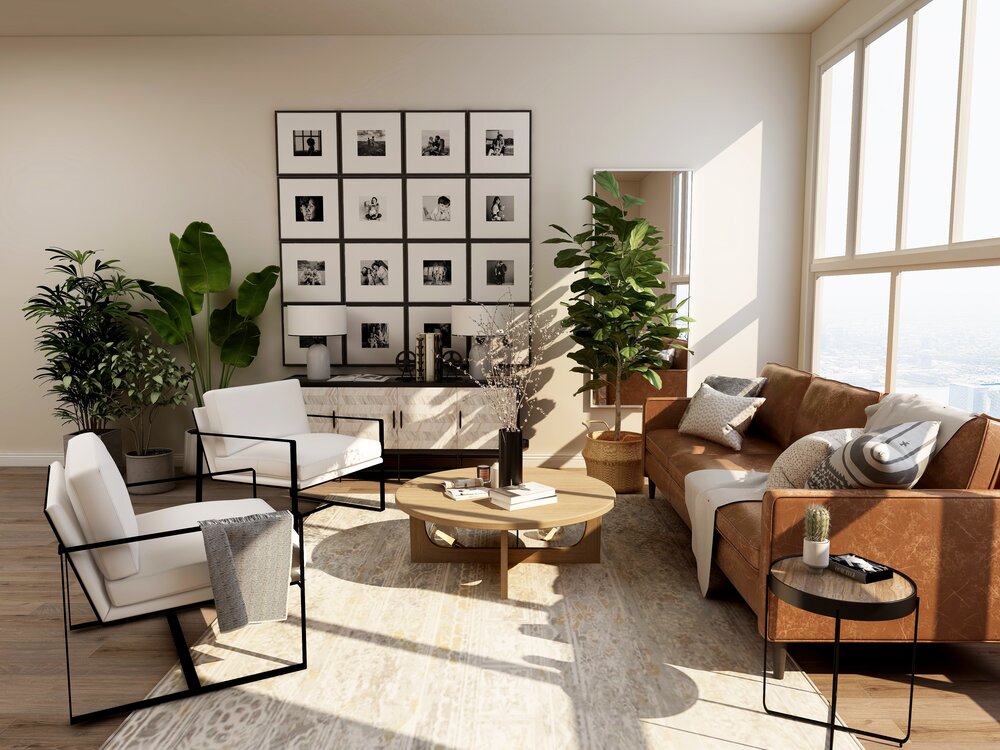 The term 'Modern' is often easily mistaken as a trend which is considered as being current. But Modern interior design refers specifically to a historical aesthetic movement that took place during the early to mid-twentieth century, whereas contemporary style reflects the design trends of today.
This gorgeous design aesthetic is characterised by a number of tell tale design elements including a monochromatic colour palette, or black accents, clean lines, touches of minimalism, natural materials and a focus on function.
Modern interior style remains a hugely popular decor trend because it's so versatile. It can also be combined well with a multitude of other trends such as modern farmhouse and mid-century modern style.
How To Make A Modern Living Room
A modern living room is cosy, welcoming and minimal. If you're looking to create a living room reset, these are some of the best ways to incorporate a touch of modern style into your home.
Incorporate Black Accents
A monochromatic colour palette is the cornerstone of Modern interior design.
Black can feel like a daring colour if it's not something you are used to, but black accents add depth and definition to a space. White is a modern colour, but without adding black to it, it will make your living room feel flat.
Black accents can be incorporated easily into a living room from door handles, armchair legs, mirrors, and candlestick holders to fireplaces.
Subtle nods to black are all you need to pull the room together and achieve that modern look.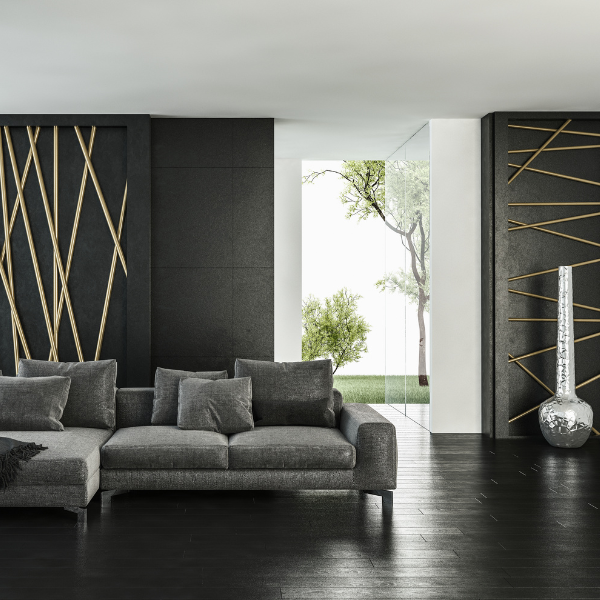 Add An Area Rug
Whether you have carpet or wooden/laminate flooring, an area rug is an absolute must for nailing this interior design look in your living room.
Without adding an area rug your furniture will appear like it's floating and provide no focal, definition point to the room.
Opt for natural, and neutral rugs such as jute, wool or add some pattern with an afghan patterned rug.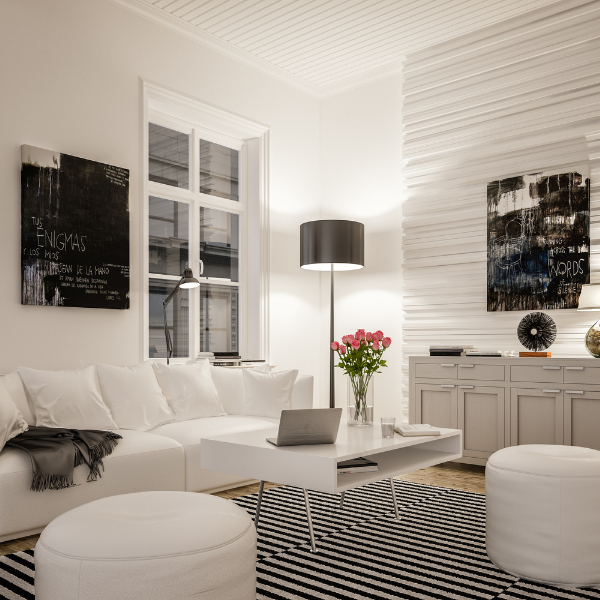 Clean Lines
It's all about functional, clean lines in a modern interior. Make careful considerations when choosing furniture and decor accessories.
Are the chair legs exposed, and are straight up and down? Does your gallery wall feature perfect symmetry with prints?
These clean lines provide function to space, whilst long clean lines in interiors can also help to elongate the room and make it feel bigger than it actually is.
Don't forget to carry this through from the furniture to the lighting. The Geo Trapeze lantern light is a perfect example of a modern fitting. It features those wonderfully clean lines, whilst the black accent draws attention and defines the lighting. Pair it with a black mirror over a fireplace to tie the room together.
Neutral Colour Palette
Modern style shares many similarities with minimalism, and a neutral colour palette is the foundations of this design trend.
Modern steers clear from bright colours and focuses on neutral, and earthy shades such as whites, cream, beige, olive green and mushroom.
As we've already mentioned, black is a grounding part of the modern colour scheme.
Introduce Natural Materials
Natural materials bring a gorgeous depth to a modern interior. Glass, chrome, steel, and concrete are also popular finishes for modern furniture.
Don't forget the decor accessories too. Bring in greenery, rattan baskets and handcrafted artisanal pieces for a thoughtful touch.
Minimal Home Decor
Modern spaces are free from clutter and thrive with white space. Be mindful with your decor arrangements and keep the floors free from clutter.
If you have more stuff than you have storage for, bring in some beautiful rattan tub baskets and hide your items in them for easy access.
Decluttering is one of the first steps to embracing modern interior design in a living room, and it's a step that can't be missed!
A modern living room is beautiful, functional and minimal, if you follow the above pivotal guidelines of this design trend you will achieve that flawless modern interior decor style in no time.