High Ceiling Kitchen Lighting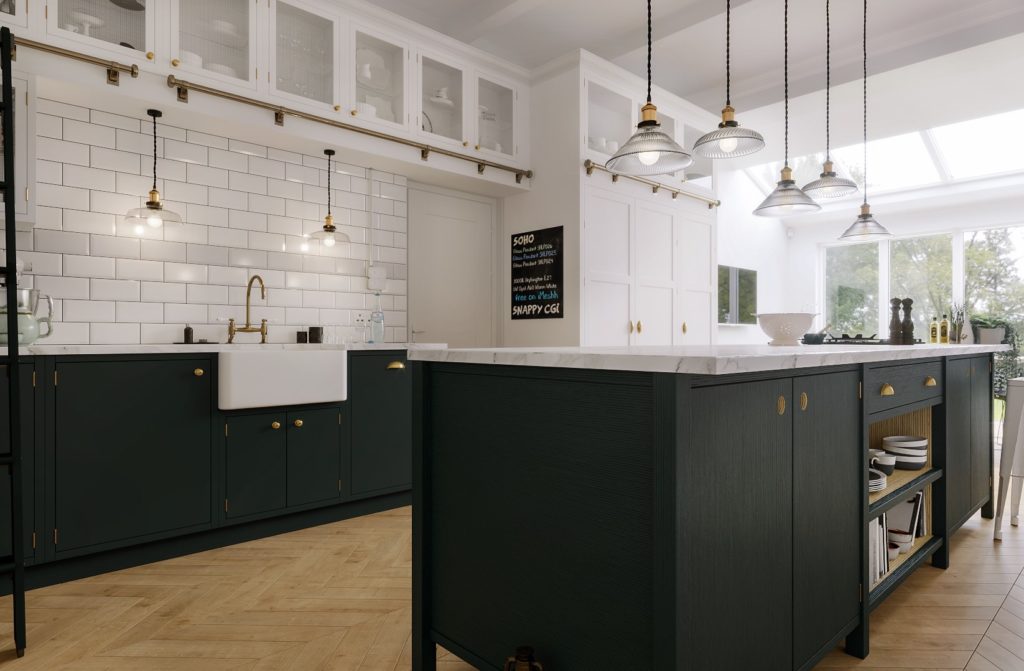 There is something quite beautiful and breathtaking about a high or vaulted ceiling in a kitchen. The kitchen is the heart of the home, and one that should be light, airy and social. A high ceiling can help do just that.
The additional height can make it somewhat more difficult to light. Whereas a vaulted ceiling can create a conundrum of the placement of the light. With an effective lighting scheme it can help the space to flow beautifully whilst emphasising those stunning, high ceilings!
High Ceiling Kitchen Lighting Ideas
Having a vaulted ceiling over a kitchen island is a common design choice. Where pendant lights are well suited over a kitchen island it does create many questions around how this could still be done with a vaulted ceiling with a skylight, where there is essentially just glass to hang something from. It can still be done in a less traditional sense.
A workaround for pendant lights with a vaulted ceiling could be done by inserting hooks on either side of the vaulted ceiling, just beneath the glass. You would then drape the cord over the hooks. The top of the roof end would still need something on it to be fixed. But there are many ways this can be done. Your chosen electrician will be able to guide you with this as to what the best way to connect it up will be.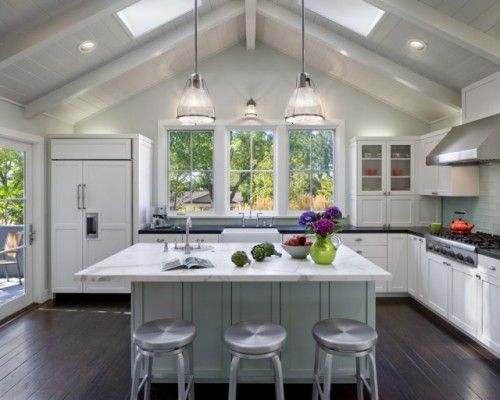 Pendant Lighting
Stunning pendant lights are perfect for high ceilings where you want to emphasise the height and light. Whilst they look sensational as a row over a kitchen island. Even better if you have both design elements at your disposal!
Our handblown, glass pendants, part of our Glass Library Collection lend themselves to lighting for high ceilings. The glass helps to disperse and distribute light evenly whilst working perfectly with your room, whatever the decor style.
The Marlowe, as pictured below carries a beautiful shape with an undulating curve at the base. A row of three of these other a kitchen island would look sensational. They also come with a 1.5m drop which makes them highly suitable for high ceilings too.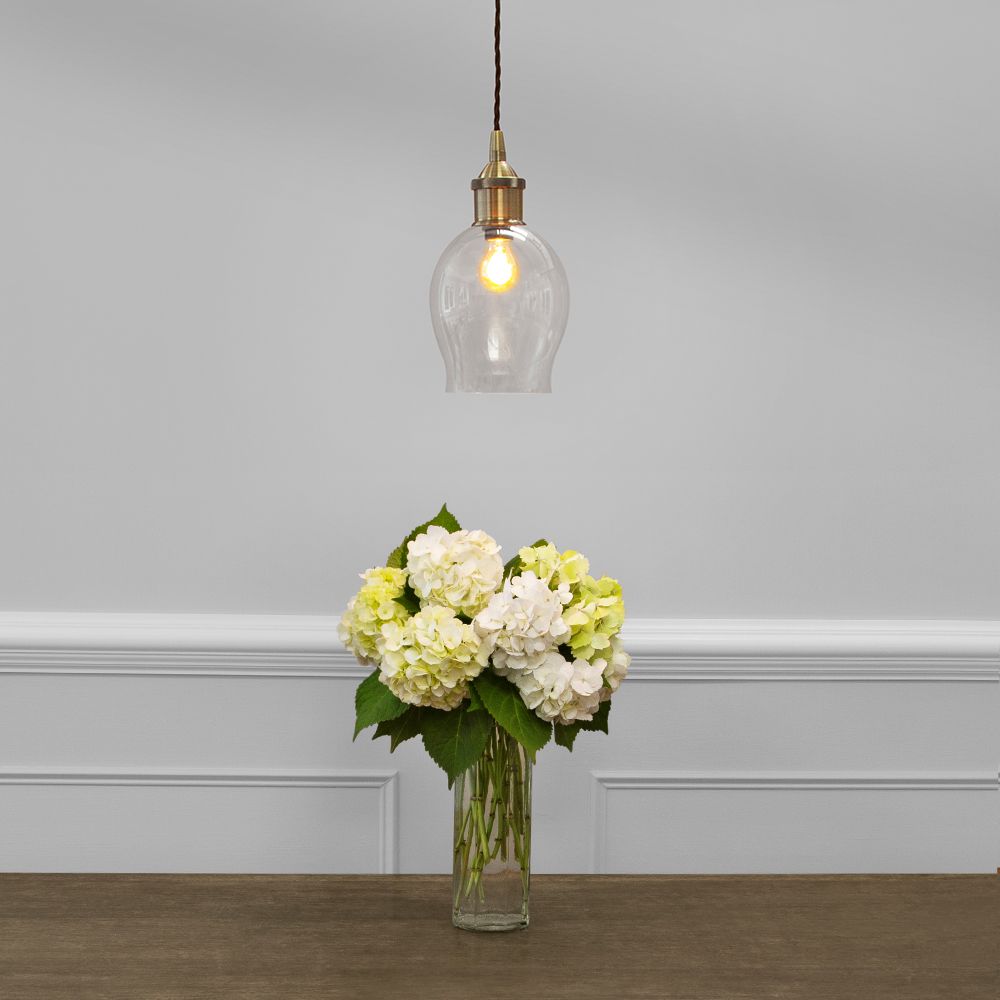 The Henley Cylinde fluted glass pendant light is a great choice for high ceilings due to the elongated shape. This beautiful cylindrical pendant casts a softened pattern of ambient light across the space. It looks stunning solo or in a run of 3 to 6 lights.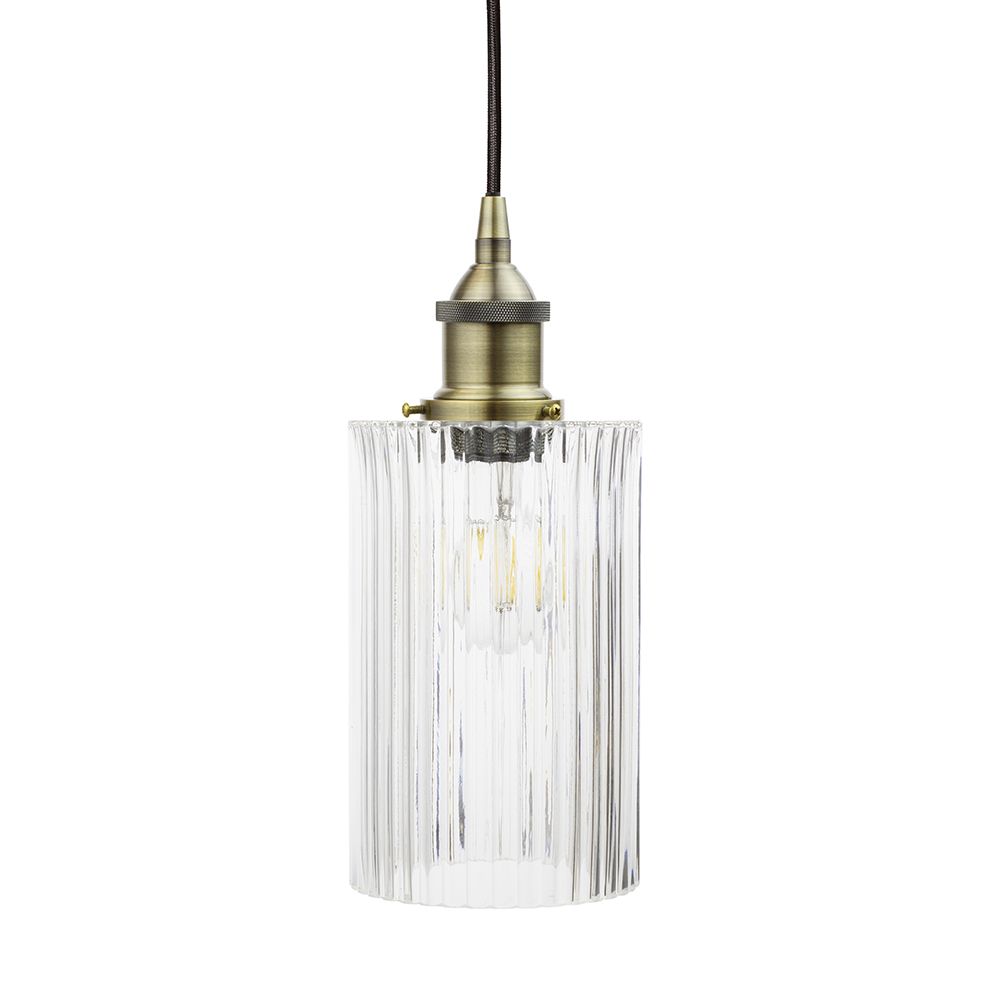 If you have room space combined with ceiling height you might want to opt for a larger light to fill the space appropriately, whilst lighting it effectively. The large Argyll creates an instant focal point in a room, whilst holding court on its own or in a row of odds over a kitchen island. They have a generous 1.5m drop.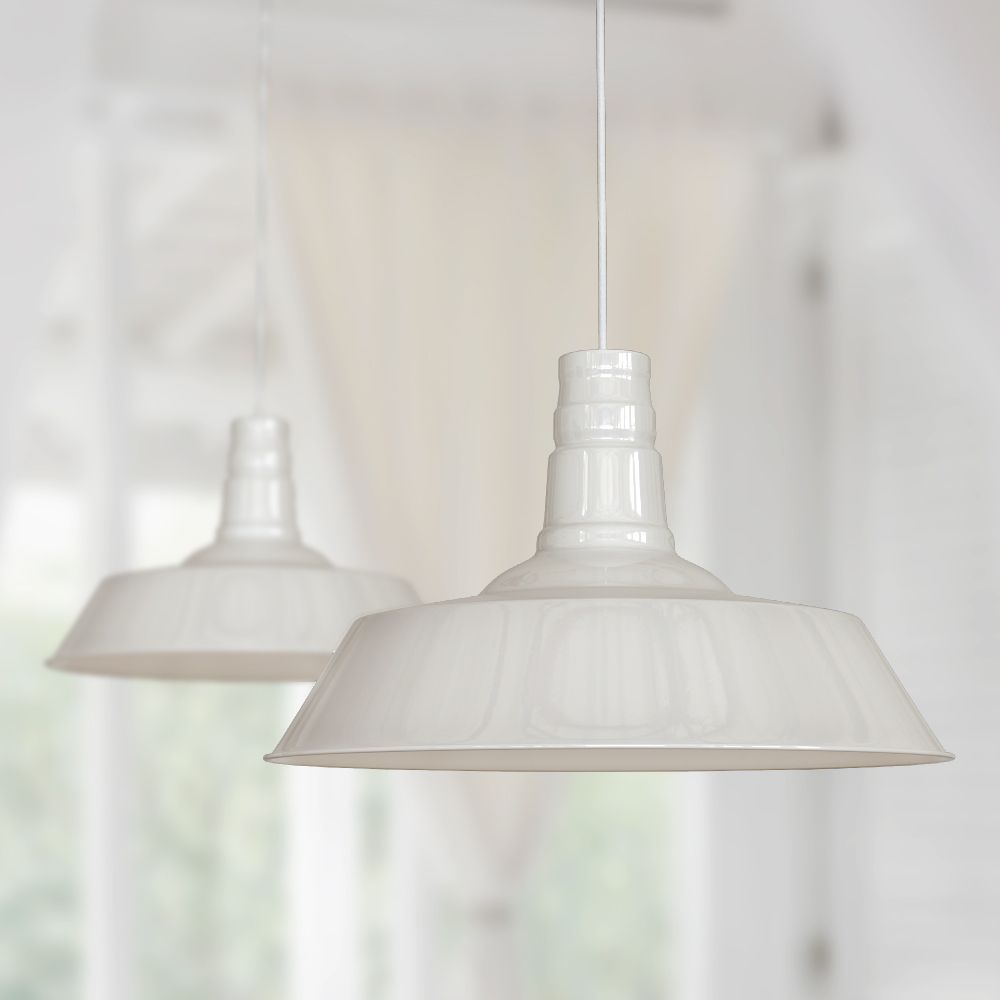 Our collection of hand painted lights are available in a desirable range of colours so they can slot in with your interior decor flawlessly. The Berwick Rustic Dome pendant light is well suited for a high ceiling due to its generous drop and wider shade. This allows the light to distribute evenly and openly across the space.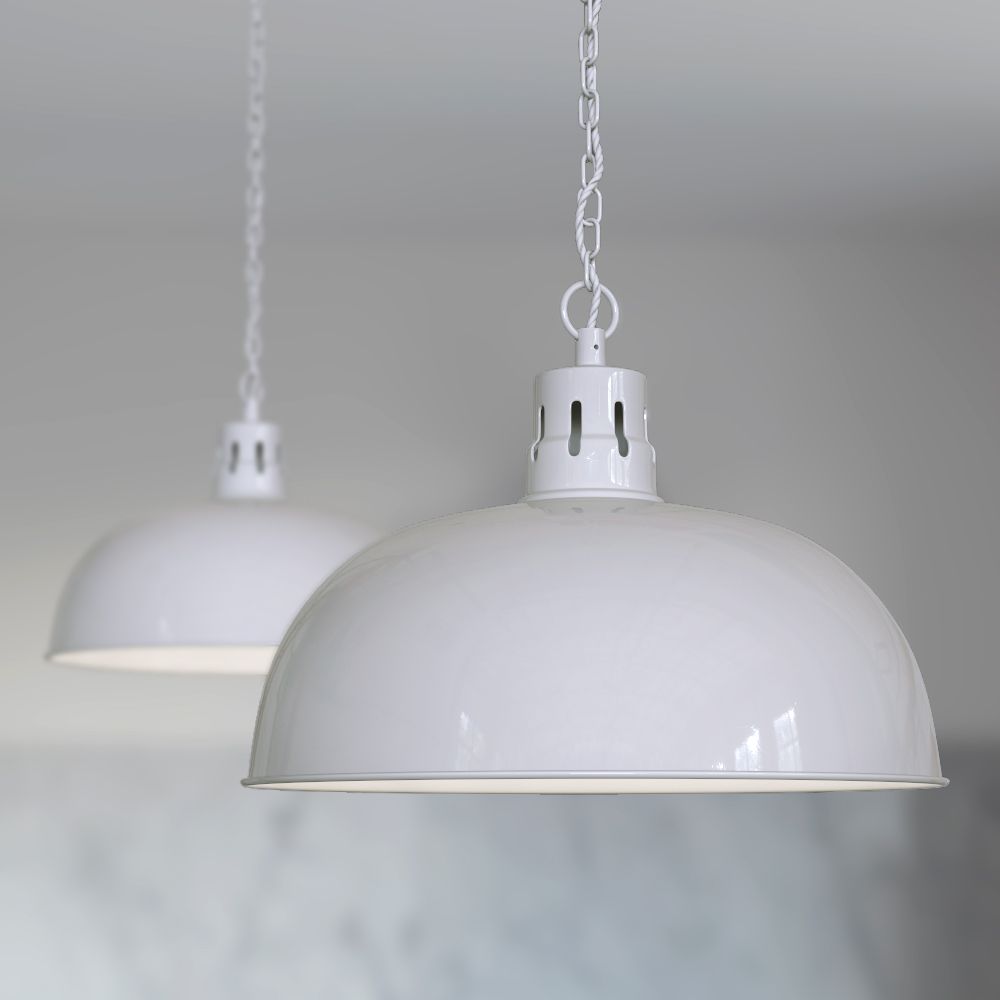 As pictured in the opening image, for a high ceiling, adding different style lights at different heights can add stunning visual interest, whilst opening the room out. The Romilly Tapered Etched Glass French Style Pendant Light can hold itself on its own or in combination with other lights such as the Romilly Dome Etched pendant light which features the same etched, fluted detailing.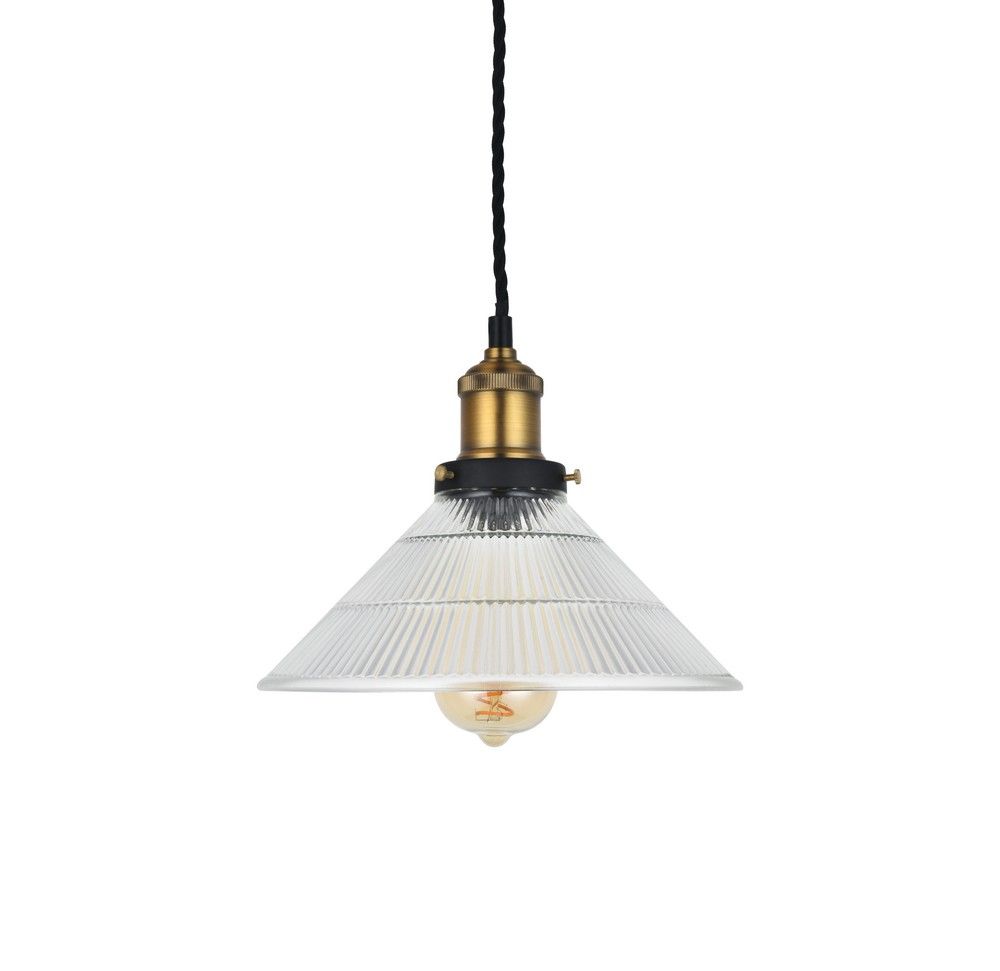 The Lincoln is a more delicate, petite light which is just as mighty. If lighting a large kitchen island, introduce additional pendants such as 5 or 7 into the space to increase the light output and visual interest. The hand painted duck egg blue finish delivers bright and uplifting looks. It is paired with a choice of bulb holders including brass, chrome, gold, nickel, black nickel and copper.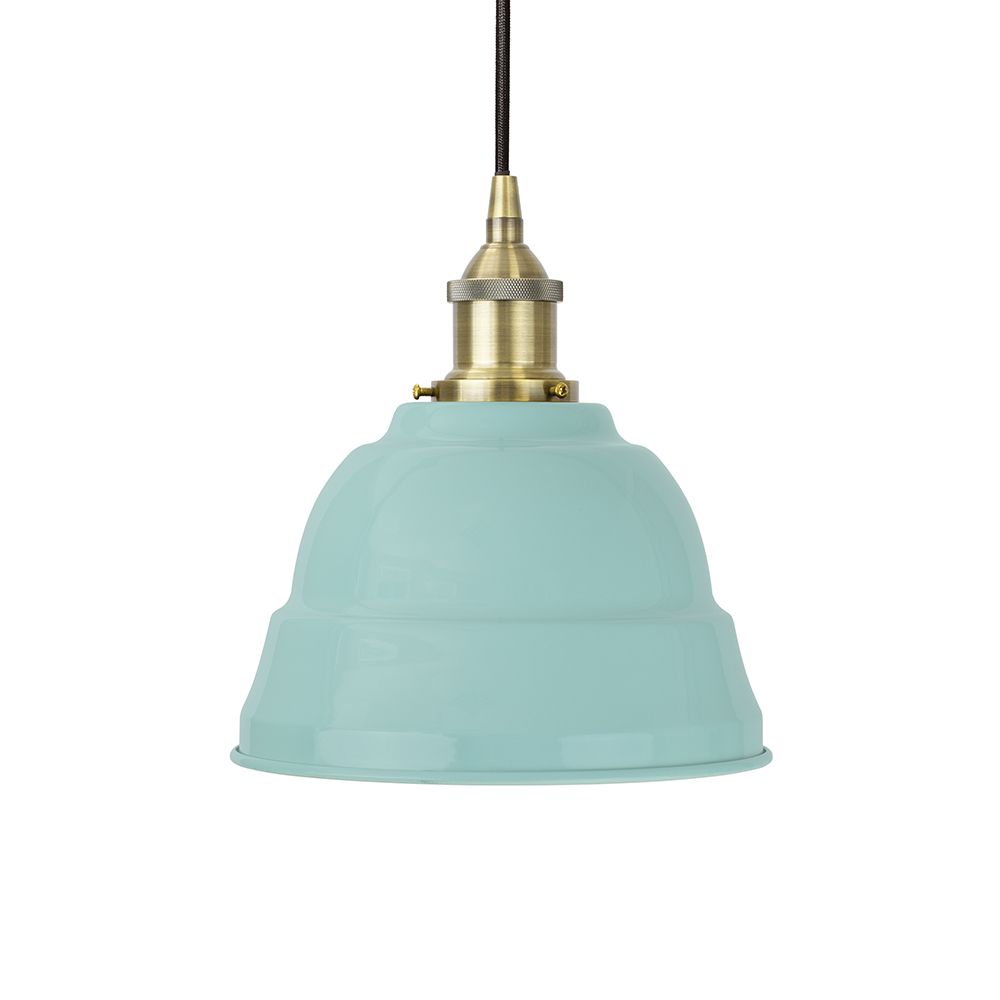 You may want to use downlights in other areas of the kitchen to aid tasks such as food preparation. But they will get lost in a high ceiling if no other light sources are used.
Pendant lights work perfectly with high ceilings due to their long drop, your electrician can remove links if the drop is too long for the space. If lighting a kitchen island, remember to light in odds as this creates equal space around each light providing a light, social and airy kitchen.
[related_products]