Georgian Living Room Ideas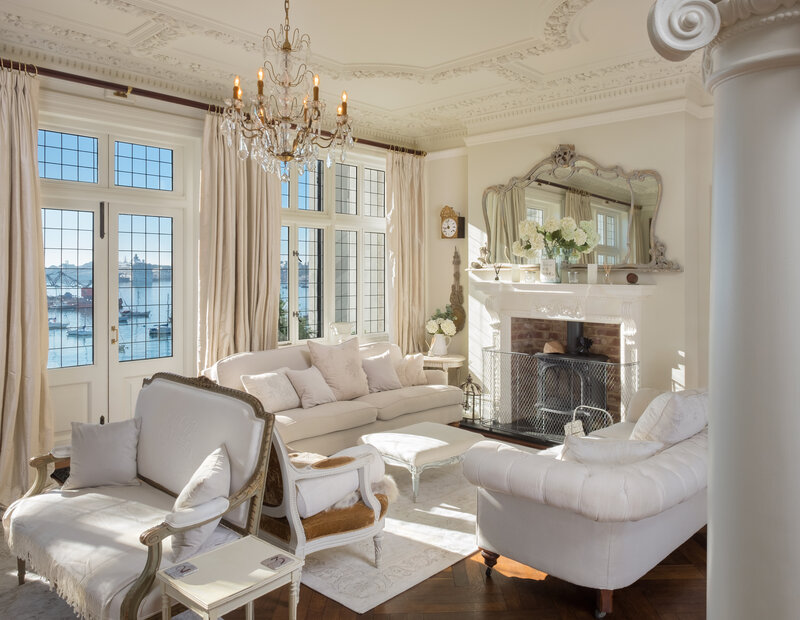 Georgian interior style; it's all about intensified light, grand focal features, and original architectural details that enhance the individual character of a room.
There are no strict guidelines to this style of decor, fashions evolved throughout the 18th century meaning eclectic combinations of Palladianism, Roccoco, Neoclassicism and Regency styles can be incorporated within your Georgian inspired interior. Read on for inspiration on how you can imitate this gorgeous Georgian style within your living room.
Architectural Features
Let your property speak for itself, 18th-century homes are full of secrets waiting to be revealed. Interior design is often about preserving the past by embracing a home's original features. Truly Georgian properties often have original, grand, focal components such as fireplaces, which define the era. Try decorating the defining feature with a marbled finish for true period flare. Further enhance the homely, cosy ambience of your room by complementing with accessories, such as log holders or fireside sets. These will not only provide practical solutions, but also create beautiful contrasting textures.
Alternative statement features can be fitted, such as mirrors or antique sofas, to further emanate the WOW factor. However, this does not mean you have to break the bank; auctions and antique fairs can be true treasure troves, offering the most valuable sources for discovery.
It is crucial in Georgian design to accentuate your property's natural assets, such as towering ceilings. You can achieve this by cleverly placing mirrors to create the perception of further elongating your space. By positioning mirrors in view of the window, you can 'bring the outside in', framing the reflections of your garden and integrating the colours and natural light into your home, adding further interest.
Lighting
Georgian interior design is all about embracing light and ensuring that as much warmth as possible is retained within the property. Large multi-pane windows which are typical of the era, are the perfect resource, whilst also creating a statement feature within a lounge. Through refraction of light from the individual panes, rays will bounce in different directions around your room. Using tactical warm light-emitting elements is integral to achieving the desired welcoming, yet cosy ambience.
Colour temperature can be utilised to create this desired warm atmosphere. Warm-white bulbs transmit a sunset glow, which will help imitate candlelight; another Georgian must. Candle sticks and candelabras are ornaments representative of the era and are ideal for intensifying the Georgian vibe. You can learn more on how colour temperature changes can effect the atmosphere and overall look of your interior in our recent blog.
Shutters are a great Georgian alternative to curtains; they offer complete privacy when required, but can also be folded out of sight with ease, thus fully exposing the natural light source from your window. These are very efficient for insulating the room and retaining the warmth from the fireplace and are perfect for keeping out unwanted noise, so your precious time of evening relaxation remains undisturbed.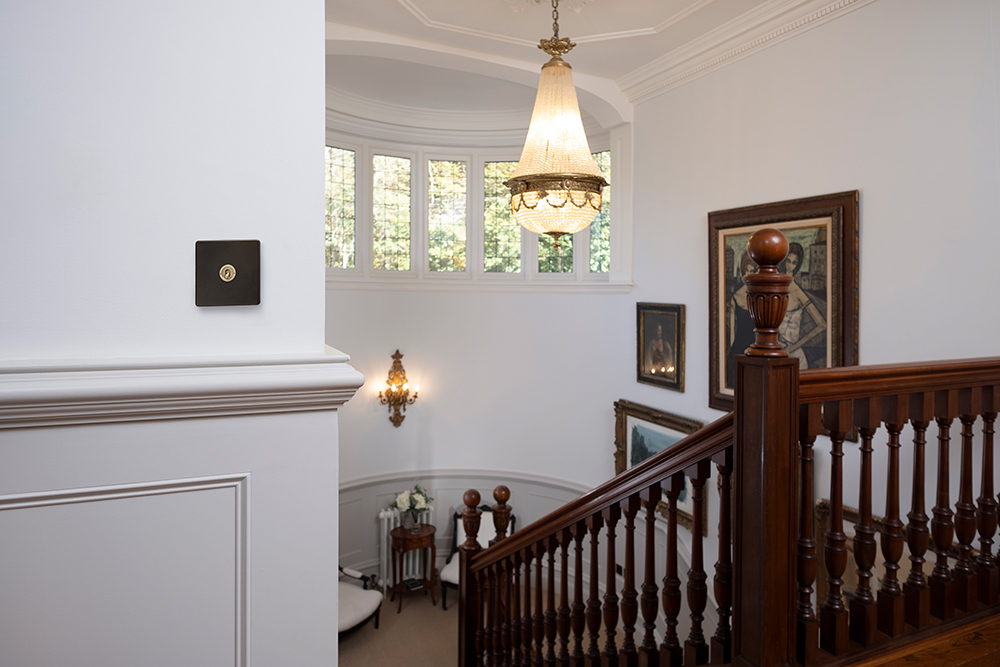 Colour Schemes
Before commencing your Georgian refurbishment, it is essential to consider a colour scheme that will coordinate well with all other aspects of the room, including the furniture, flooring and accessories.
You can never go wrong with classic, subtle colour schemes such as shades of white, soft greens and duck egg blues as your colour palette when creating your Georgian inspired space, choosing brighter tones as highlights will further amplify the desired bright light in the room. Ensure you paint the skirting boards, doors and window frames in similar tones for colour coordination.
It is integral to consider flooring to enrich a truly authentic Georgian living room, utilising original wide and waxed, wooden floorboards provides a beautiful addition to any aged interior. Additionally, you can compliment these with a large Georgian patterned rug. However, ensure that the colours and design blend with the other elements of the room's décor.
Be as experimental and creative as you wish with pattern. Striped wallpapers can be a stunning augmentation to accentuate the already elongated height of the walls, this will undoubtedly add more interest to the room. Mixing patterns particularly florals, birds and insects such as butterflies is a Georgian must!
Adding a pop of colour will never go amiss, this will evoke a contemporary- retro twist. You could achieve this by utilising period patterned tiles to decorate the focal fireplace feature, creating further interest to the aesthetics of the living room. Tiles can easily be found second hand, then carefully restored to their original finish. Just ensure that the colours coordinate with your chosen scheme, as too many patterns and vintage elements can become a little overwhelming.
Add touches of brass throughout the room for a true Georgian flare, using items such as switches, sockets, door handles and frames.
Furniture
Furnishings such as vintage sofas must blend with all other decorative elements of the room. Grand Georgian country houses were seen as a sign of wealth, interiors were designed to impress guests and therefore furniture should be carefully chosen to reflect affluence and quintessential style.
Focus on the inherent character of the classic accompaniment you have found; do not be deterred by its current condition as, when restored, this will add to the rustic and authentic character of your living room. Vintage furniture is considered highly desirable as a contemporary design tool, in achieving an authentic period look, second hand furniture can be sourced from various places such as antiques sales, online marketplaces and even charity shops at marginal prices. Take the opportunity to be creative as these up-cycle projects can be both great fun, rewarding and oh so impressive!
Velvet furniture will be sure to scream luxury, pairing with thick draped material in curtains hung against your panelled windows. This will help accentuate the already natural height of the period property, the perfect compliment.
Alternatively, you can mix the old with the new to create a more modern, yet Georgian inspired, living room. For example modern, stylish sofas accompanied by other period accessories, can be equally successful in achieving a unique yet period look. Achieving that balance between modern and Georgian styling can be challenging, however be creative and never be afraid of going overboard.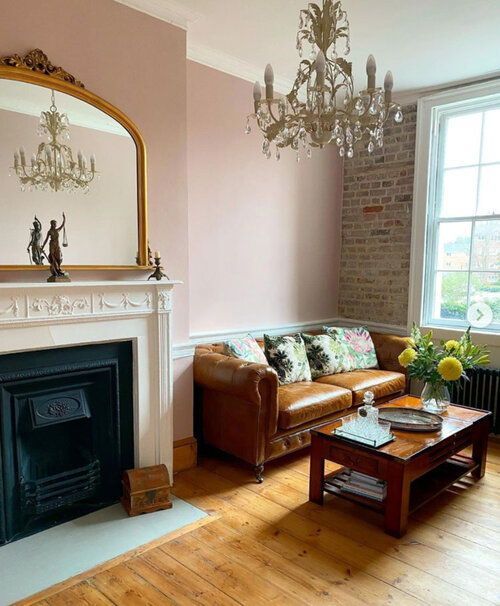 Ornaments
Ornaments are fundamental for decoration and adding a sense of Georgian class to a room. The word brass is synonymous with period styling and can be used as a stunning theme for home accessories, not only creating beautiful accents that will complete the look, but also evoking a sense of wealth and opulent charm.
Focus on the details; always opt for high quality, natural materials, again, it doesn't matter if they are a little aged as this will only add to the vintage charm. Georgian inspired interior décor is a combination of multiple styles, allowing plenty of scope to include different themes within your choice of accessories, ideal for adding further interest to your lounge.
Oil paintings are another means to allure your audiences. By framing your treasures with antique brass, the motifs already present in the room will be consistent.
A grand living room sets the tone within an elegant, country, Georgian property, so it is imperative to consider all elements of the room, ensuring they compliment one another to successfully achieve a great aesthetic balance. Always remember to respect the architectural history and make sure you understand the building before changing any valuable natural features, whilst creating your vibrant, fun-filled, Georgian inspired, family home.