Farmhouse Bathroom Decor Ideas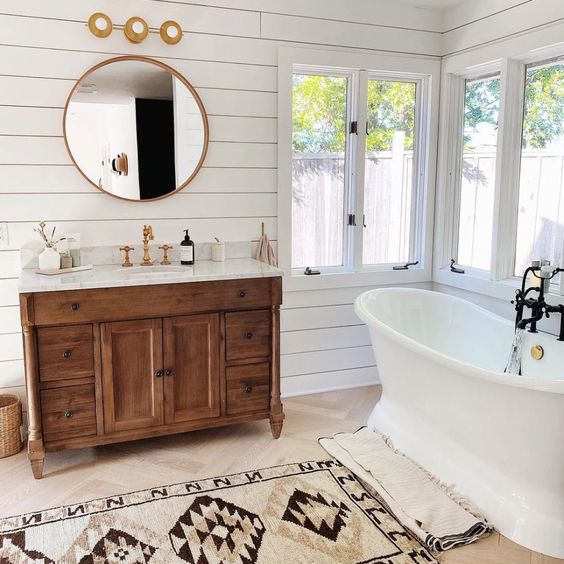 Farmhouse, country decor style is no longer an interior trend that has to be reserved to ancient cottages in secluded locations. This interior style is quickly becoming a firm favourite across Instagram. Farmhouse style can sometimes be considered as boho and rustic. Think shiplap, textures and authentic wooden furniture with a rustic charm.
This cosy interior style is warming, incorporates fresh finishes and is stylish. The neutrality of this trend makes it well suited to most homes, depending on your taste, of course!
We take a look at some gorgeous farmhouse bathroom decor ideas that makes us want to transform a bathroom, asap!
Farmhouse Bathroom Decor Ideas
A farmhouse interior is not complete without the bathroom being heavily involved in the trend. It is one that is much coveted on Instagram, those gorgeous stone sink bowls, shiplap and jute rugs...
Shiplap
Shiplap works incredibly well for creating a farmhouse interior. It also lends itself to use in a utility room or kitchen. If it is overused it has a tendency to look dated, but it absolutely comes into its own in a farmhouse bathroom.
The great thing with shiplap is it can be fitted in many ways. It can be used on both the walls and ceiling, typically vertically but they can work well horizontally as shown in the opening picture.
It's best to keep the shiplap a neutral colour to work cohesively with this style, cream is usually a better option to go for than white. We often think of white as a colour that can brighten a space, but cream has the ability to do this whilst injecting warmth too.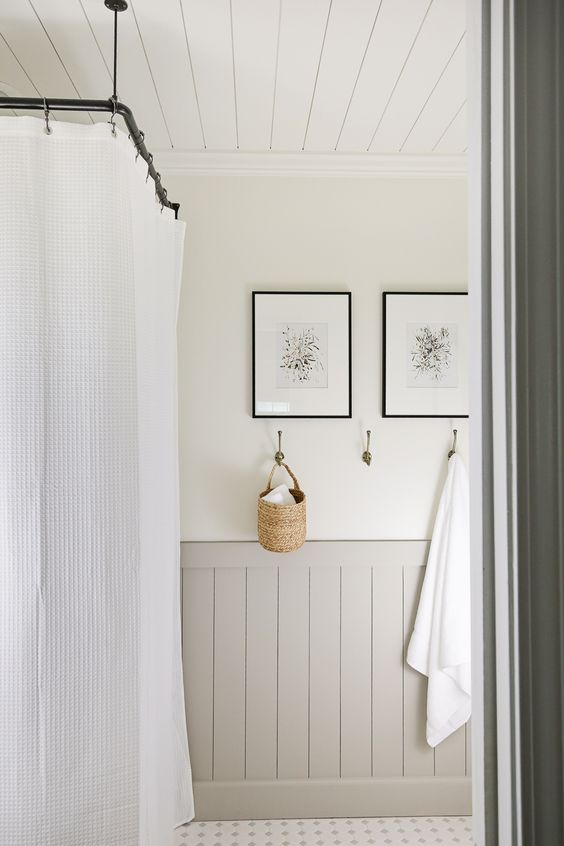 Natural Units & Stone Sinks
It is very much about opting for the right furniture in a farmhouse style interior. A sink on its on won't cut the mustard with this rustic trend. Opt for cabinet units that are wooden for that natural, rustic element. Top with a sink or a stone bowl - we can't think of anything more farmhouse than this!
The below image perfectly encapsulates the farmhouse, rustic interior feel. The neutrality of the shiplap brings warmth to the stone sink for the perfect balance.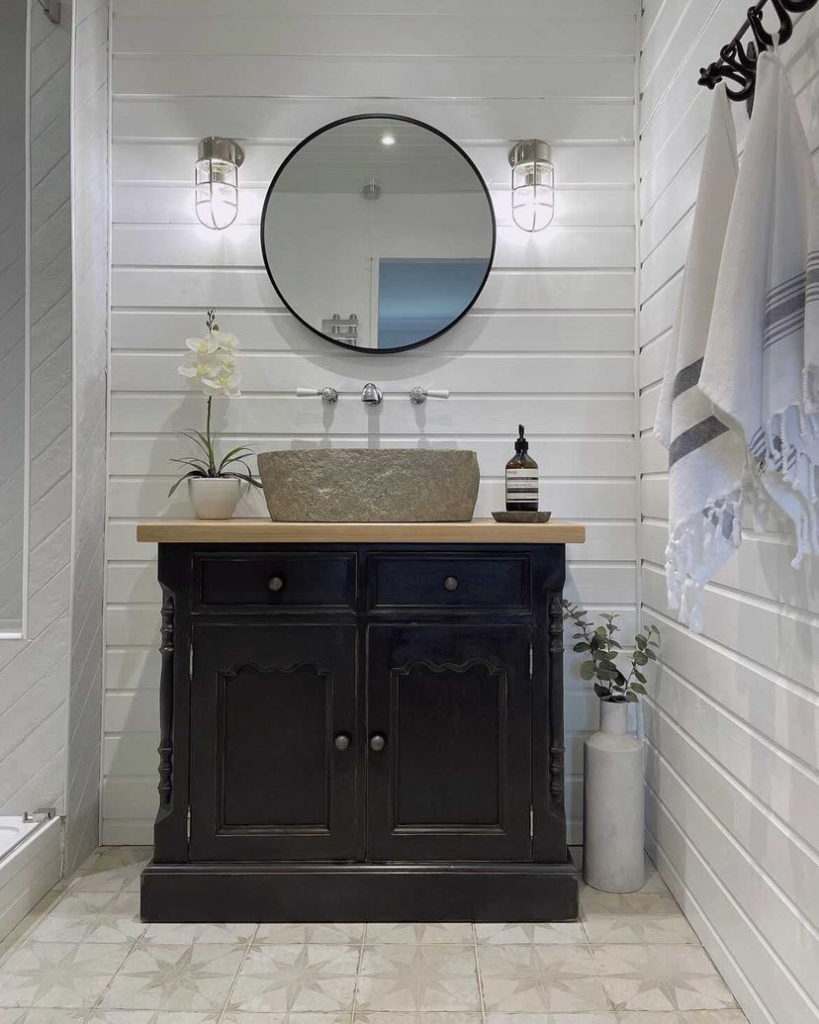 Industrial Lighting
Industrial style lighting works really well with a farmhouse interior, for that rustic feel. The Kemp wall lights are a perfect addition on either side of a mirror as shown below. Hand crafted, they lend that artisanal look to the bathroom. They're also available in a brass finish to match your scheme perfectly. Another contender for a farmhouse bathroom is the Carlisle Polished Brass IP66 Trine Prismatic Glass Wall Light. Made with real solid brass, perfect for outdoor and bathroom use as this light will not corrode. One on either side of a bathroom sink and mirror would look sensational!
It's also important to remember that bathroom lighting does needs to be suitably IP rated, look for lighting which holds an IP65 rating or higher to ensure it doesn't corrode or get damaged.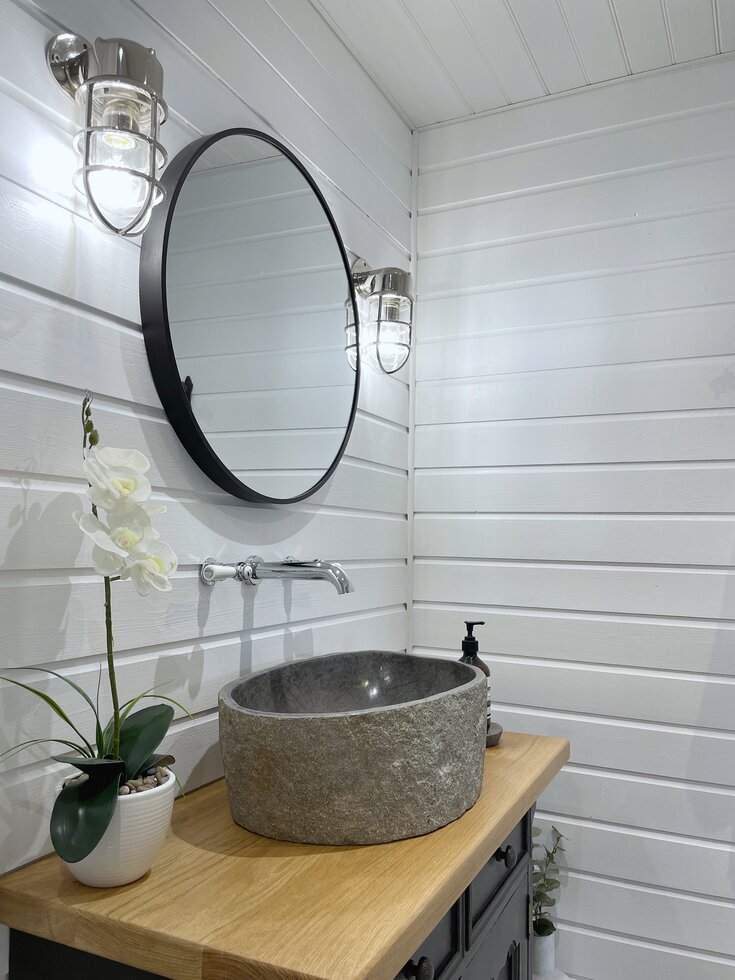 It's All About Texture!
Rustic, warming textures are the cornerstone of this interior trend. Look for natural fibres, jute, tassels and beautiful linen to incorporate into the space. Focus on a rug/bath mat and towels to bring that warmth, depth and rustic charm to the place.
A farmhouse bathroom is a beautiful one, if you love rustic, boho and neutrals this interior style could be for you. Just make sure that this interior style flows through to the rest of your house for continuity, and farmhouse harmony.