7 Light Tricks to Make Small Rooms Look Bigger
Small rooms… we all have them somewhere in the house gathering dust or becoming over cluttered, making them impossible to enjoy and relax in.  So what design tricks can we implant into our small rooms to make them airy and spacious places we want to spend time in?
Let's talk about Lighting. Lighting is key when maximizing on space in any small room. So today we're going to share our top design tricks for making a space look bigger with some simple light ideas.
Glow up with Glass lights
Link: Romilly Edison Industrial Clear Glass Step Pendant Light
Glass lights are a wonderfully elegant and simple solution for creating the illusion of more space in a room. Their translucent properties allow for the eye to glide seemly though it. This means a dominating light feature does not obscure the room. Instead the light blends seamlessly into the space. Furthermore a see-through light will make the most of the light spilling into your small room. This means you will need fewer lights to brighten it up, and less light fixtures means more space! Hurray!
Mirror, Mirror on the Wall
Link: Ganton Vintage Cage Pendant Light in Clay White
Mirrors have been used time and time again to help small rooms feel twice their size. And when it comes to mirrors the bigger the better, but remember to place them opposite either a light feature or a window, as this will allow much more light to be reflected into the room. Brightening up dark, hard to reach corners. Mirrors really do work wonders when you want to create the illusion of more space.
Make the most of Natural Light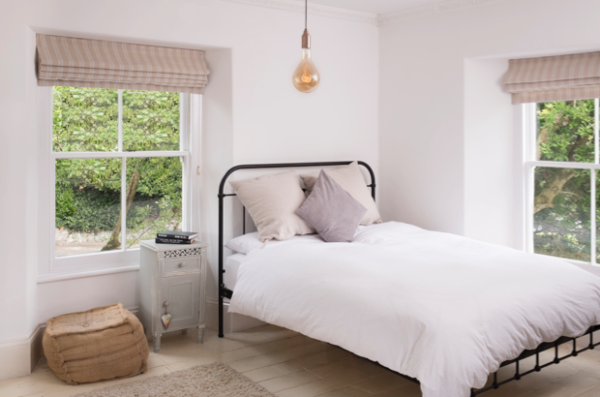 Link:  Preston E27 4W PS42 Sunset White LED Bulb
Windows are a wonderful way to open up a room. Especially if you have any kind of view to enjoy from it. So make sure not to over crowd your windows with bulky curtains. Curtains can make you loose precious space and light that your small room desperately needs. Instead opt for clean cut blinds. These will look neat and graceful while giving you bounds more space and sunlight to enjoy.
Keep it light and simple with Bulb holders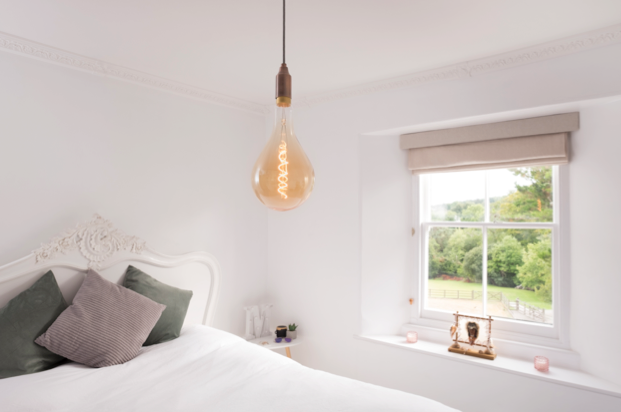 Link:  Petersham E27 6W Giant PS160 Sunset White LED Bulb
Keeping it clean and simple is a must when lighting a small room. Too many lights will overwhelm the space otherwise. Floor lamps especially will use up precious floor space. One thin floor lamp can become a nice feature in a small room. However a better option is putting in overhanging pendants. This is honestly the best solution for a small room as it means no floor space is lost. Bulb holders in particular are favorites for small rooms. This is because they don't require a lampshade that could appear bulky and overbearing in an already cramped space. Industrial and yet elegant, modern and yet traditional, bulb holders are versatile gems that are as light and compact as they come.
LED light bulbs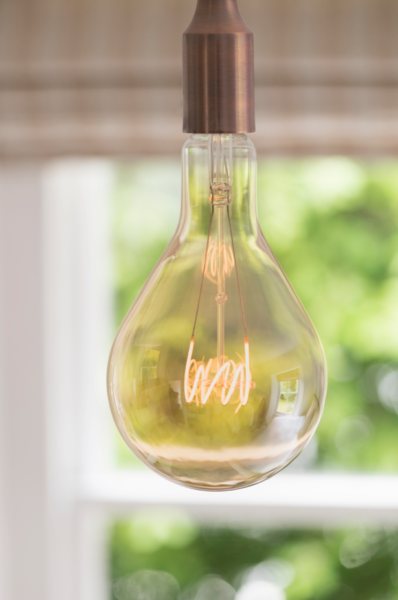 Link:  Preston E27 4W PS42 Sunset White LED Bulb
In a small room it's worthwhile investing in a few beautiful statement bulbs. High quality bulbs will immediately lift up the look and feel of a small space. They also become unique and interesting features that are more than just functional necessities. This is a top tip for small rooms because by turning functional features into design features you'll be able to effortlessly create a grand room without loosing warmth and personality.
When to use Wall lights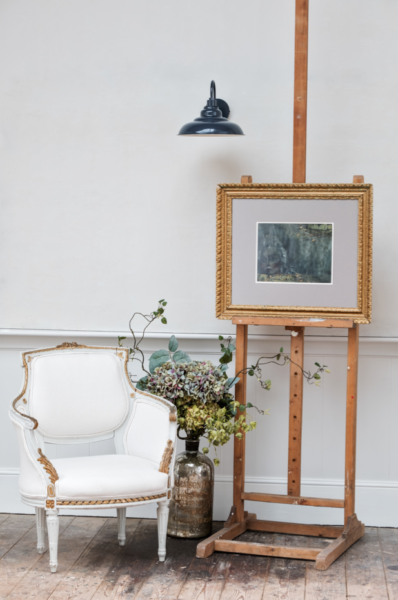 Link: Portland Reclaimed Style Wall Light in Squid Ink Blue
Wall lights are a perfect pair for small rooms too but only when placed correctly. Since small rooms are so low on space it may not have much free wall space to spare depending on the use of the room. If the room is being used as an office or bedroom then wall lights are a great way to save. Especially when placed over large surfaces like desks, bedside tables and chests of draws. Wall lights could also be great in small kitchens, as they work wonderfully to light up dim worktops. Or even try them in your living room. If you have a nice armchair tucked into a corner that needs a good, strong reading light, wall lights are a fine fit.
Don't miss out on Downlights
Link: Brushed Chrome CCT Fire Rated LED Dimmable 10W IP65 Downlight
Downlights are the Knights of lights when it comes to space savers! With no fuss, these small but powerful lights will brighten up even the most awkward of small spaces. Furthermore since they are recessed there is no danger of hitting your head on one if your ceiling are low (always a plus). Furthermore downlights are able to be fitted into sloped ceilings or even walls, so don't miss out on this fail safe design tip when it comes to saving space!
Mix it up and spread it out
Another important thing to consider when lighting up a tiny space is to not have a single light source. A single light in the middle of a room will create lots of shadows that will hide what little space you have. These shadows will make a small room look even smaller than it is, yikes! Instead make sure to spread your lights out as evenly as possible. This will allow them to brighten up even the hardest to reach corners. And when the whole room is in view and evenly lit it may even look twice the size it is!
As you can see making the most of your small room doesn't have to be a chore and once it's done it will look bigger and better than ever before! So don't hold back on implementing a few of these quick and light design tips! Because before you know it you'll be swimming in the space of a light and airy room that you can relax in and enjoy to the fullest.