Our Guide to Glass Lighting
Light is an integral element of designing any interior space, so when choosing the perfect lighting, it is easy to become overwhelmed. There are so many components to consider. Ensuring the glass fixture matches the style of your décor, the pattern of light and shadow created is in keeping with your desired visual impact, and the light emits sufficient illumination for visibility, task performance and mood - the list goes on!
Read on to explore our comprehensive guide to glass lighting...
What is glass lighting?
Glass lighting is a popular choice, incorporated within both contemporary and traditional homes. It is ideal for maximising the quantity of light distributed within a room, whilst enhancing the quality of the visual appeal. Thus providing the ultimate compliment to your interior space, whether that is classic or contemporary style.
At Soho, we offer an extensive range of glass pendant lights, available in an array of beautiful colours, shapes, glass patterns and styles. Our variety of diverse options will ensure you can choose the best accessory to suit your personal taste.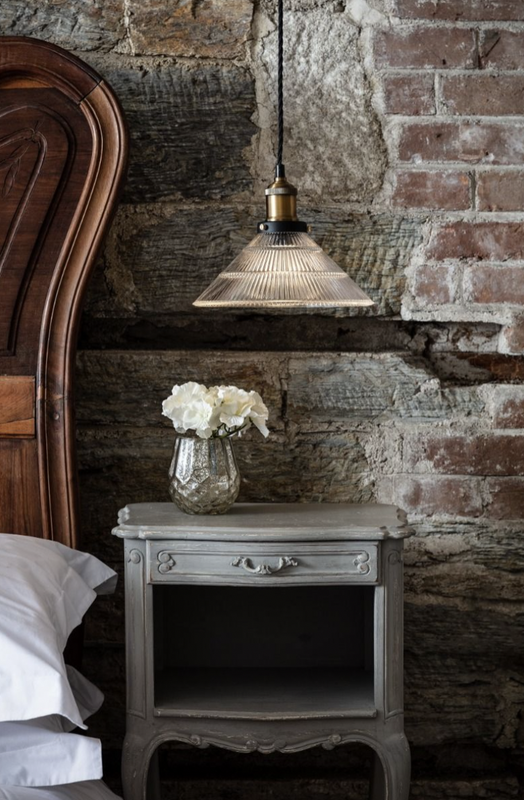 Glass pendants are the perfect finishing touch to any room. The use of different types of glass such as the tapered etched glass of the Romilly pictured above, will reflect stunning patterns onto the surrounding surfaces, whilst also distributing a full saturation of light. This configuration of glass emits rays through the highly reflective material; mirroring, absorbing and transmitting light throughout your room, whilst diffusing the glow in all directions.
What are glass pendants used for?
Each pendant creates their own unique visual light display, redirecting light rays across a room whilst also reducing glare. They will cast a stunning spread of diffused light, giving the room a more subtle brightness rather than a more focused downward light that you get from downlights. Glass pendants will continue to reflect natural light, even when they are not illuminated.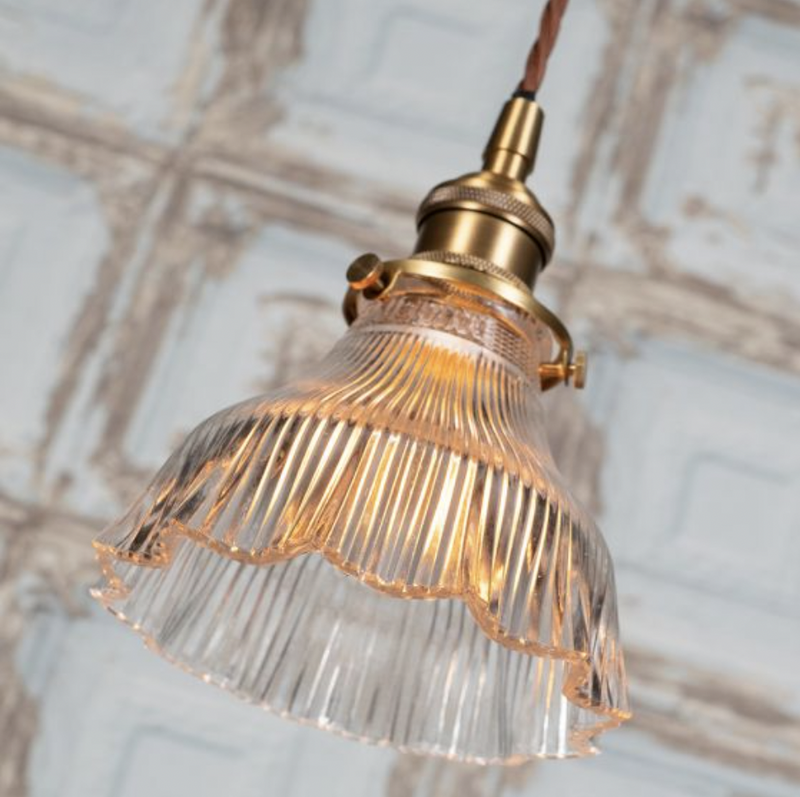 Prismatic glass is a translucent, decorative material utilised in the D'Arblay Pendant and frequently used for glass shade design. It is smooth on one side and ridged on the other, perfect for maximising the reflective quality of the glass and enhancing the intrigue of shadows, further creating visual interest by building texture. Cleverly used, lighting can add depth, dimension and character, subtly enhanced through the use of glass fixtures.
How to keep glass pendants clean
It can be very frustrating how quickly dust can travel through the air and affect the appearance of your glass pendant. It is important to regularly clean your glass pendant to keep it looking its best.
Before commencing the cleaning process, always ensure the light is turned off at the socket and wait for the bulb to completely cool before proceeding. To remove your pendant fully, use a screwdriver or any specific tools recommended for your particular fixture.
Carefully remove the glass shade before thoroughly rinsing with soapy water, this is a better technique than using punitive chemicals that could negatively impact the finish. Completely dry the material with a soft, non-abrasive, lint free cloth. Remove the light bulb and use a microfibre cloth to clean and polish the pendant attached to the ceiling.
Finally, reassemble your stunning light fitting, which is now as good as new!
Choosing the right glass lighting for your home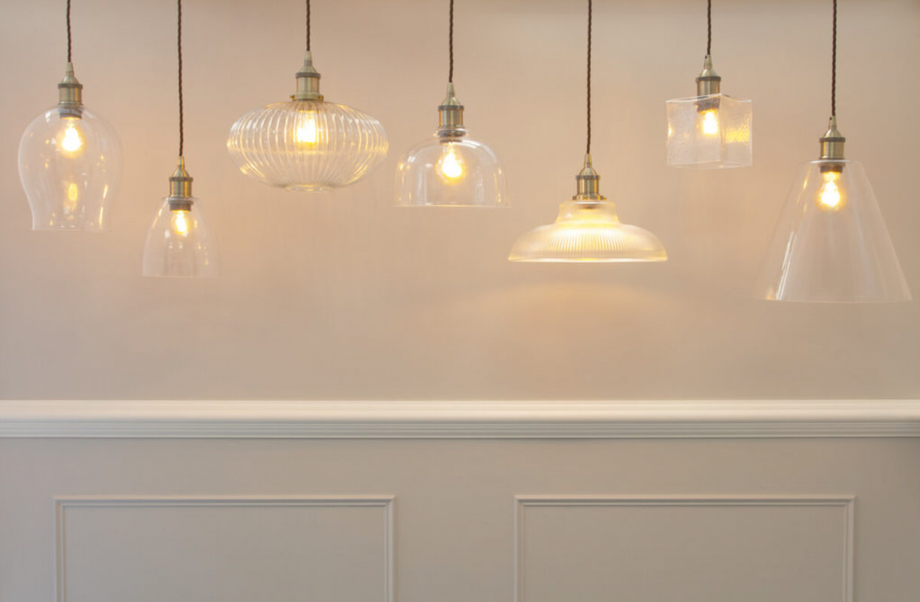 Soho's stunning range of glass ceiling lights ensures you can install the perfect pendant to fulfil any of your interior design aspirations. The appeal of our range is further enriched with the option for personalisation, offering a choice of alternative bulb holder finishes and cable colours, including; antique brass, antique copper, polished brass, brushed chrome, black nickel, nickel and brushed chrome with black or brown cable.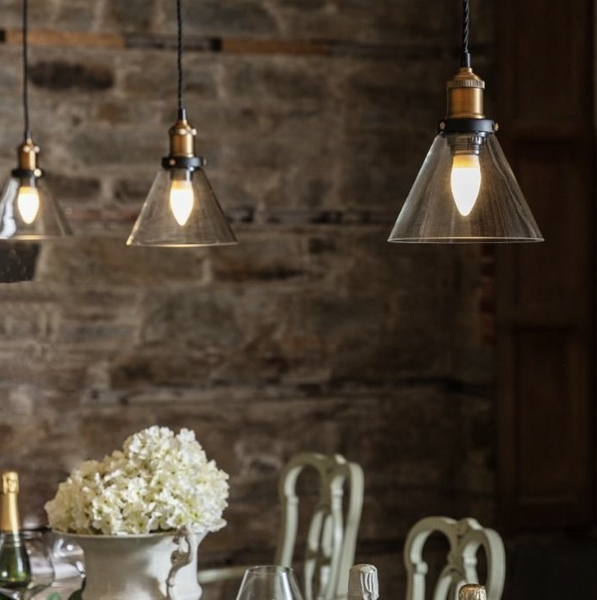 Many designers combine multiple pendants within an interior scheme to augment visual appeal, create a standout focal point whilst achieving a chic lighting effect.
For example, a smaller glass pendant such as the Rosetti will be the perfect feature when positioned above a dining table, particularly when opting for this rule of three, to create an aesthetically pleasing symmetry. This will have extensive practical attributes such as for task lighting illuminating your eating area whilst retaining a sense of low lit drama in the remainder of the room. Effective sources of lighting not only enhance aesthetic appearance, but ultimately enable the best showcasing of your interior.
Our range of handblown glass lighting, is available in small, medium and large sizes. You can add value and elegance to your stairwells through the use of a long drop single pendant, such as The D'arblay, from our French inspired collection. This is a classic petite pendant made with prismatic glass designed to enlighten those smaller spaces with restricted natural light.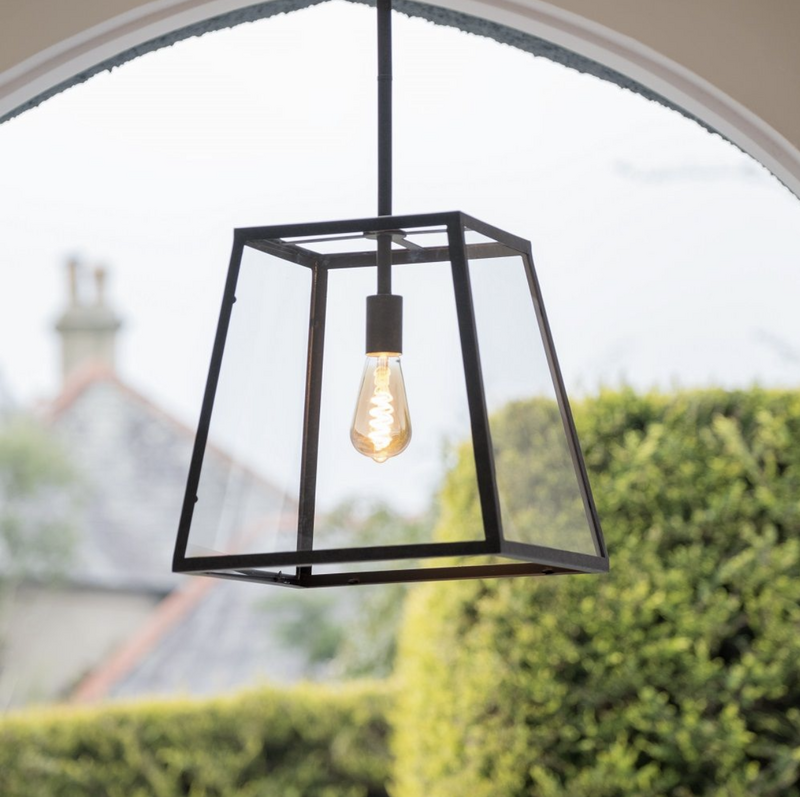 The Geo Trapeze is a contrasting, more contemporary glass pendant which blends modern and industrial styles, its simplicity illuminates the upper interior surface of a room, showcasing attractive coving or ceiling designs, and optimising light. It is ideal for exhibiting the bulb and perfectly suiting our vintage style Thamesmead Teardrop LED bulbs.
Different coloured bulbs can be incorporated within your chosen glass fitting, to create your desired mood. We also present a comprehensive range of LED light bulbs to suit any of your light ambitions, whether that be for task, ambience or simply illumination.
By incorporating glass lighting within your interior, you will not only add that desired touch of elegance, but also offer many practical solutions which will be sure to elevate your room to a whole new level, at the flick of a switch!