Meet Our New Fusion Finish - Antique Copper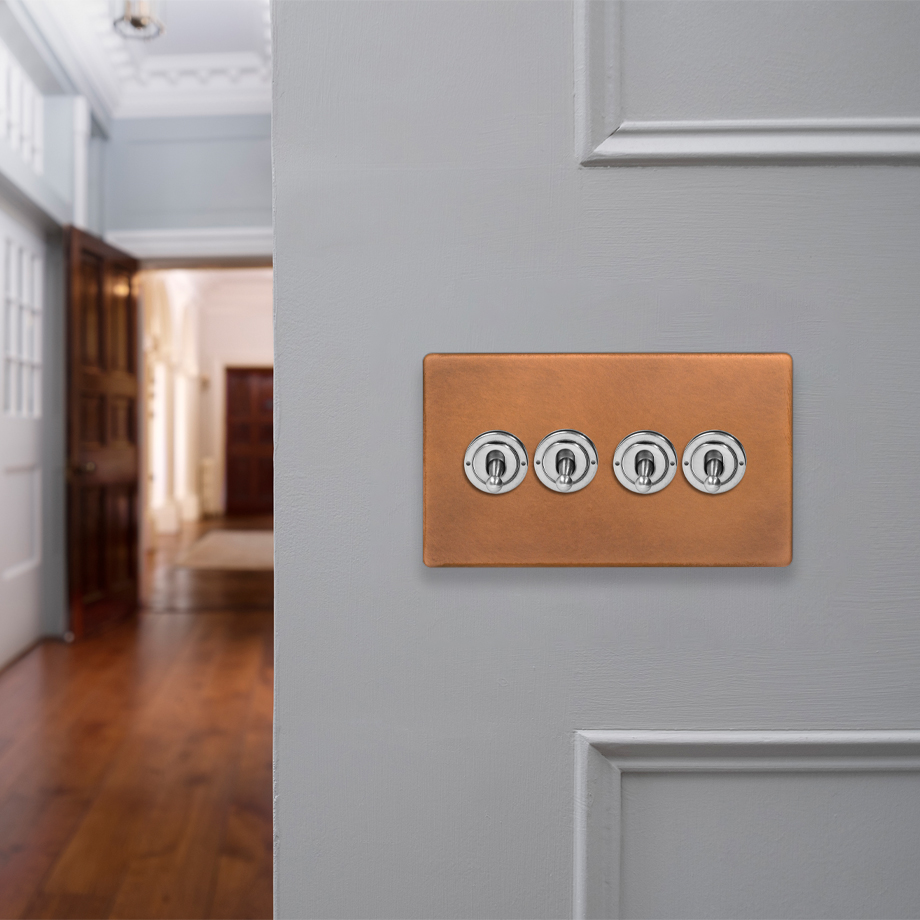 We're delighted to announce the newest finish to join our Fusion collection, Antique Copper with Brushed Chrome. 
Our Fusion collection launched in 2020, this hand-crafted collection provides an unprecedented choice of finishes and never-before-seen opportunities for personalisation. High quality, screwless sockets and switches available in a blend of up to three finishes.
We now have 7 different, beautiful Fusion finishes within the collection. So, let's delve into the new Chiswick Collection a little bit more.
Antique Copper & Brushed Chrome
The beautiful warm tone of this Soho Fusion Antique Copper & Brushed Chrome range adds a subtle glow and works well alongside most decor styles, creating an attractive feature and focal point in any room.
The antique copper is a beautifully warm metal finish that works with a multitude of colours within an interior decor scheme.
If you have a mixture of copper and brushed chrome finishes in your interior decor scheme, this is the perfect, and seamless way to co-ordinate mixing those metals in a refined way.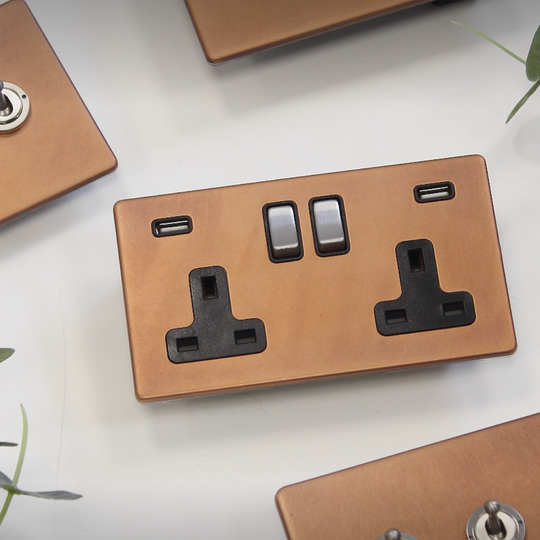 What Interior Styles Does Antique Copper Work Well With?
Copper is a fairly versatile finish and one that often sees a resurgence in the popularity throughout homes over the years.
This sleek metal is well suited to industrial style decor schemes, Scandi, modern and even traditional properties.
If you already feature copper throughout your interior, then combining with the Fusion sockets & switches is a smart choice, adding cohesion and style consistency throughout your home.
What Colours Work Well With Copper?
If you are renovating your property and starting from scratch, sockets & switches decisions often come early on, and you may be wondering what colours would work well throughout your interiors, with the injection of copper.
The good news is that it's a highly functional and versatile metal to work with. Here are just a few of the best complementary colours for copper;
Copper & Blue - deep, cobalt blues are set for a resurgence this winter, so there's no better time than now to create a cosy haven and add in some pops of subtle copper to the space.
Copper & White - for a no-nonsense interior, white is the perfect pairing for copper. A great combination for minimalist or Scandi inspired interiors.
Copper & Grey - For a neutral home, grey provides a gorgeous contrast against the warmth of the copper.
Copper & Green - Dark tones of green work cohesively with the warmth of the copper finish.
Copper & Marble - If you're in the process of fitting a new kitchen and considering marble, well, you're just in luck! Marble works hand in hand with copper, it really relishes in the minimal, soft beauty of marble.
Our new Antique Copper finish is a wonderfully versatile, and beautiful finish for a home. Take a look at our Fusion collection of sockets & switches if deciding on one metal finish is just not a worthwhile conundrum for you, and your interiors!