Chrome Interior Design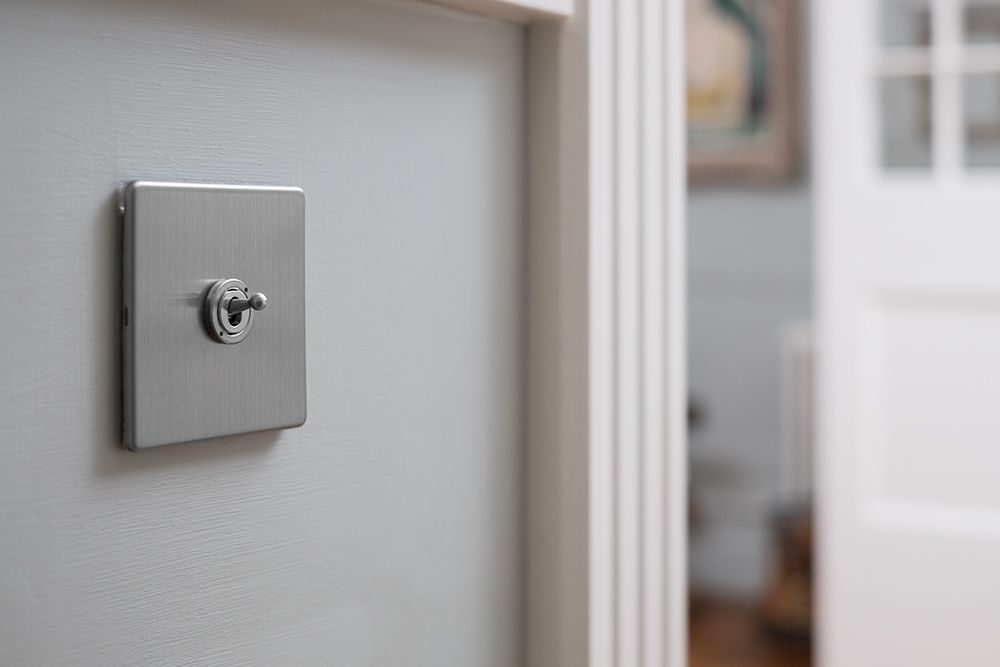 Chrome is a highly versatile metal that can work with a range of interior decor styles. Chrome has always been the the most common finish throughout homes for this reason, commonly featuring in places such as the kitchen, to bathroom fittings.
Depending on the look you are hoping to achieve in your interior, you may opt for either a polished chrome or brushed chrome finish. Beautiful finishes that are both quite different.
It is generally best to stick to one metal finish in a home to avoid clashing, unless you want to combine two metals for a cohesive finish throughout the home. This can easily, and safely be achieved with our decadent Fusion collection.
Let's explore chrome interior design a little bit further, and how you can perfectly execute it in your home.
Brushed Chrome Vs Polished Chrome
The main difference between these two finishes is that Polished Chrome is a highly reflective finish, and as the name suggests, the finish is polished.
Whereas Brushed Chrome is abraised through finely scratching the surface during the finishing process. Brushed Chrome is a more fitting choice if you have a busy household as it conceals fingerprints, polished chrome is a finish that needs to continually be polished in order to remove blemishes, and fingerprints.
Brushed Chrome

Polished Chrome
Brushed Chrome Interior Design
Switches and sockets are appraised on a daily basis, so opting for a finish such as brushed chrome requires little maintenance as blemishes and fingerprints don't show, but what home decor styles are well suited to it?
Well, brushed chrome is one of the most versatile finishes for interior design and incredibly well suited to busy households. Brushed chrome is a well suited finish for both modern and contemporary decor schemes, but due to the versatile subtlety of the finish, it can work well in most homes.
Chrome fittings do still tend to be the most popular finish for both bathroom and kitchen fittings, in a situation like this where your house doesn't warrant a complete renovation, using this metal throughout the rest of your home with sockets and switches and other interior hardware will create a really cohesive feel throughout the home.
Our Brushed Chrome sockets and switches come with a choice of black or white inserts. This simple addition creates an entirely different look to the sockets and switches, whilst one may be much more suited to your decor scheme than the other.
The black inserts are usually favoured for more modern and contemporary styles, whilst white creates a more traditional, and timeless feel.
Polished Chrome Interior Design
Polished chrome creates a highly striking finish in a home as its surface is so reflective. This finish is also highly versatile for home decor schemes, but lends itself well to particularly vintage, period, Art Deco and both modern and contemporary interior styles.
This finish in interior design is one that requires a lot of maintenance. Due to its reflective finish, it does mean that it picks up a lot of fingerprints and blemishes that need to be polished often. It's not a finish for everyone, or busy households, but in the right setting it can be incredibly fitting.
The Finsbury Collection of sockets and switches also gives you the option of adding a black or white insert to help match your decor styling to a tee.
It's a good idea to match all interior hardware to the same chrome finish, taps, handles, sockets and switches, door knobs, downlights or cap fittings of lights. You may want to also use it sparingly through decor accessories such as mirrors and frames. Be careful not to use it too much throughout decor accessories though to avoid saturation in the home. It's so important to also bring in colour to add character and depth to the space.
Combining Metals
During the interior design process you might stumble upon the question, but why do I have to choose one metal finish? What happens if you have 2 concurrent metals that you love and already run throughout your house?
You no longer need to settle for one metal finish with our revolutionary Fusion collection of sockets and switches. This range offers a unique blend of stylish finishes for a unique, and sophisticated look.
Perhaps your kitchen fittings are chrome, but you adore brass. The Brushed Chrome & Brass sockets and switches create an eclectic mix of elegant brushed brass against understated brushed chrome.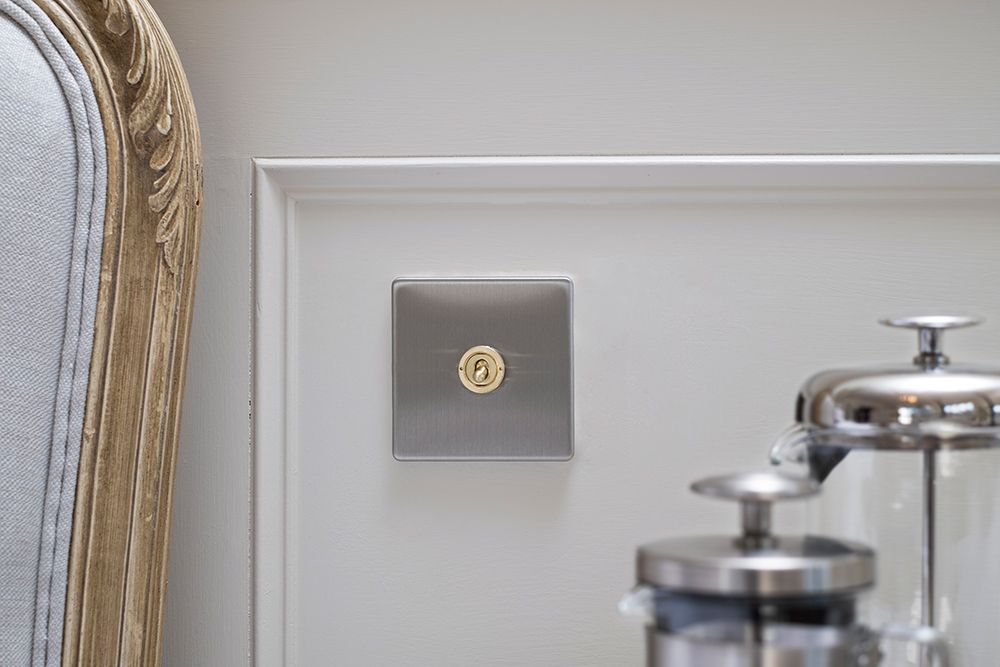 If polished chrome is your metal of choice, our white & polished chrome Fusion range is well suited to contemporary spaces. Stylishly cool, the contrast of polished chrome against white metal creates a clean, contemporary look.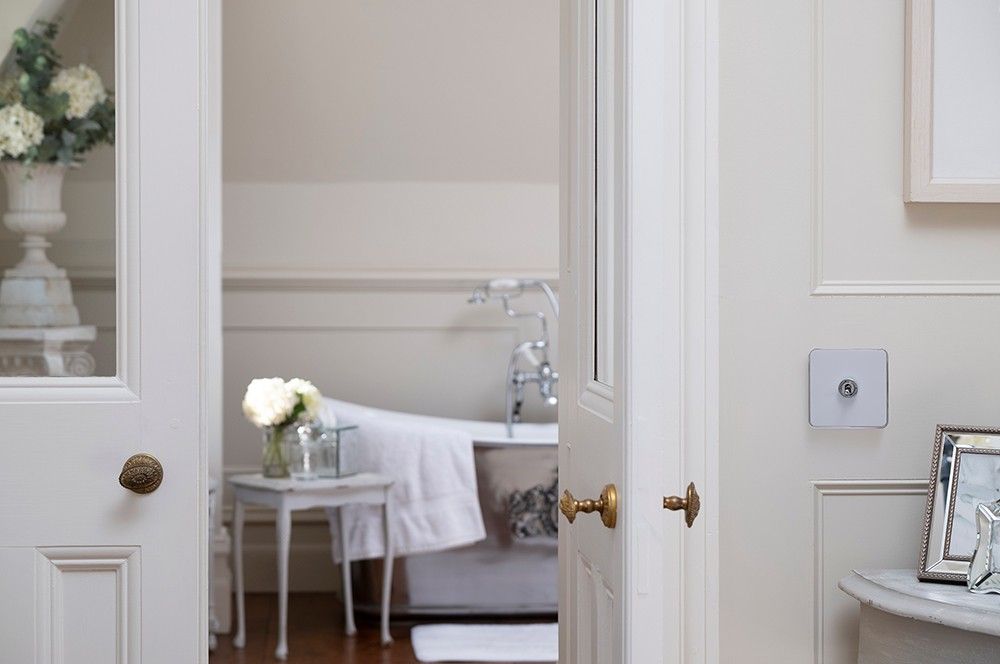 Chrome is a highly versatile, attractive and stylish finish for most interior decor styles. It contrasts well with black and white, but don't shy away from mixing a couple of your favourite metal finishes for an eclectic and unique style in your home.