First ever screwless switch and socket collection combining different finishes and a new-to-market 'Edge' launched by The Soho Lighting Company
Friday 2nd October, London: For interiors with design flair, mixing hardware finishes can look sensational, however high quality screwless switches and sockets have never been available in blend of up to three finishes - until now.
In a market first, The Soho Lighting Company has launched a new screwless switch and socket range entitled 'Fusion'. This hand-crafted collection provides an unprecedented choice of finishes and never-before-seen opportunities for personalisation. In a blend of up to three different finishes in a single switch or socket, should your creativity desire it, 'Fusion' introduces a new design concept in the form of an optional 'Edge' border to frame each asset.
Available in period 'traditional plate' or contemporary 'flat plate', your lighting accessories can at last reflect other hardware finishes within your interior. Other high-end switches may be screwless, but typically their complementary sockets are not. Across all Soho Lighting collections, you will not find a screw in sight.
In summary:

Exquisite switches and sockets free of unsightly screws
A blend of up to three different finishes in each switch and socket to complement other interior hardware finishes
A new-to market 'Edge' design which frames your switch and socket, lending definition
An unprecedented choice of finishes and level of personalisation
Hand crafted to order in the UK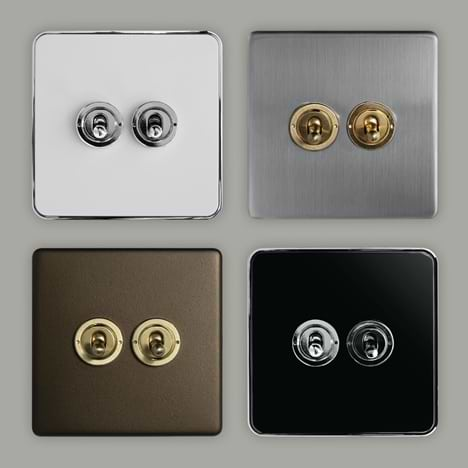 Lee Lovett, Co-founder, the Soho Lighting Company, comments: 'On average, you engage with switch and socket design assets more than any other interior feature. Matching sockets and switches to other interior hardware finishes has been a personal, longstanding consideration and challenge. There are few brands providing completely screwless switches and sockets with the option to blend different finishes. The FUSION collection now fills this gap, with the innovative Edge delivering both a new design concept and the option to add a third finish. We are thrilled at the choice, quality and aesthetic that these two ranges bring.'
The Edge and FUSION ranges are now available in the following combinations from www.soholighting.com
Black Nickel with Chrome Edge U3
White with Chrome Edge Q3
Polished Chrome and White with White Edge X1
White with White Edge Q1
Brushed Chrome & Black with light grey edge Y4
White with Light Grey Edge Q4
White with Dark Grey Edge Q5

- ENDS -
Press Contact: Nicole Sage
Telephone: 07526204350
Email: nicolesage@soholighting.com
Website: https://www.soholighting.com