Modern Victorian Bedroom Ideas
A modern Victorian bedroom is one of the most popular ways to renovate a traditional Victorian bedroom, keeping some of the Victorian architectural details, yet bringing a modern approach into the room to make it feel more current.
Victorian bedrooms can range in size, but in a terraced house they are typically smaller. Originally they would have held a beautiful fireplace in the rooms, and most definitely an exquisite ceiling rose and coving.
Of course, over the years traditional parameters like this have been stripped out to cave way for new, contemporary touches.
For your home improvement plans, if you're looking to create a modern Victorian bedroom, these ideas can you help you to lift the space, whilst not having to wave goodbye to the defining characteristics of the Victorian era.
What Is Modern Victorian Interior Design?
Modern Victorian design is a fusion between architectural parameters and decor pieces that celebrate the Victorian era, such as existing Victorian fireplaces and traditional ceiling roses. Whilst incorporating elements from the modern world, from natural furniture and black accents, to introducing modern chandeliers.
This style is very popular throughout Victorian homes in the UK, with an inherent want to restore architectural details, yet introduce modern touches for a homely feel that doesn't feel dated.
Modern Victorian Bedroom Ideas
Restore Victorian Architectural Details
If you purchase a Victorian property today that still has the majority of its existing Victorian details then you're onto a winner! But unfortunately, as the years have gone by many home owners have ripped out these existing Victorian parameters as a way to make the property look and feel 'new'.
Modern Victorian design is centred on having those traditional touches, so for the bedroom design you're going to either want to restore, or bring back in those architectural parameters that once stood.
This includes restoring or adding back in a cast iron Victorian fireplace, many re-fit these purely for decorative effect, and not as a working fireplace in a bedroom. If the ceiling rose has been removed, there are some fantastic replicas on the market that can help to bring that gravitas back to the room.
For smaller touches, consider adding coving and skirting boards with height on them, these were a traditional look in the Victorian era which helped to add length to the room.
Wooden Floor
Wooden flooring was characteristic of the Victorian era, but it can be seen as a crossover with Modern design, bringing natural materials into the home.
If you're able to restore the existing flooring then do! It adds an authentic, Victorian nod to the room.
Finish up by adding a fabulous area rug underneath the bed to avoid the feeling that the furniture is floating. This adds a beautiful modern feel to the room.
Add Panelling
Panelling was a traditional part of Victorian design, yet it's something that has seen a resurgence in recent years and can be enjoyed by both traditional and modern interior styles.
Nowadays, there are many different ways you can choose to panel a bedroom, from shiplap panelling to adding wooden slats.
Wainscoting is one of the more traditional styles that would have been used during Victorian times, you can cover the full room in this or just use as a focal point on the bed wall as shown below.
Exquisite Light Fittings
The Victorians certainly didn't do things by halves, and exquisite beautiful light fittings became a focal point of many rooms. This was just another way that they could demonstrate their wealth when a guest entered their home.
As it's Modern Victorian design, in your bedroom you could choose to use an exquisite Modern light fitting, or opt for something a little more traditional. If you're looking to add a replica Victiorian light fitting, think chandeliers and wall lights.
If you want to make a real statement, why not light up your bedroom with the Glasshouse Polished Brass Clear Pendant Light. This beauty is modelled on Art Deco design, but could be quite fitting to ignite the luxuriousness and opulence that a Victorian bedroom would have once had.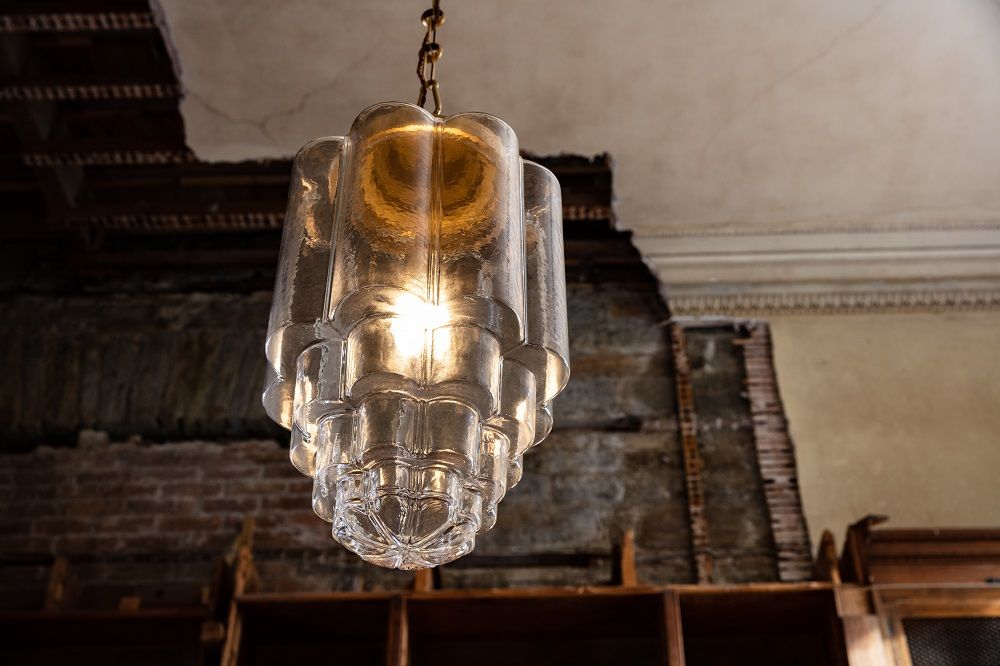 High Quality Furniture
If your modern Victorian bedroom is using a lot of traditional Victorian touches then you might like to bring a touch of modern design in through the furniture that you choose.
Remember, this design style is a blend of both new, and modern styles to create a wonderful fusion that just works. The bed becomes the focal point of the room, so choose a beautiful bed frame that reflects your home decor colour choices, and one that exudes super quality.
Add an ottoman or bench to the end of the bed for a modern touch. You may choose to add in some pieces of black furniture for a modern accent that helps to define and ground the room without being an overbearing colour in the space.
Colour Scheme
It's important to think about the colours you're using throughout your home too. If you're taking a nod from the Victorian era you may want to choose colours such as royal blue, green or black.
For a modern take, you may want to keep your colour scheme neutral with creams, whites and black as an accent colour.
Just remember that you're going to want the colours to flow well throughout the rest of your home, so unless you're going to use doses of green in other rooms too, it's probably not the best choice to then just have a green bedroom on its own.
You want to take inspiration from these colours and use throughout your home for a really cohesive design feel,
Modern Victorian Bedrooms hold a lot of character, offering a beautiful balance of traditional, Victorian touches with a dose of modern style.
Combine a mix of the above and you'll be on your way to creating a beautiful bedroom haven that appreciates the beauty of both the decor styles.
[related_products]